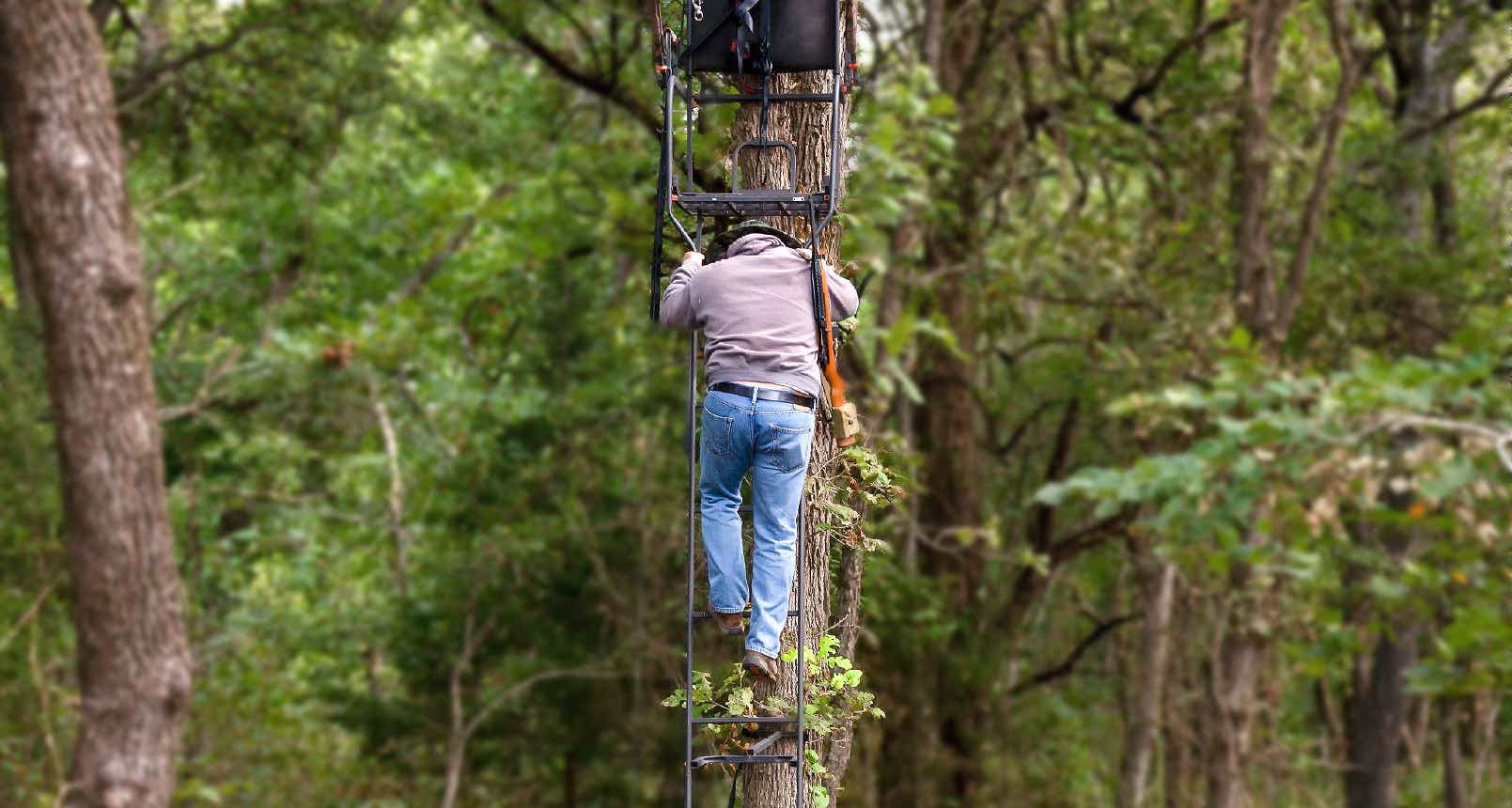 If you're looking for a new perspective in your hunting strategy, hunting stands (also known as trees tands) could be just the key. Hunting stands are specialized equipment which help get you off the ground and out of your game's line of sight, which in turn gives you more time to line up your shot. It can also give you a more comfortable spot from which to observe the range and wait for your buck to wander into your scope.
Depending on the type of animal you're hunting for, the environment that makes up your hunting range, and your personal preference, we've put together this guide to help you learn about the four different types of hunting stands — climbing, ladder, hang-on, and tri- and quad-pods — and how to use them to elevate your hunting strategy — literally.
Hunting Stands Comparison Chart
Want a quick comparison between types? Here's the major differences between the four major types of hunting stands.
| Type | Pros | Cons |
| --- | --- | --- |
| Climbing | Light Solo setup | Less flexible Learning curve |
| Ladder | More flexible Easy install Easy in and out | Bulky Group setup |
| Hang-on | More flexible Light | Learning curve |
| Tri & Quad | Easy in and out Setup anywhere | Bulky Group setup |
Climbing Stands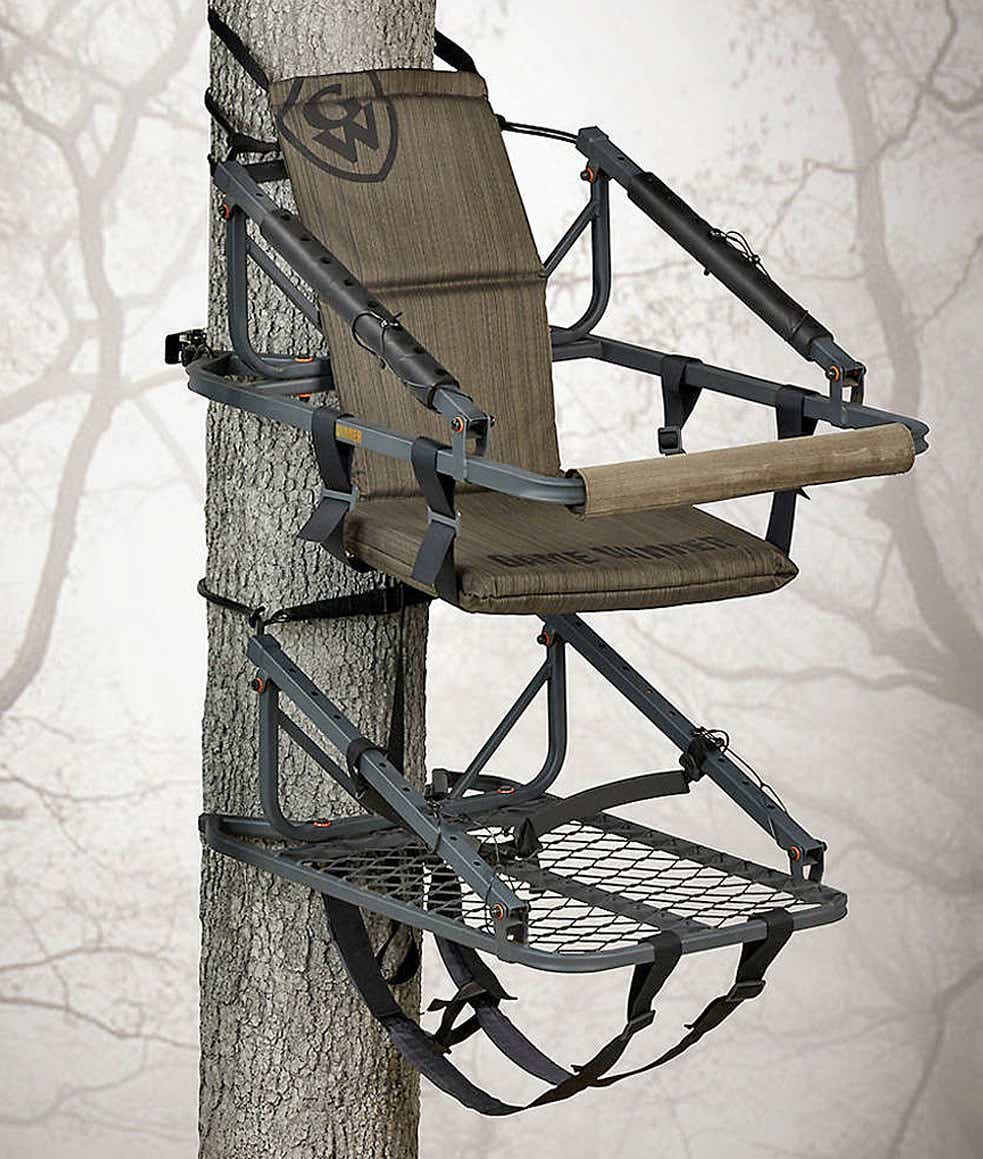 Climbing stands are great for hunters who want to keep things simple. Basically, you'll install both pieces into the tree and sit in it, then unlock one piece at a time to "walk" up the tree — so, standing on the platform and sliding the chair up, or sitting in the chair and pulling the platform up with your feet. Our favorite climbing stands, like the Game Winner Climber 2.0, come with added safety and comfort features, like a platform for added stability and non-slip stirrups, for that extra-secure feeling.
Pros
Easily brought into the field
No extra parts needed to install and can be easily switched out
Low profile keeps you more easily concealed
Cons
Learning curve to installation method
Best installed on a straight tree with few limbs
Not as much room for movement while in the stand
Ladder Stands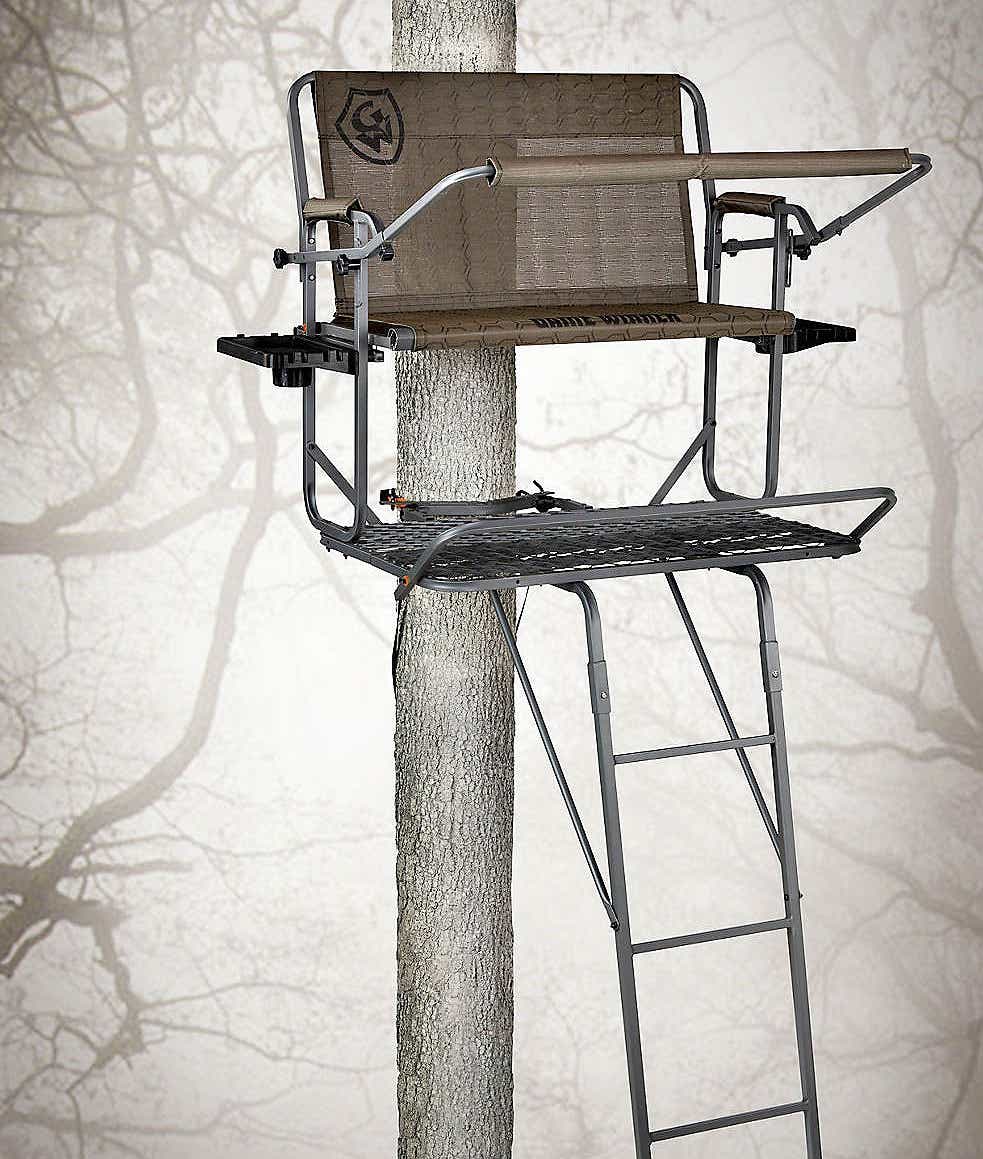 Ladder stands are kind of like climbing stands, but have an attached ladder for ease of use getting in and out of the stand. Because all you need to do is lean it up against a tree and secure it according to the instructions, it opens up more options for where you can place your stand. Some ladder stands, like the Game Winner 18 Foot Platform Ladder Stand, have a platform for easier range of movement — plus some other QOL add-ons, like an extra shelf and a shooting rail.
Pros
Easy in and out of the stand
Solid stability when properly installed
Can be set up on a variety of trees for added cover
Cons
May require an extra set of hands to set up
Can be bulky or heavy
Ladder can be noisy in-use
Hang-on Stands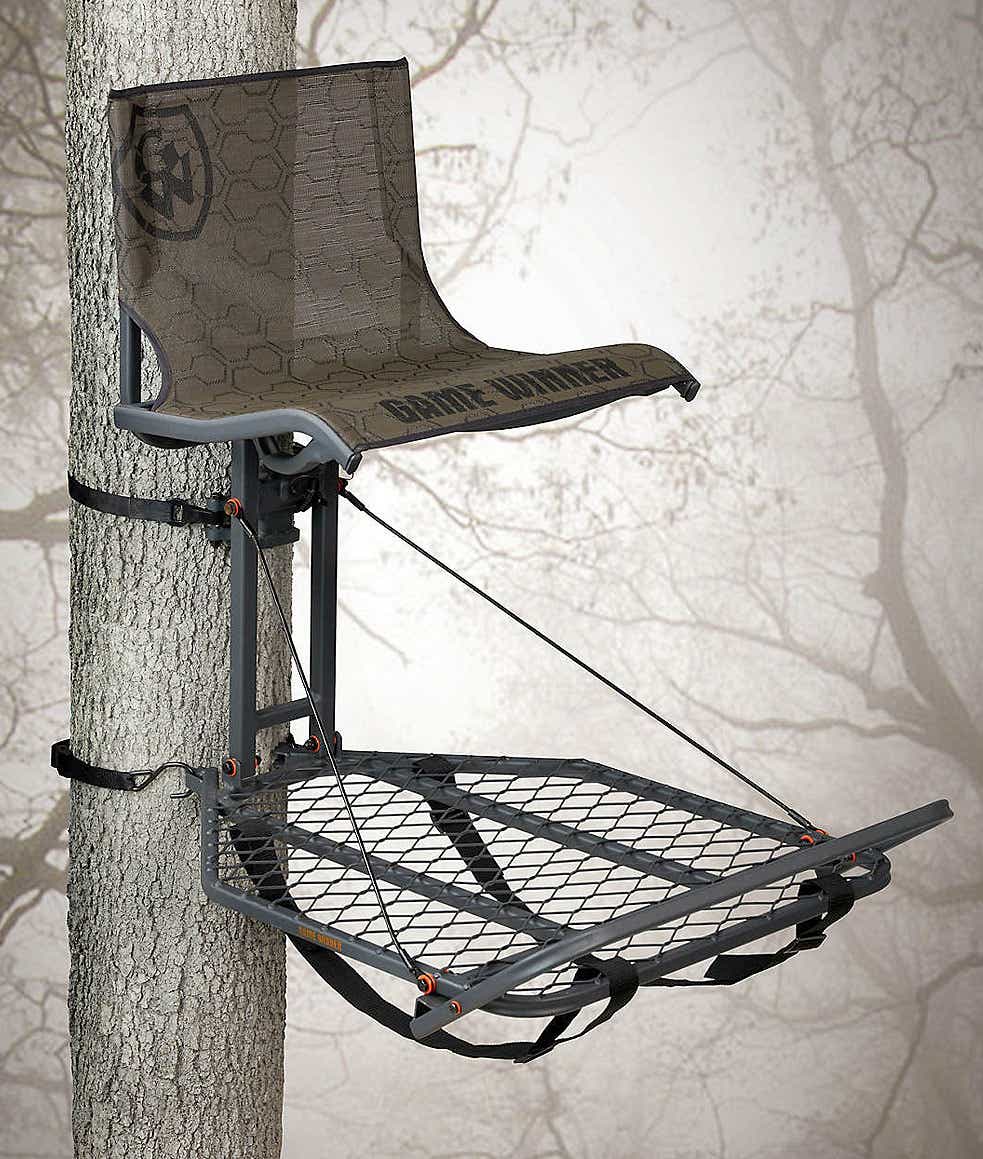 Hang-on stands are simple stands that "hang on" to the tree via secured belts or chains. Certain stands, like the Game Winner EZ Set, will have an included bracket on which the stand hangs for added stability. To get into the stand once it's installed, you'll need a climbing aid, like climbing sticks, a segmented ladder, or screw-in steps.
Pros
Quick set-up
Easily brought into the field
Can be set up on a variety of trees
Cons
Require a climbing aid to get in or out
Tri- and Quad-pod Stands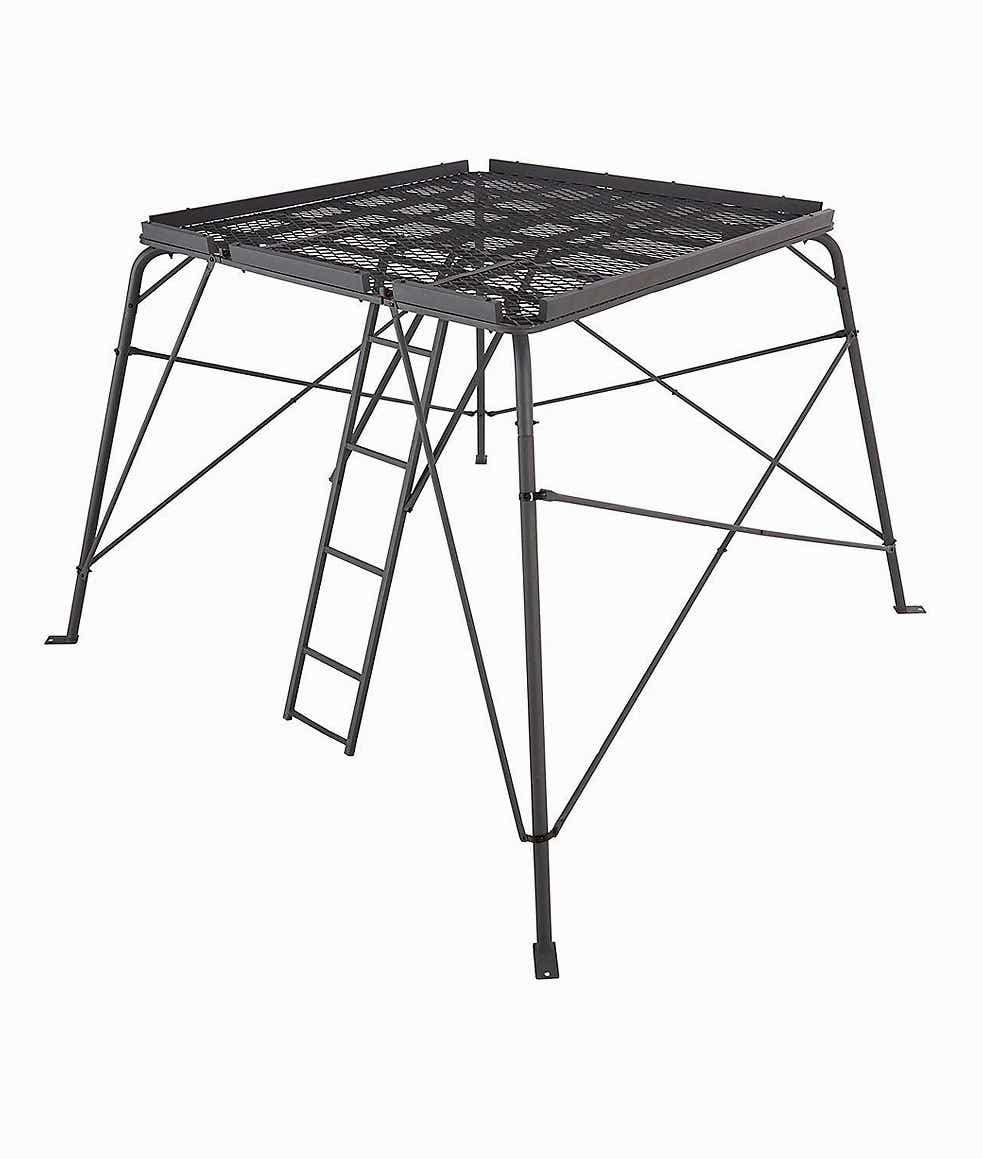 Tripod and quadpod stands are constructed similarly to ladder stands, but don't need a tree to lean up against. In another word, they're freestanding! This means you have total control over where to set up your stand. As the name suggests, a tripod is a stand with three legs, and a quadpod is a stand with four legs. Tripods, like the Game Winner 10 Foot Stand, take up less of a footprint on the ground and can squeeze into tighter spaces. A quad pod, like the Game Winner Quad Pod 2.0, is a little larger for more maneuverability — and can allow for multiple people at a time.
Pros
Plenty of room at the top
Larger sizes are great for hunting in groups
Can serve as "home base" for longer trips
Cons
Can be heavy
Requires multiple people to set up
Can be more visible to game without proper cover
Hunting Stand Safety
A safe hunt is a successful hunt, and tree stand safety is doubly important. Most tree stands are anywhere between 10 to 20 feet in the air, and require extra precautions to avoid falls and injury. Keep these safety tips in mind when using your hunting stand and you'll be all set to have fun out there.
Always use your safety harness. and make sure it meets TMA (Treestand Manufacturer's Association) standards.
Find the right tree for your stand. Especially for climbing stands, which can lose efficacy and safety if they're installed on a tree with too many branches, slippery or shaggy bark, or snow and ice. Consider heading into the range before your trip to scout out a good spot.
Don't forget weapon safety. When bringing your firearm or bow into or out of the stand, always make sure that your weapon is unloaded, pointed down, and the safety is on.
Remember the three-point rule. That's three points of contact when entering or exiting your hunting stand: both hands and one foot, or both feet and one hand. Use your haul line for gear so you don't have to carry it up with you.
Practice beforehand. Build in some time before your hunt to practice setting up, getting into, and tearing down your tree stand to make sure you're comfortable with the process. If you're working with a larger or more complicated stand setup, you could even head into the field a day early to set up.
Have Fun Out There!
The type of tree stand that will work best for your hunting strategy depends on the type of trees and foliage on the range and what game you're hunting, plus your own personal preference. Being comfortable setting up, tearing down, and being in your stand is the most important thing, since it's hard to track your game when your mind is elsewhere. If you'd like to change things up, you can always augment your stand experience with accessories, including extra footrests, shelves, cables, and more.
Ready to have fun out there? Check out our extensive online catalog of stands, accessories, and climbing aids to find your favorite. Or head into your local Academy Sports + Outdoors and chat with one of our team members to get personalized advice and recommendations.