FINDING THE ESSENTIALS FOR DOVE HUNTING SEASON
---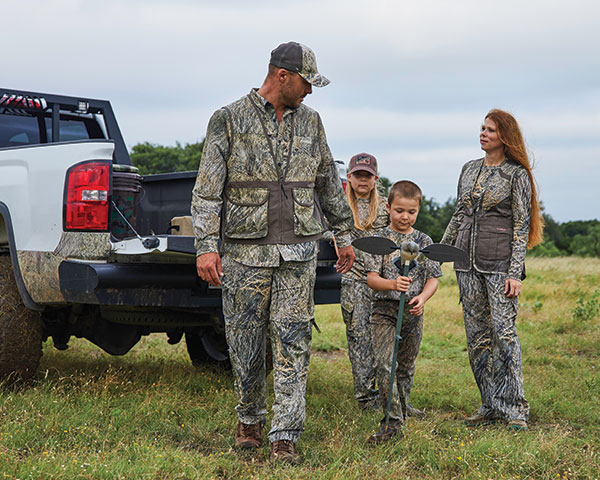 Whether it's your first trip or an annual tradition, dove hunting is something everyone can enjoy. As one of the easiest ways to bird hunt, it's the perfect opportunity for beginners to learn and seasoned hunters to practice. And with the right spot, the right gear, and the right people, it can be a trip you'll never forget.
When you're planning, the top of your to-do list should be obtaining a new hunting license for the season. Stop by your Academy Sports + Outdoors store to purchase hunting and fishing licenses, learn about state regulations, and even get tips from our experts. It's also a great stop for stocking up on all the essentials below.
While picking out gear, make sure you know where you're setting up to hunt. If you don't have access to private property, finding public land is easy through your state's wildlife department website. When choosing a location, look for open areas, dense tree lines, and places doves might feed – like sunflower or corn fields.
EYE + EAR PROTECTION
With any activity involving a firearm, safety should always be your number one priority. Shotguns are powerful firearms, so using both eye protection and hearing protection on your hunting trip is a must.
SHOTGUNS + AMMO
When you're doing something as high volume as dove hunting, selecting the right shotgun and ammo is key to a successful hunt. Practice makes perfect, so we always recommend taking your firearm and matching shotshells to the range to practice accuracy and speed before your trip.
Shotguns - Doves can reach speeds up to 55 mph, so finding a firearm you've both practiced with and are comfortable using can help you bag more birds. Most people choose to use pump-action shotguns due to their versatility and reliability. Another common choice is semiautomatic shotguns, which let you fire quicker and lessen recoil.
Ammo - Selecting the right ammo mainly comes down to what works with your shotgun model. But, more importantly, a shotgun that's too powerful can wipe out a dove on impact – so consider using between a 6 and an 8 shot size to maintain the integrity of these small birds. For planning purposes, three to four boxes should cover you for a full day in the field.
Shell Bags - The golden rule of dove hunting is to leave things the way you found them. A shell bag is the most convenient way to keep ammo secure and to collect shotgun debris. Some models even have a separate pouch for game, keeping your hands free to lug the rest of your gear back home.
CAMO + HUNTING BOOTS
From their vantage point high in the sky, doves tend to notice when something looks out of the ordinary. Wearing the right outfit isn't as tricky or technology heavy as deer hunting, but picking a good pattern can keep you concealed, and wearing the right footwear helps keep you protected.
Camo - For late-summer and fall weather, your camo gear should match the conditions you'll be hunting in. Whether you're wearing long or short sleeves, think about the foliage around your hunting spot for a perfect match. And with a pattern like Mossy Oak Brush (in the picture above), you'll also have gear that transitions well into archery deer season.
Hunting Boots - A good pair of hunting boots can protect you from both the elements and other creatures. If you're hunting in tall grass or an area where snakes are common, we recommend wearing snake boots for added safety.
DECOYS + LURES
Although not necessary, dove decoys can help you reach bird limits and maximize your hunting trip. By placing them in trees and on the ground, you'll lure in live doves to come over and inspect the decoy. When using wind-spinning models, make sure the decoy is faced toward the wind to mimic lifelike behaviors.
STOOLS + COOLERS
When you're choosing what to pack, some added comfort can make all the difference. Hunting stools can help you stay in the field longer, and do double-duty as a place to relax with friends and family. If you want to bring food and drinks along, check out our cooler selection – like the YETI Tundra 35 cooler that provides cool temps all-day long.
VARIETY + VALUE
With exclusive brands like Magellan Outdoors and Game Winner, Academy Sports + Outdoors has great quality at an affordable price point. And with hunting favorites Browning and Mossberg, we have the best brands you know and love in-store and online.
Finally, we believe your trip should be more than just hunting – it should be fun. Whether it's hanging out with old friends or trying out new gear, a dove hunting trip is the perfect way to make time for what matters.