Which Baseball Glove Should I Get?
Baseball gloves feature a wide array of different designs, materials and web types so finding the right glove type is crucial for on-the-field performance. While it can be daunting to know which glove style is best for you or the younger players in your household to get, there are a few things to keep in mind to help you buy the best baseball glove.
Baseball gloves are designed to give players protection, comfort, and control on the diamond. Baseball mitts and gloves come in different sizes, are crafted for different positions, and feature comfortable fits for adult and youth baseball players.
Anatomy of a Baseball Glove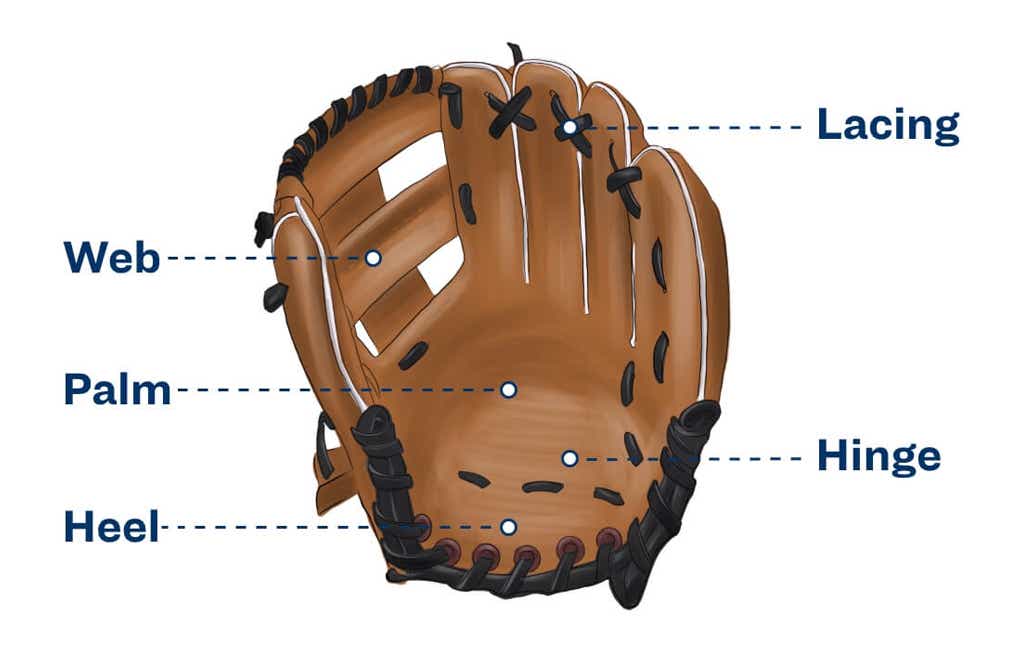 Before buying a glove, it is helpful to know which materials your glove is constructed from. Look for baseball gloves that are crafted with high-quality materials such as full grain leather, kip, premium steerhide or cowhide.
For younger players, cowhide or synthetic leather are recommended, particularly because synthetic leather doesn't require a break-in period. More mature players should use softened, oil-treated leather gloves for a game-ready feel. If durability and optimal performance are necessary, then a top of the line Premium or Pro Series leather construction is the best choice, but keep in mind that it will require a break-in period (two to three weeks of daily use) for optimal performance.
Most modern gloves are broken down into common components: a heel, a hinge, a lacing system, a palm, and a web.
Heel:
The heel is made up of the lower portion of the palm side glove. This section of baseball gloves provides protection and is a determining factor in how long the break-in period of your glove will be.
Hinge:
Hinges allow your glove to open and close with ease. This translates into more secure catches and ball handling.
Lacing:
The glove's lacing system supplies the much-needed structure of the glove you wear. Leather laces are most common as they tend to break-in naturally – similarly to how your glove does.
Palm:
Palms offer safe and protective padding beneath the leather layers to protect your hand from impact.
Web:
Placed between the first finger and the thumb since 1920, the web of your baseball glove helps ensure consistent and reliable ball control and catching. Made of tightly woven pieces of leather, webs play a major difference in not only catching balls but maintaining a secure hold on the ball once you've snagged it.
What is the Right Baseball Glove for my Position?
When it comes to deciding the best baseball glove for the job, knowing your own or your little ball players' position on the field is crucial. Baseball gloves are designed to optimize major positions in mind to help ensure each player can bring their best performance to the diamond. The main baseball glove webbing types are:
Basket Web
Trapeze Web
Modified Trapeze Web
BH-Webs, I-Webs
H/Dual Post
Single Post Web (1st Basemen)
Double Post Web
Two-piece Web
Half Moon, One-piece (catcher's mitts)
Pitchers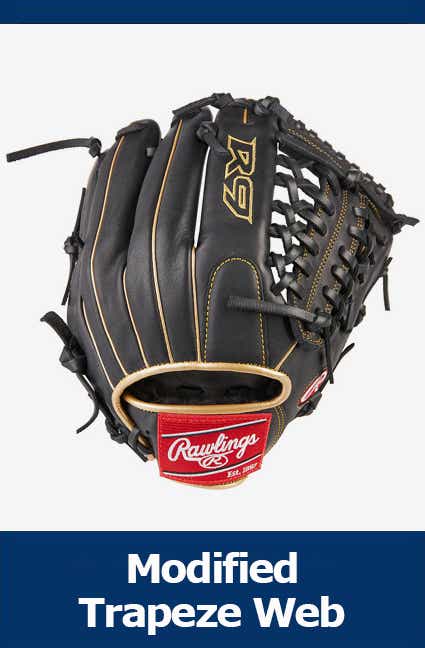 Concealment is key for any pitcher. The baseball gloves best for the job often feature closed webbing systems like Basket, Modified Trap, Double Post, and Two-piece.
Catchers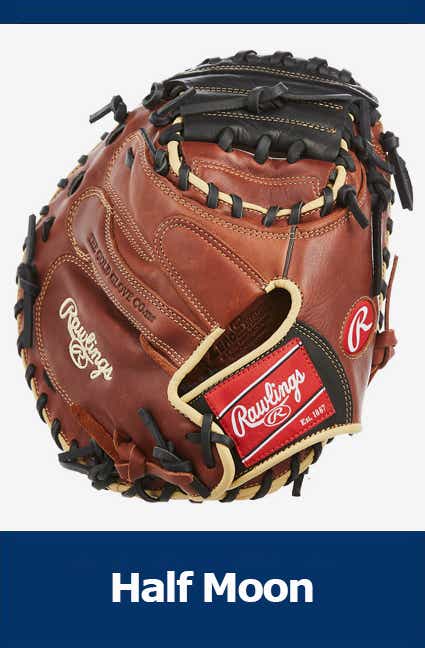 Fingerless, heavily padded and boasting tight, shallow pockets created by Half Moon and One-piece Webs, catcher's mitts supply the control a catcher needs and the protection to reduce the sting and increase the transfer speed.
First Basemen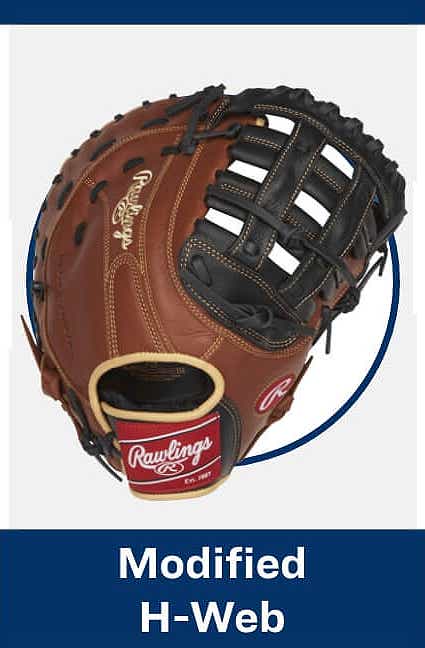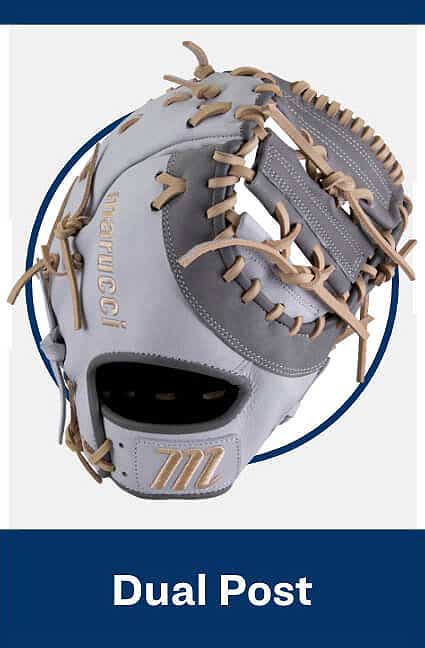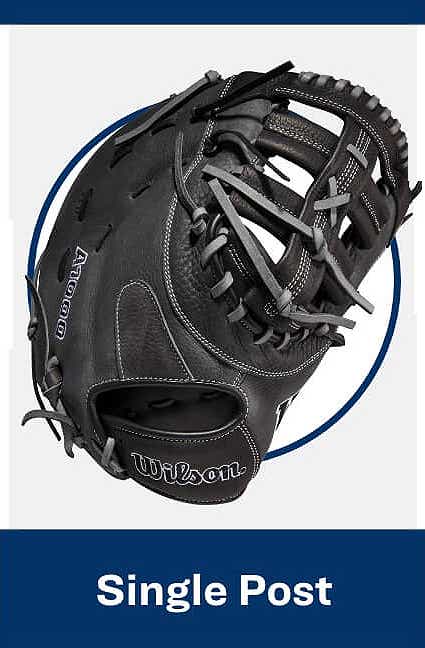 First baseman baseball gloves offer a long, wide mitt design ideal for handling the challenges presented to a first baseman: scooping up grounders and catching missile-like throws from teammates in the infield. Modified H-Webs, H/Dual Post, and Single Post Webs provide deep pockets to keep the ball secure.
EXPERT TIP:
The difference between a baseball glove and a baseball mitt is that gloves have fingers and mitts do not. Therefore, first basemen and catchers often use mitts, while the other players use gloves.
Infielders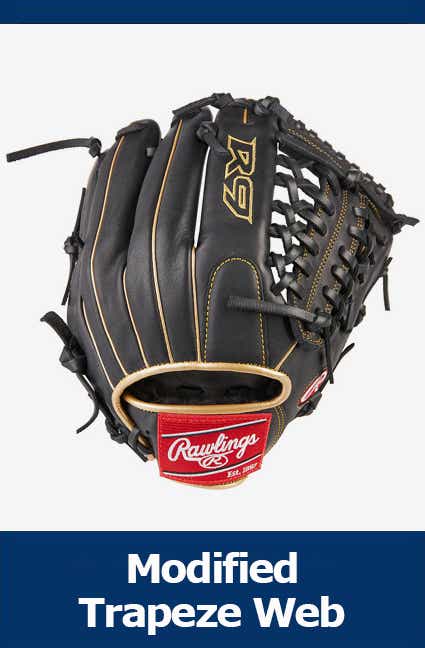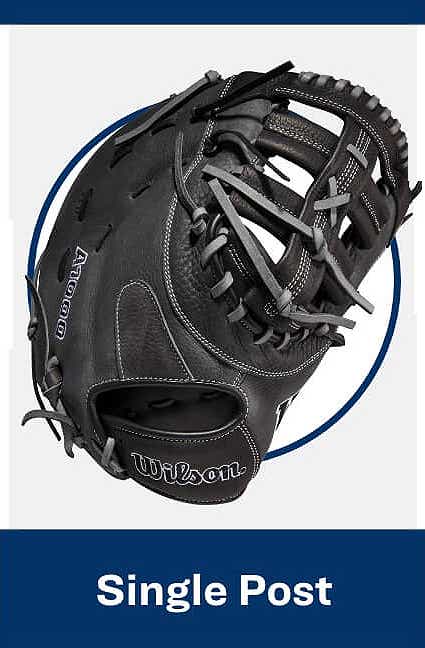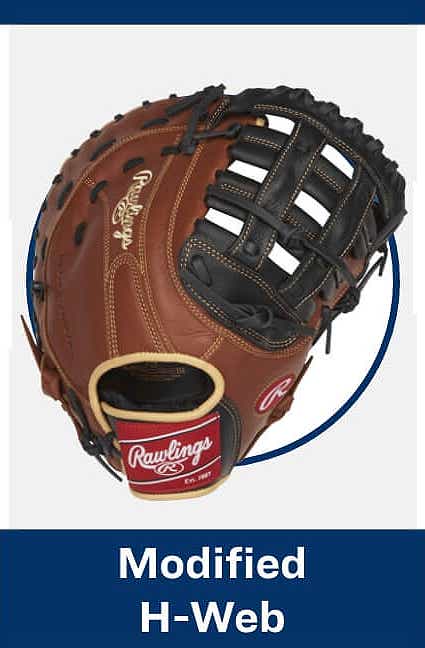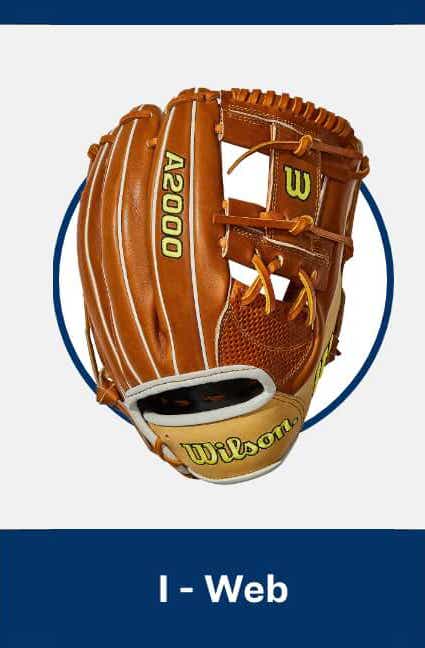 Speedy, swift transactions are what infielders are about. Infield gloves often utilize a smaller, 5-fingered design with a shallow pocket for quick transfers from the glove to releases from the throwing hand. Modified Trapeze, Single Post, Two-Piece H- and I-Webs are ideal for infielders as they make it easy to sift through dirt to scoop up ground balls. Double Post Web gloves are used occasionally.
Outfielders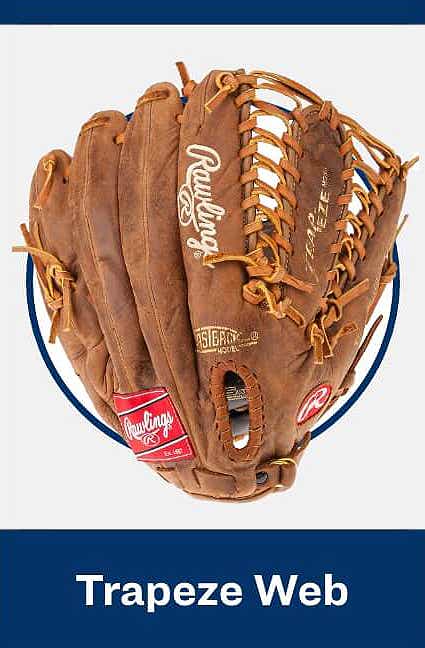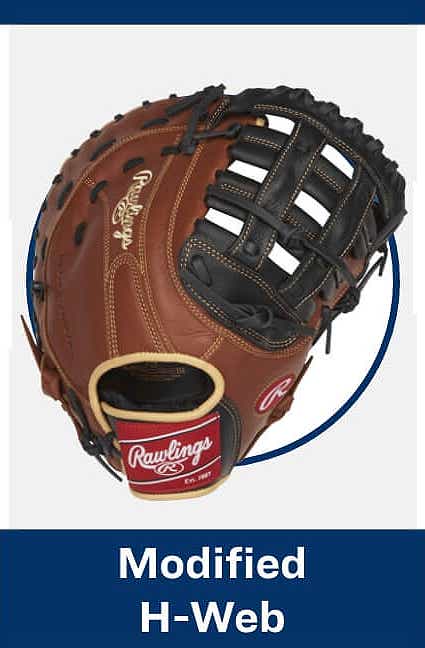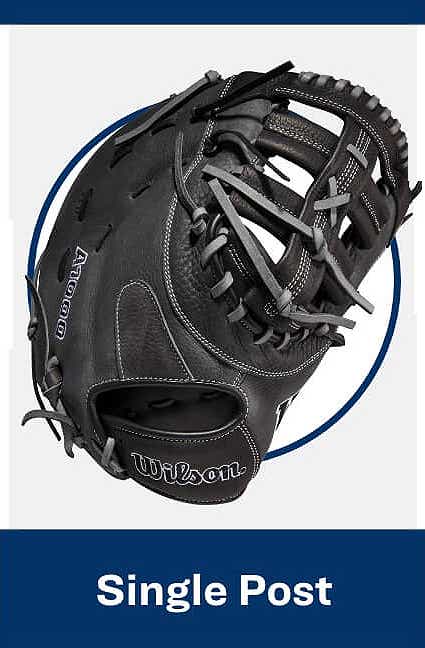 What web type do outfields need to snag those fly balls? Outfield baseball gloves tend to sport an extended length for additional reach and Trapeze Webs for a deeper pocket to secure the catches. Modified, H- and Single Post Webs are also great for outfield position players.
Infield or Outfield Gloves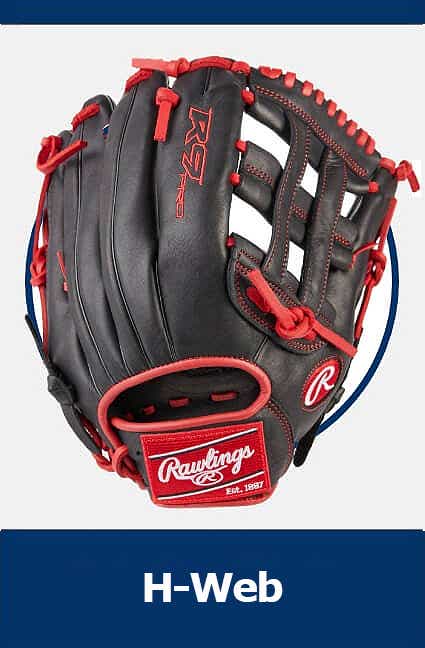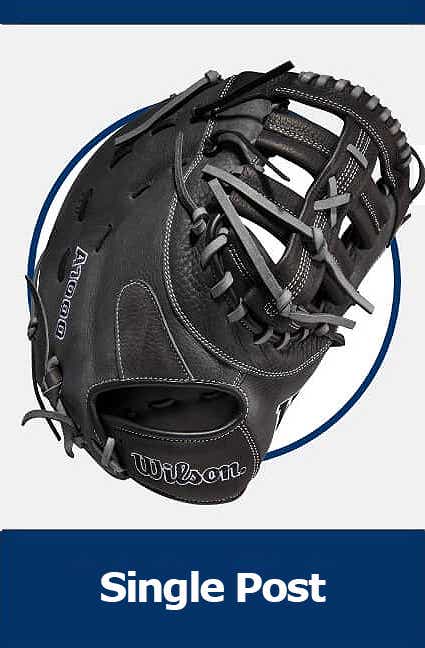 If a player has a more versatile approach out or in the field H-Webs and Single Post webbed baseball gloves are the best choices. These webbing types offer strength and flexibility ideal for utility players, infielders, and outfielders.
How to Size a Baseball Glove
Whether you are considering an adult baseball glove or how to size a glove for t-ball players, focus on these factors: the glove size, your or their throwing hand, the fit and the feel. Baseball gloves usually do not surpass 12.5 inches in length from index to palm and come in right-handed and left-handed glove configurations. The fit should be snug, but not tight enough to restrict your performance, while the feel should be stiff, yet flexible enough to manage proper control and response.
Youth Catcher's Mitt
Under 7
29.5" - 30"
8-10
30" - 32"
11-13
31" - 32.5"
Youth Baseball Gloves
5 and under
9" - 10"
6 to 7
10" - 10.5"
8 to 10
10.75" - 11.5"
11 to 12
11" - 12"
High School and Adult Baseball Gloves
Infield
11" - 12.25"
Outfield
12.5" - 12.75"
First Base
12" - 13"
Pitcher
11.5" - 12.5"
Catcher
32.5" - 34"
Remember the break-in period for your glove or youth baseball gloves, which means the stiffness decreases over time as your hand flexes and works inside the glove. Also, it's perfectly fine for personal preferences (such as color, pattern, or brand) to factor in on your buying decision. After all, baseball gloves are not solely about function – they're designed with style today, too. Choose a look and color that fits you or your little one's game day personality.
Shop all your baseball equipment needs, including gloves, mitts, glove cleaning treatments, and maintenance sprays from our selection of baseball accessories in-store or online at Academy Sports + Outdoors.
Learn how to buy the right baseball bat to get fully ready for game day at the ballpark.