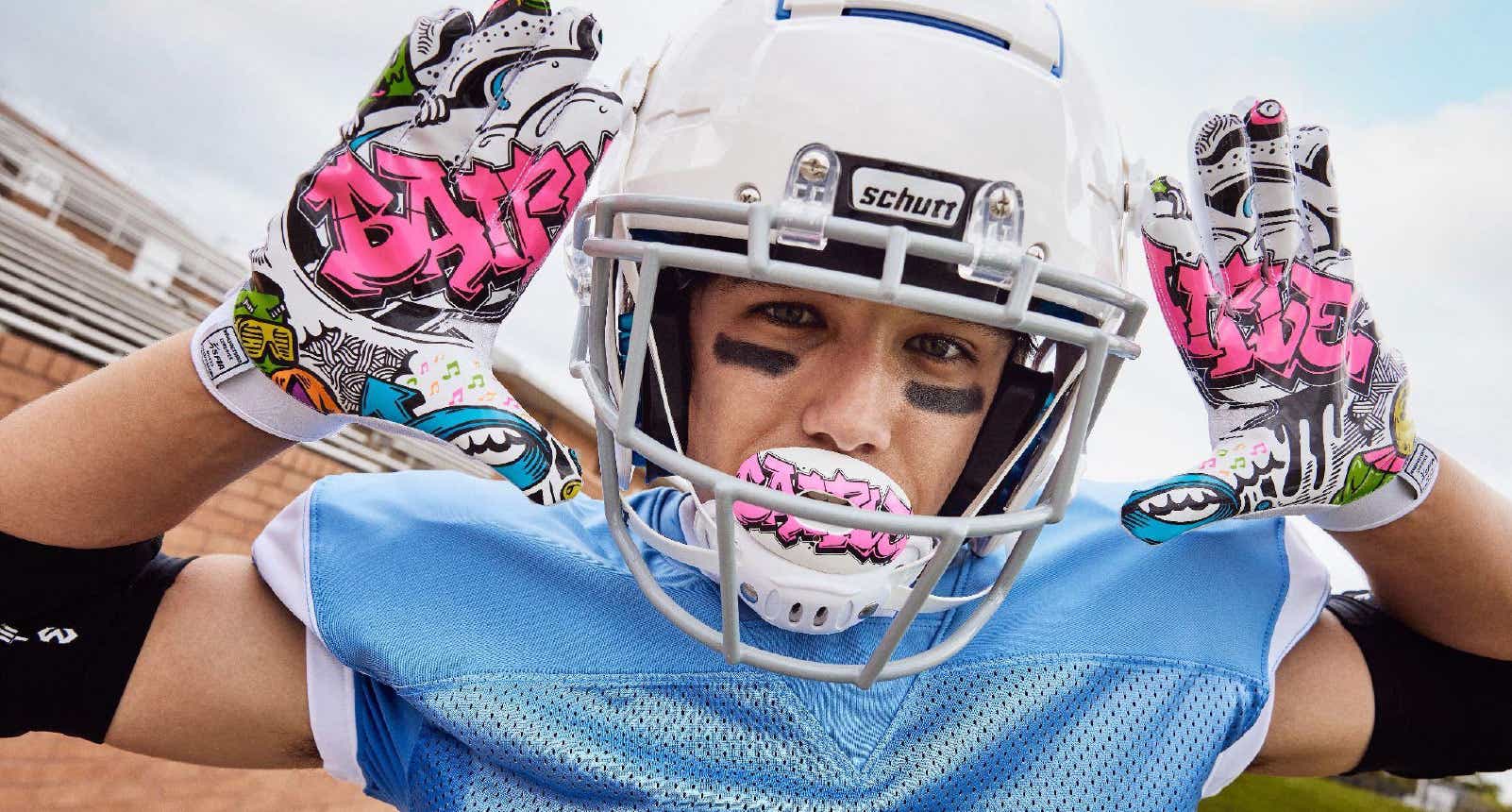 Before stepping foot on the field to catch the ball and score a touchdown, make sure you're wearing the proper equipment. One of the most important tools you can have on the field is a high-quality football helmet. Designed to handle hard hits, football helmets are critical in guarding against concussions and other head injuries. This is especially important for younger kids who are just getting the hang of the sport and may be more susceptible to mishaps. Buying the right helmet helps ensure they stay safe during every play.
Not sure which helmet is the best fit? Keep reading to figure out what design, features and accessories can help you or your child stay protected during the action.
EXPERT TIP:
Keep in mind that individual leagues may have different rules and regulations regarding which football helmet players can wear. Be sure to check these regulations with your coach, league or team before buying.
Measuring Yourself for a Football Helmet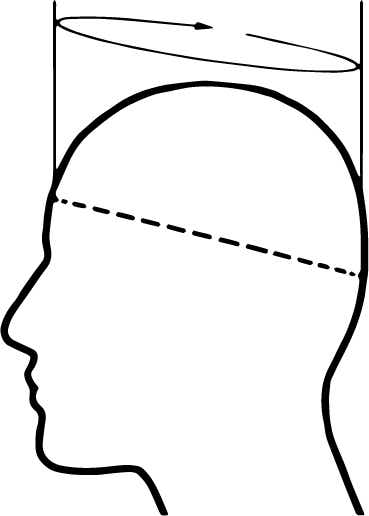 Making sure your helmet is the right size is absolutely crucial to your in-game performance and safety. If it's too heavy, for instance, your helmet can slow you down and put additional stress on your neck muscles. To find out which helmet is the right fit for you, start by grabbing a measuring tape and a friend. Then, follow these easy steps:
Have your friend place the measuring tape about 1 inch above your eyebrows and wrap it fully around your head.
For accuracy, make sure you're measuring the widest part of your skull.
Record the circumference of your head in inches.
Refer to the size chart below to find out which helmet size will most likely fit you the best.
Football Helmet Size Chart
Youth
| Helmet Size | Hat Size | Head Circumference |
| --- | --- | --- |
| Extra Small (X Small) | 6 - 6 1/4 | 19-19.5" |
| Small | 6 3/8 - 6 1/2 | 20-20.5" |
| Medium | 6 5/8 - 6 3/4 | 20.75-21.25" |
| Large | 6 7/8 - 7 | 22.25-23.75" |
| Extra-Large | 7 3/8 - 7 1/2 | 23-23.5" |
Expert Tip:
Use the charts as a general guide, but keep in mind that sizes may vary depending on brand and manufacturer. We recommend stopping by your local Academy store and trying on a few helmets to achieve the proper fit.
Adult
| Helmet Size | Hat Size | Head Circumference |
| --- | --- | --- |
| Small | 6 - 6 1/2 | 19-20.5" |
| Medium | 6 1/2 - 7 | 20.5-22" |
| Large | 7 - 7 1/2 | 22-23.5" |
| Extra Large (X Large) | 7 1/2 - 8 | 23.5-25" |
How Should a Football Helmet Fit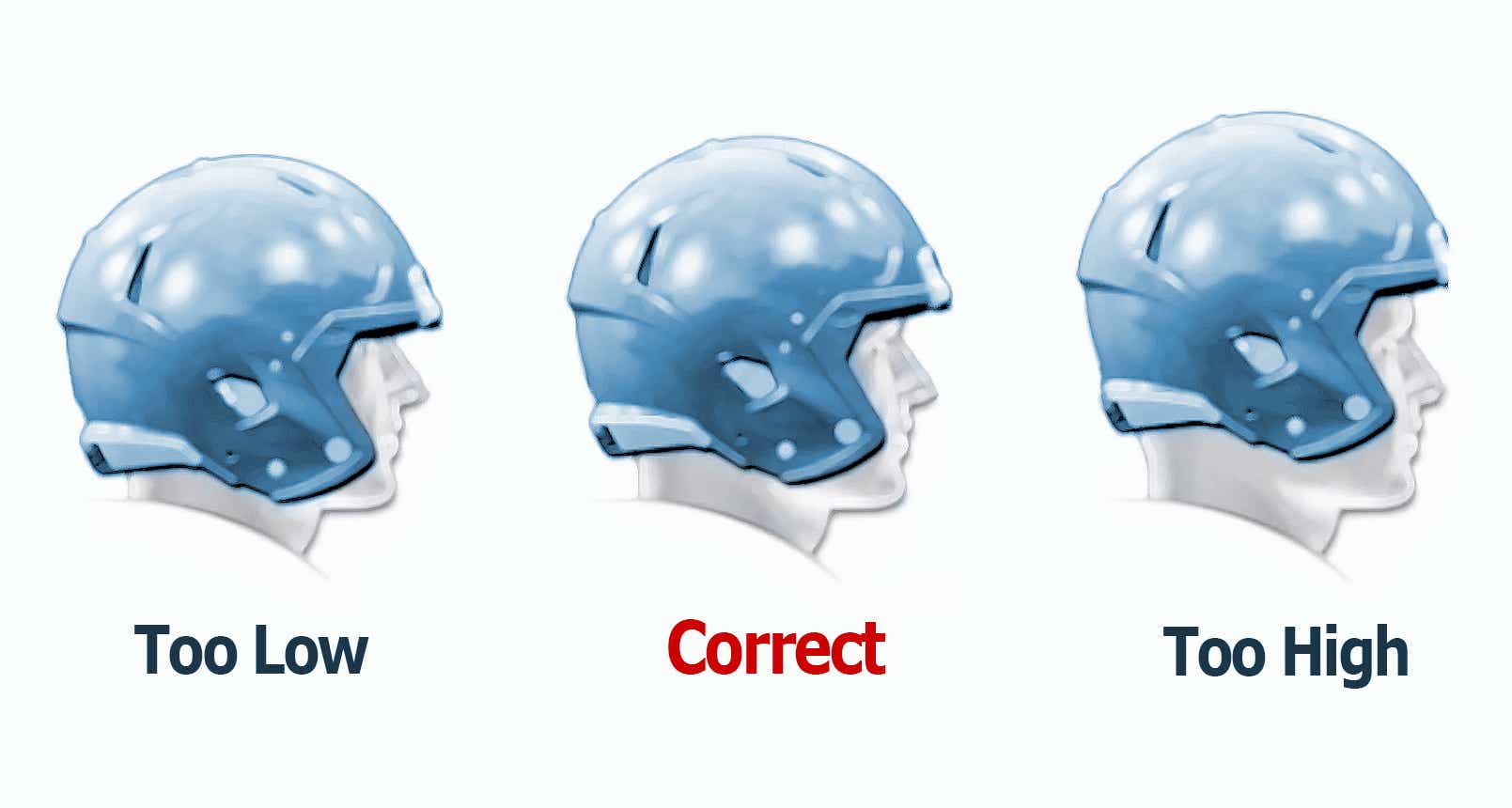 Expert Tip:
The jaw pads are the only removable pads in the helmet. Once you find the right helmet for your head's circumference, you can adjust the size of your jaw pads, up or down, to personalize the fit around your face.
When trying on a new helmet, here are some key things to keep in mind:
It should sit about 1 - 1.5 inches above the eyebrows, ensuring a clear view of your surroundings.
It should stay firmly in place when you move your head.
There should be no space between your temples and the interior padding.
There should be no space between your jaw and the jaw pads.
If there is a bit of space between you and the helmet, look for a better fit. You don't want to risk having the helmet fall off on the field, potentially causing an injury.
How to Put on a Football Helmet?
Properly fitting football gear can mean the difference between injury and protection. To help ensure you have your helmet on correctly, follow these simple steps:
Hold the helmet with the front of it facing your chest.
Place your thumbs over the bottom of the jaw pads and your index fingers in the ear holes.
Pull the helmet downward over your head and into position.
Make sure the facemask is about two finger-widths from the tip of your nose. If it's any closer, you could be at risk for injury during hard hits. If it's further away, you could be injured by another player's hands or their fingers through the mask.
Ensure the chin strap is fully tightened. The cup should fit snugly against your chin. If the chin strap isn't properly secured, you may lose your helmet during gameplay.
Maneuver the helmet until it is centered over your ears.
To check that the helmet is secure, try these tips:
Hold the facemask and slide the helmet back and forth. If it slides over the eyes or high above the forehead, it's either not fully secured or it's too big.
Press on the top of the helmet. If it shifts down a lot, the helmet is too large. If it pops up after you press down, it may be too small.
Move your head around. If the helmet is secure and fits well, it should move along with the head without shifting.
The Anatomy of a Football Helmet
The Shell
The exterior of the helmet is known as the shell, and it's the first line of defense against impact. The primary features of the shell include:
Durable, supportive construction
ABS plastic or an alloy material
Ventilation systems for increased airflow and comfort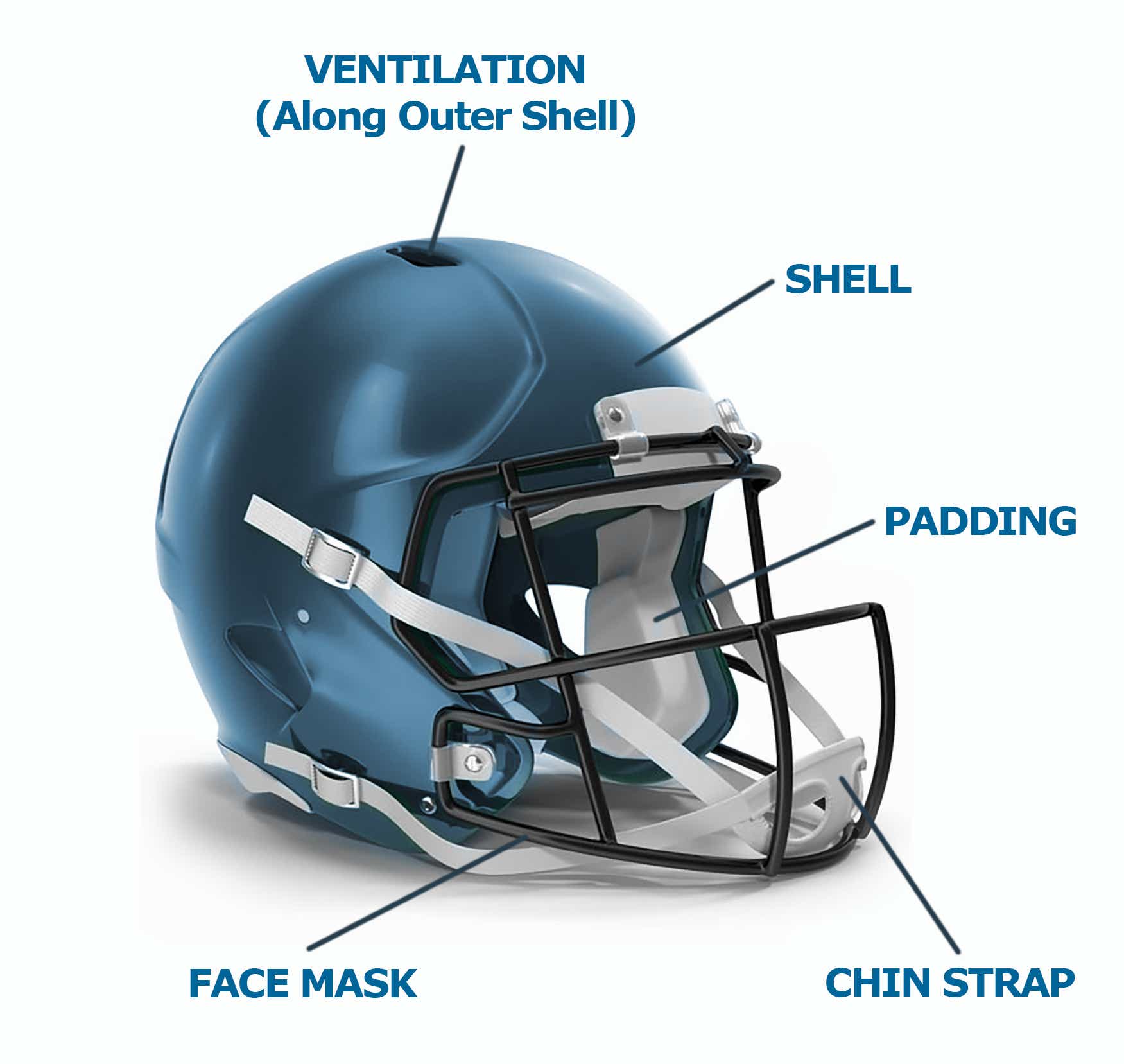 Choosing the Padding
This layer is crucial in keeping your head as safe as possible. The football helmet's interior padding creates a soft, supportive design and helps absorb the energy of an impact, shielding your head from the brunt of the blow.
The helmet padding is typically made from 2 types of foam:
Thermoplastic urethane (TPU) foam helps protect players from the shock of collision. Ready to use, TPU foam does not need to be broken in before game day like other typical helmet padding.
Vinyl nitrile foam protects a player while offering a comfortable fit, which is huge on game day. Vinyl nitrile foam can help absorb the impact of inevitable hits. Unlike TPU foam, vinyl nitrile foam usually requires time to break in for proper use.
When you place your helmet on your head, there should not be any space between your temple and the helmet. In fact, there shouldn't be any wiggle room at all. Some of the best features of helmet padding include:
Excellent shock absorption
Comfortable protection
A secure, adjustable fit
Some football helmets even offer inflatable pads, rather than the fixed, pre-sized padding that's found in many models. Inflatable helmet padding fills with air to create a snug, customized fit between the shell and your head. That way, you'll have better support and protection during tough tackles. If you choose a helmet with inflatable pads, be sure to buy an air pump to properly adjust the fit every time you gear up.
Expert Tip:
For the best cushioning on the market, choose a helmet with TPU padding. This material holds up better than foam and is virtually indestructible. Even better, TPU cushioning is often antibacterial and antifungal so that you can use the same helmet for many practices and games to come.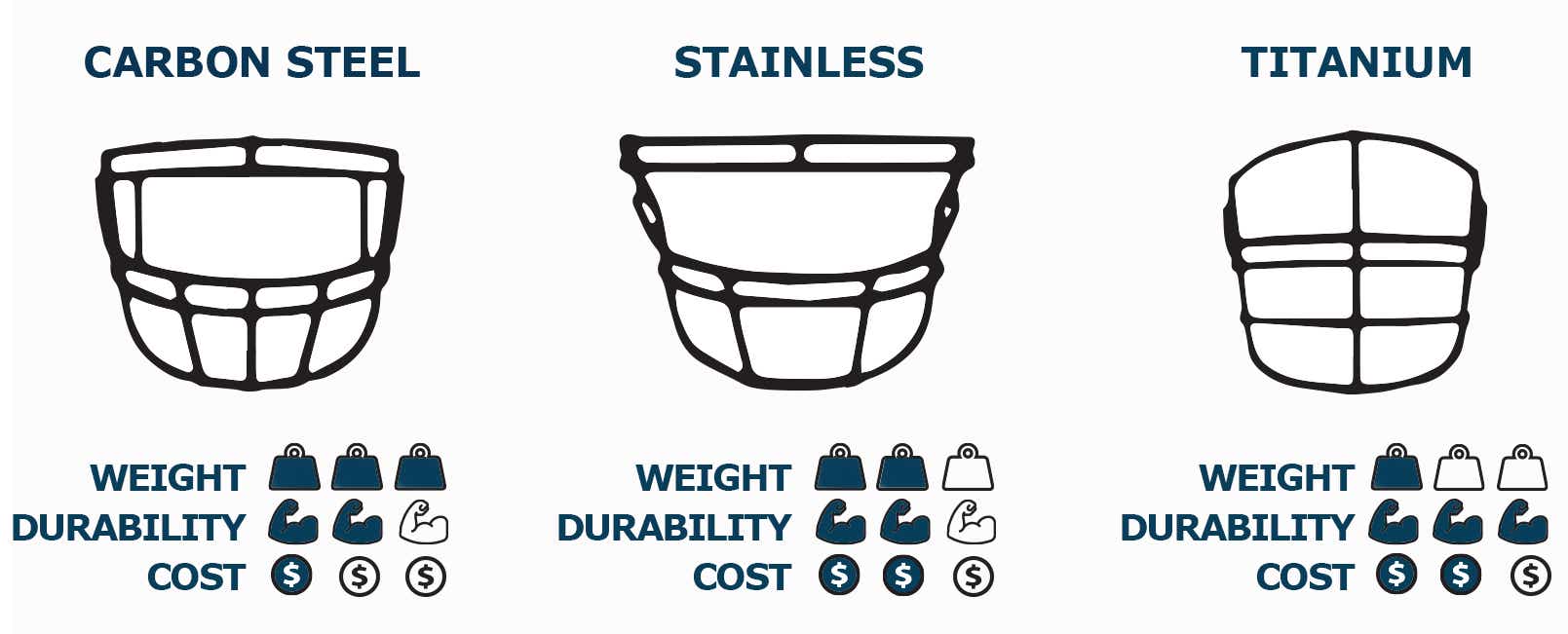 Choosing the Facemasks
You can choose a helmet that already includes a football facemask or buy one separately and attach it to your compatible helmet. Made from materials like carbon steel, stainless steel and titanium, facemasks combine a lightweight design and a strong barrier. While the helmet itself helps protect your skull, the mask safeguards important facial features, including the eyes, nose and mouth. Additionally, the style you need depends on the in-game action you see. Find a facemask that works for you and your position: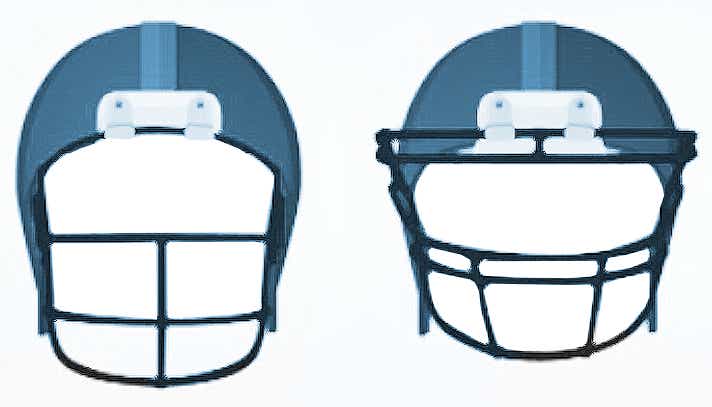 Open Cage
Quarterbacks, defensive backs and wide receivers get oral protection only. These players need a complete view of the field in front of them, so it's important that they don't have too many pieces blocking their vision. This facemask is equipped with oral protection and a wide viewing area to help them scan the field.


Running backs, kickers and tight ends require jaw and oral protection. These masks offer a greater level of security during blocks and hits. Some models even feature vertical bars on the outside to help prevent opponents from accidentally poking your little player's eyes during tackles.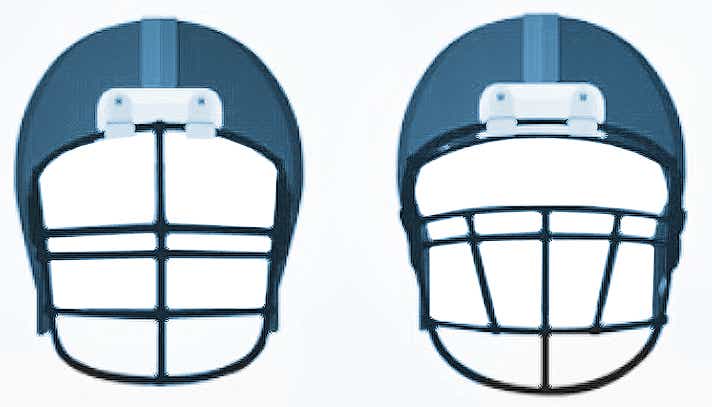 Closed Cage
Linemen, fullbacks and linebackers need nose, jaw and oral protection. Offensive and defensive players face their fair share of bruising hits and up-close action. Having full facial coverage helps them stay protected when blocking and tackling.


Other players should have eyeglass and oral protection. For those who frequently experience hard contact, these football masks should help keep the eyes and mouth safe from injury.
The Accessories
Along with these basic features, you can also pick up helmet accessories and other protective gear to help boost your safety on the field. Check with your coach or local league to determine what's required or if you need special permission to wear these football accessories:
Mouth guards: These help protect your mouth and teeth against injury.
Chin straps: Attached to the helmet, they help ensure it stays securely in place.
Eyeshields and visors: These attachments add protection without obstructing your vision.
Expert Tip:
Buy a quick-release faceguard system to easily detach your facemask in the event of an emergency. Most facemasks today include this innovative feature to help ensure that you can get to your player if they're injured on the field.
Football Helmet FAQ
Q. How do I know if my helmet is safe and certified?
One way is to identify models with NOCSAE certification. The performance and test standards for sports gear are overseen by the National Operating Committee on Standards for Athletic Equipment (NOCSAE), an independent, nonprofit organization. Along with football helmets, NOCSAE sets the standard for football
gloves and facemasks, as well as equipment for other sports.
The Safety Equipment Institute (SEI) provides a complete list of certified products, making it easy for players and parents to find the athletic gear that has been evaluated for safety and performance. To assist in your search before the season starts, use the NOCSAE dropdown on the SEI website to locate your sport and access a list of products organized by the following identifiers:
Brand
Model number
Size/class/configuration
Using this information, you can find the best choice available in stores for you or your young athlete.
Q. How much does a football helmet cost?
A football helmet is among the most expensive pieces of equipment for the player, yet arguably one of the most important. On average, the price of a football helmet can range from about $160 - $550. Once you reach collegiate and professional levels, football helmets can retail as high as $1,700
The price point for each model generally depends on several factors, such as:
Brand name
Type of helmet
Accessories included (facemask, chin strap, etc.)
Football helmet designs also evolve as advancements arise over time. This helps ensure each product that hits the market can better serve the players in action and protect against concussions than the models before. This means that helmets with the latest and greatest technology will likely be more expensive than others. Additional features that may affect price include:
TPU cushioning
Inflatable liners
Quick-release system
Stabilization system
Customizations
Q. What do I need to clean my football helmet?
Bacteria, sweat, dirt and grass stains can all make your helmet feel grimy in a short amount of time. Be sure to clean it between practices and game days. Most football helmets can be cleaned using the following items:
The price point for each model generally depends on several factors, such as:
Microfiber cloth
Gentle cleaners, like mild dishwashing soap
Disinfectant spray
Top football helmet brands like Riddel recommend reconditioning helmets after each season or year.
Expert Tip:
Avoid using harsh chemicals like bleach or ammonia to clean the helmet, as these can cause permanent damage and irritate your skin. Additionally, it's always best to follow the manufacturer's cleaning instructions, if provided.
Q. How do I clean the outside of my football helmet?
Usually, the helmet's exterior just needs a quick wipe down to remove the dirt. Grab a cloth and your gentle cleanser and start cleaning. Once you're finished, simply dry it off with another cloth.
Q. How do I clean and disinfect the inside of my football helmet?
The interior of the helmet is a different story – don't give sweat and bacteria a chance to collect. Grab a damp cloth and rub the cleanser (see above) over the interior pads. Try to reach between them to get any sweat that's stuck inside the crevices. Next, wipe the area down with a cloth dipped in warm water to completely remove the soap. Finally, spray the entire interior with disinfectant and leave the helmet sitting upright until it's completely dry.
PRO TIP: Keep your helmet out of the sun or high heat while it dries to avoid degrading the pads.
Q. At what age should a child upgrade to an adult-size helmet?
Typically, players will upgrade to an adult-size helmet between 12 and 14 years old or when they enter middle school.
Q. Other than size, is there a difference between adult (or varsity) and youth football helmets?
Children's football helmets are typically made with acrylonitrile butadiene styrene (ABS) plastic. While they're tough enough to handle the hits and tackles of young players, these are no match for the skill or power of a stronger adult player. Adult football helmets are usually created using heavy-duty materials like polycarbonate to offer a greater defense against impact.
Q. Which football helmet is right for my child's age and skill level?
Even though they typically don't tackle or hit as hard as older kids, the youngest players still need helmets that meet the NOCSAE requirements. Find lightweight, affordable youth helmets for kids who are 5 - 10 years old. As the child grows, they'll need a helmet that can withstand greater force while delivering the safety the player needs. Once your child reaches middle school, they may require a varsity football helmet made of tougher materials.