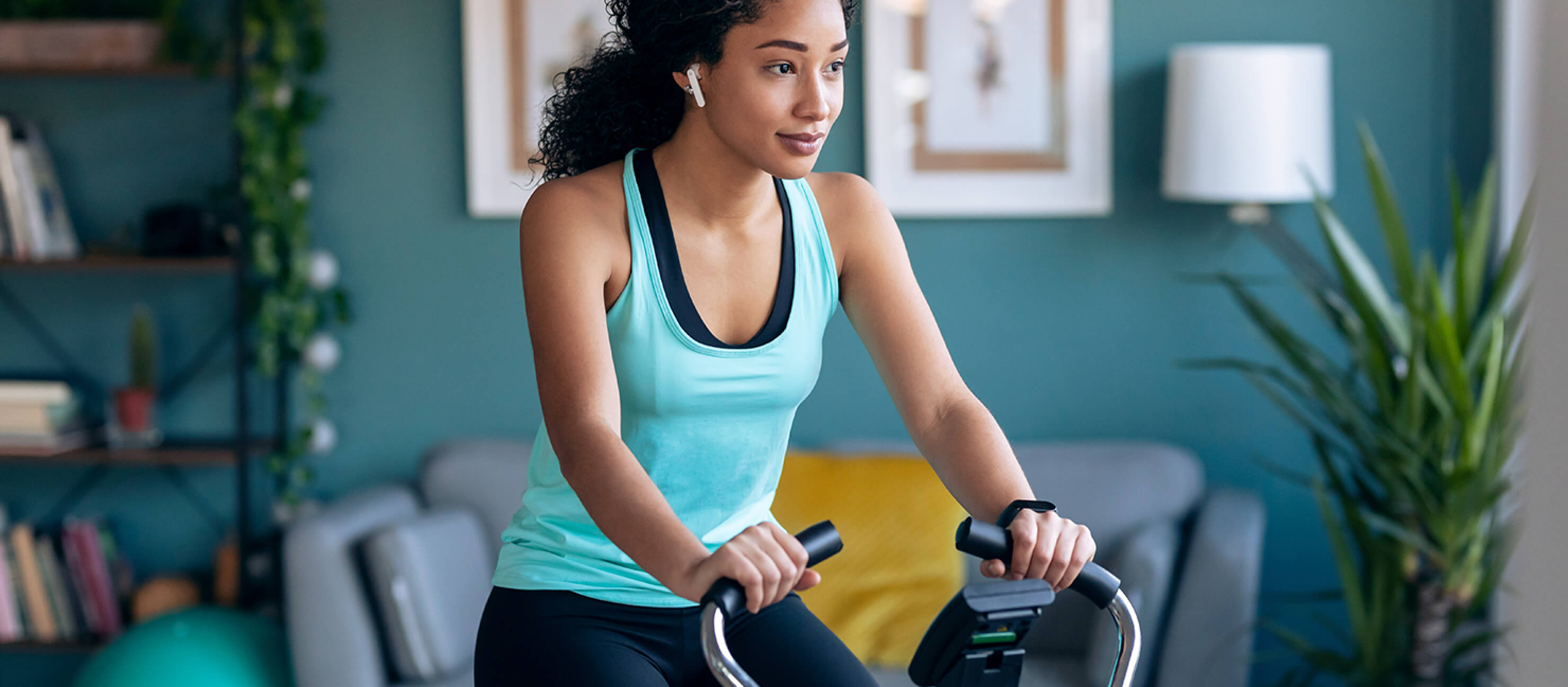 Reach Your Fitness Goals With the Right Exercise Bike
What's the best way to get a low-impact, cardio-forward workout for your lower body? A stationary exercise bike! They're the perfect solution when you want all the benefits of biking inside your home for added convenience and flexibility. We surveyed the experts at Academy Sports + Outdoors for the best types of exercise bikes to help you make the right choice for your home gym.
What Is a Stationary Exercise Bike?
An exercise bike (also called a spin, cycling, or stationary bike) is an indoor cardio machine that replicates the movements of a bicycle. Upright, dual-action, and recumbent bikes are the three major types of exercise bikes you'll see. Each has slightly varying benefits and considerations. But all of them will have pedals for your feet, handlebars, a seat, and a potentially adjustable resistance or tension knob.
What Are the Different Types of Exercise Bikes?
Exercise Bike Types Chart

Type of Exercise Bike
Typical Resistance Capabilities
Typical Weight Capacity
Typical Bike Weight
Minimum Space Required
Typical Muscles Worked
Typical Cost
Cycling Bikes
Magnetic, contact
250-300 lbs.
115-150 lbs.
10 square feet
Legs, lower body (core, glutes, etc.)
$300-$1200+
Recumbent Bikes
Magnetic, contact
250-350 lbs.
80-150 lbs.
12 square feet
Legs, lower body
Under $600
Smart or Studio Bikes
Magnetic, contact
250-300 lbs.
100-125 lbs.
10 square feet
Legs, lower body
$500-$1200+
Upright Bikes
Magnetic, contact, fan wheel or air
225-300 lbs.
40-75 lbs.
10 square feet
Legs, lower body
$150-$650
Dual Action Bikes
Fan wheel or air
250-350 lbs.
60-140 lbs.
10 square feet
Legs, lower body, upper body (biceps, shoulders, etc.)
Under $400
Mini Bikes
Magnetic, contact
No limit when sitting down in chair
8-25 lbs.
3 square feet
Usually just legs
Under $100
Foldable Bikes
Magnetic, contact
250 lbs.
30-60 lbs.
6 square feet
Legs, lower body
Under $200
While each manufacturer has slight differences, most models of exercise bikes can be categorized into one of seven types. Learn more about exercise bikes or our experts' tips on choosing the best one for you:
Expert Tip:
The best type of exercise bike depends on what you plan on using it for, where in your house you'd like to keep it, and your individual body needs. Keep reading to learn more about each bike type!
Cycling exercise bikes are the most common type. They're constructed to match a road bicycle so that you can ride them in similar ways: leaning forward onto the handlebars, sitting upright on the seat, or even standing on the pedals. Pedalers of all skill levels and seekers of all workout intensities can benefit from their versatility.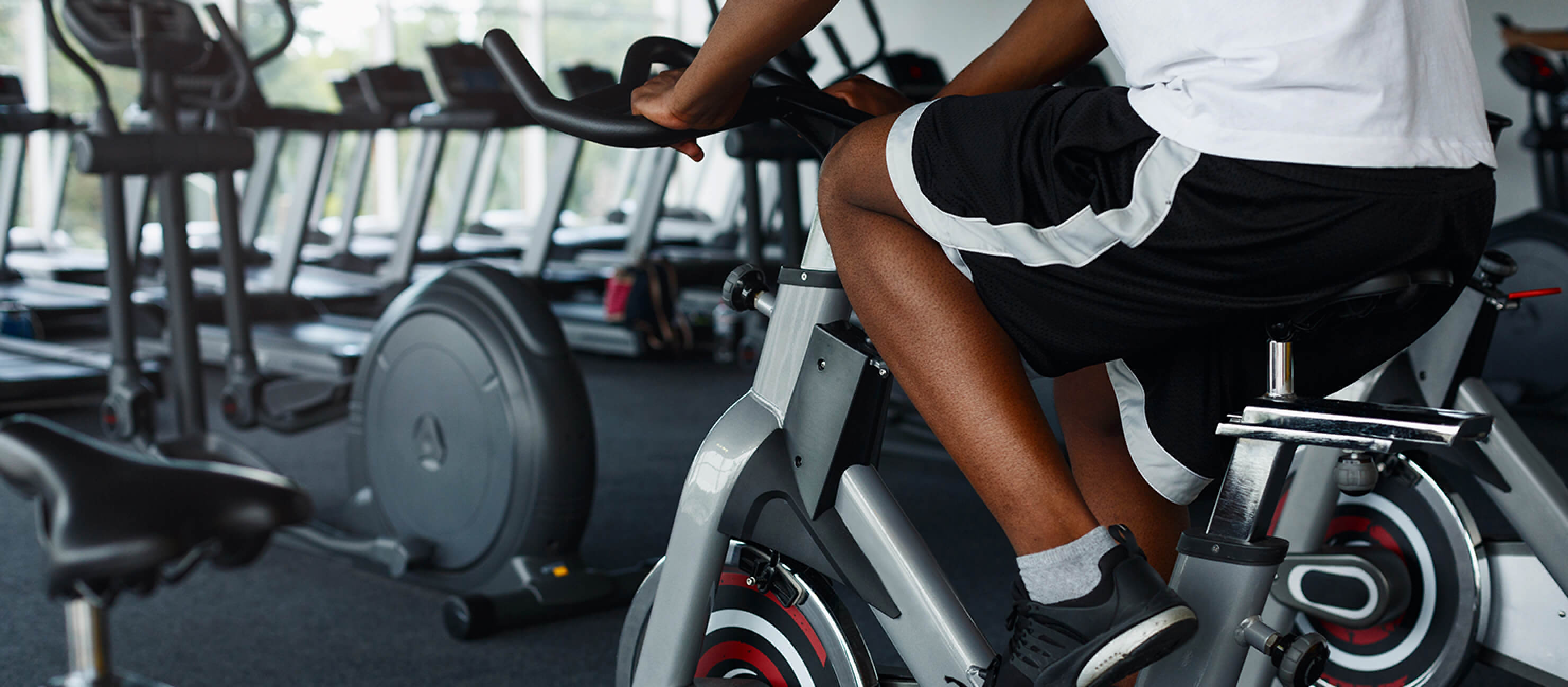 Cycling Exercise Bike Pros
Versatile
Available at most retailers
Most similar to road bike
Cycling Exercise Bike Cons

Limited storage options
Smaller seat
Can be expensive
Recumbent exercise bikes sit in a fixed, semi-reclining position with the pedals in front of where you sit. The unique seat on recumbent exercise bikes fully supports the back — similar to a chaise lounge or recliner. This helps those with back problems or folks looking for a lower-intensity ride.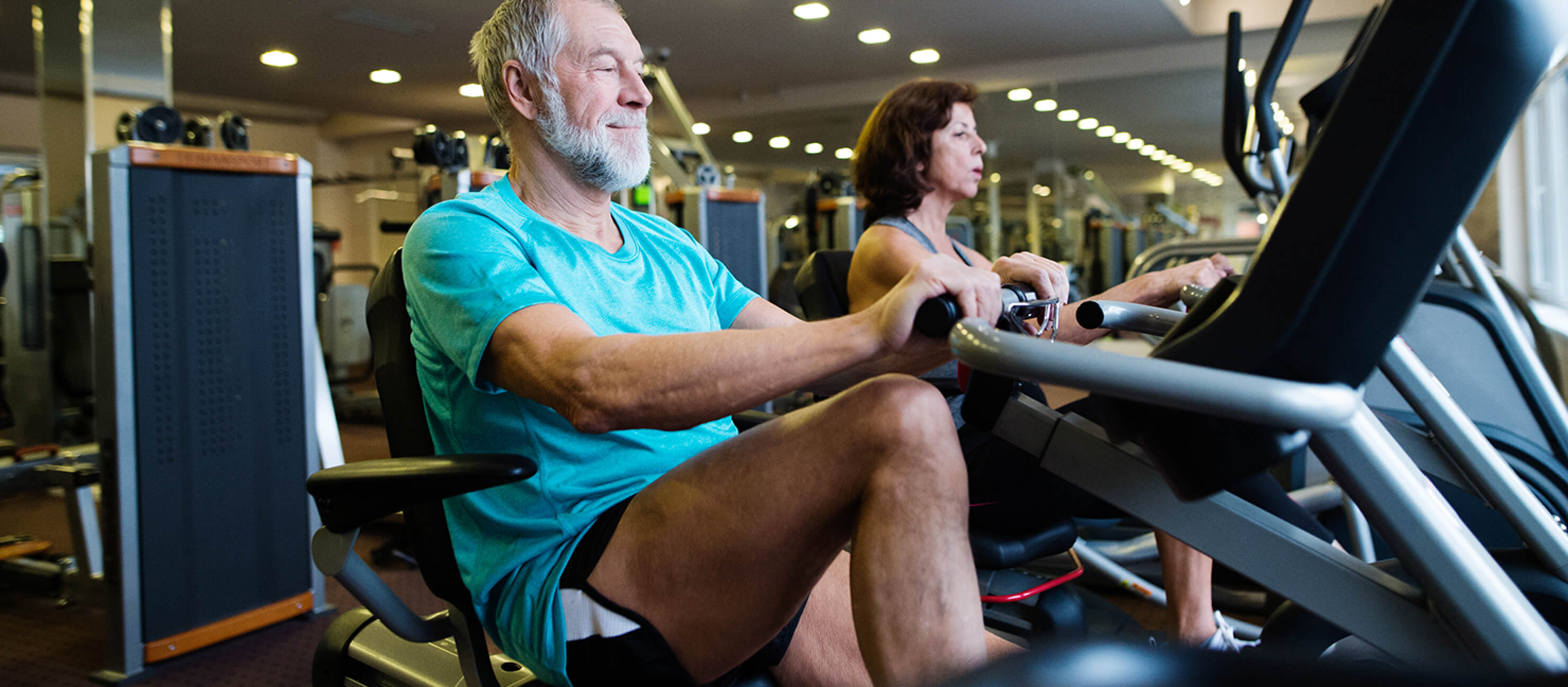 Recumbent Exercise Bike Pros
Gentler on back and joints
Very accessible
Offers comfortable seating and a low-impact experience
Recumbent Exercise Bike Cons

Less versatile
Larger footprint than other bikes that needs more floorspace
Targets only the lower body
Smart or Studio Exercise Bikes
Smart exercise bikes generally include some kind of connected fitness component. Built-in screens for live or recorded workout classes aren't uncommon! These classes are usually part of a subscription-based app that can include a wide variety of other interactive workouts, real-time rides, and more.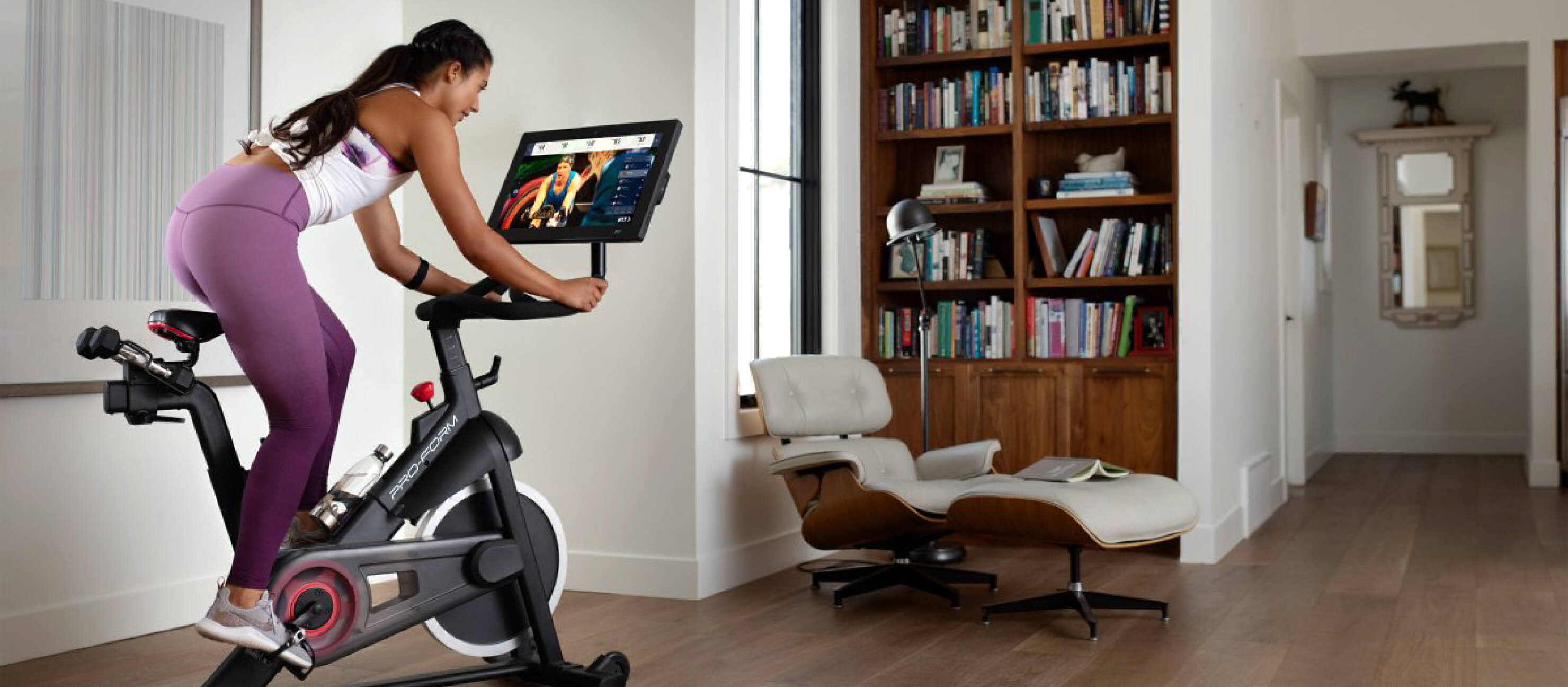 Smart Bike Pros
Built-in workouts
Replicates class environment at home
Additional features for more variety
Smart Bike Cons

Requires a subscription & Wi-Fi for full functionality
Can be more expensive than other models
Expert Tip:
New to bike workouts? Many smart bikes offer connected classes. Trainers in the available videos can adjust your resistance for you as you progress. No more guesswork!
Upright exercise bikes have handles placed higher up compared to the other types. You'll be able to reach them with only the slightest lean as opposed to fully extending over. This positioning allows you to use more of your core and quad muscles to pedal and provides a more complete workout.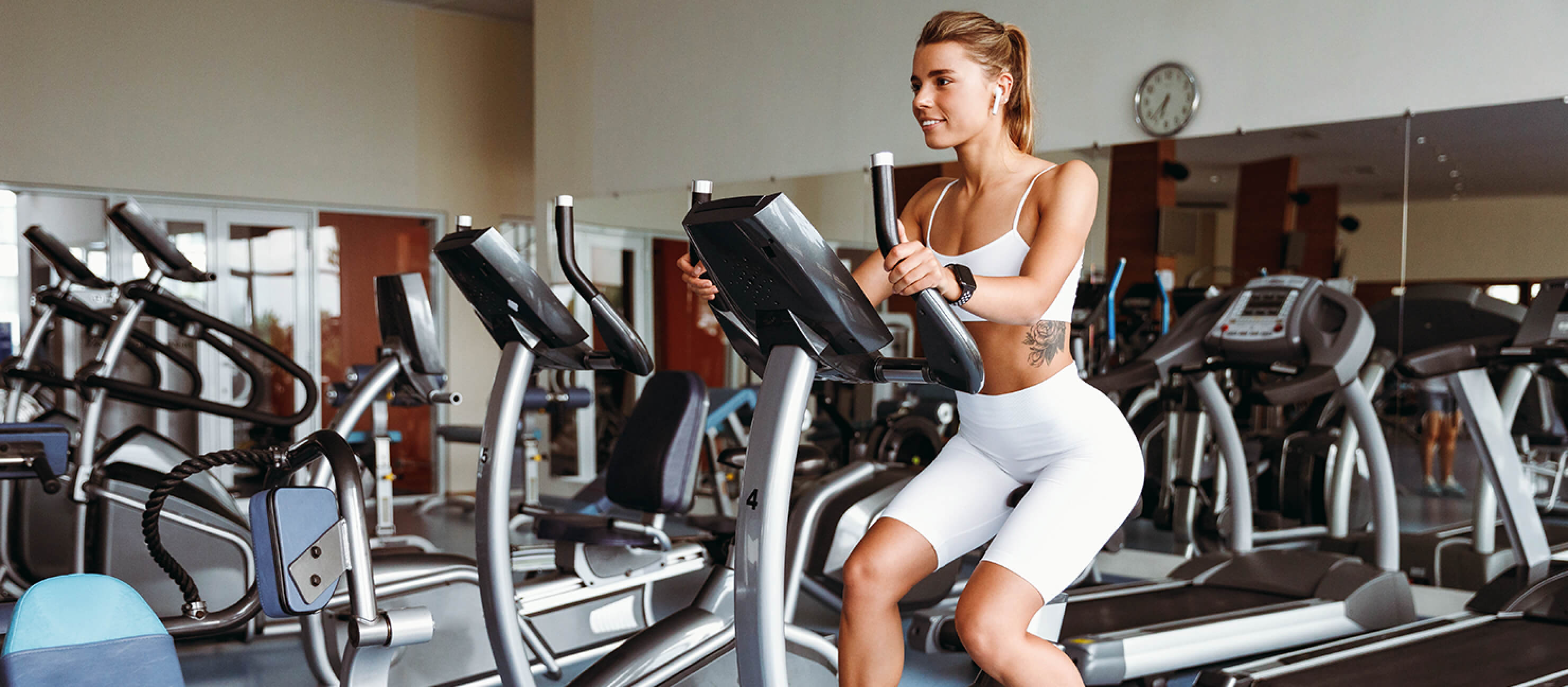 Upright Exercise Bike Pros
Has a more compact footprint that requires less floor space
More muscle engagement
Versatility
Upright Exercise Bike Cons

Different position than riding a road bike
Less stable
Can strain your neck and shoulders due to the riding posture
Dual Action Exercise Bikes
Dual action bikes get your whole body into the mix! The handlebars move in tandem with the pedals — similar to an elliptical. You'll get a full-body workout while you set your own pace. Fan and air bikes fall into this category and have a front wheel fan that creates resistance as you pedal.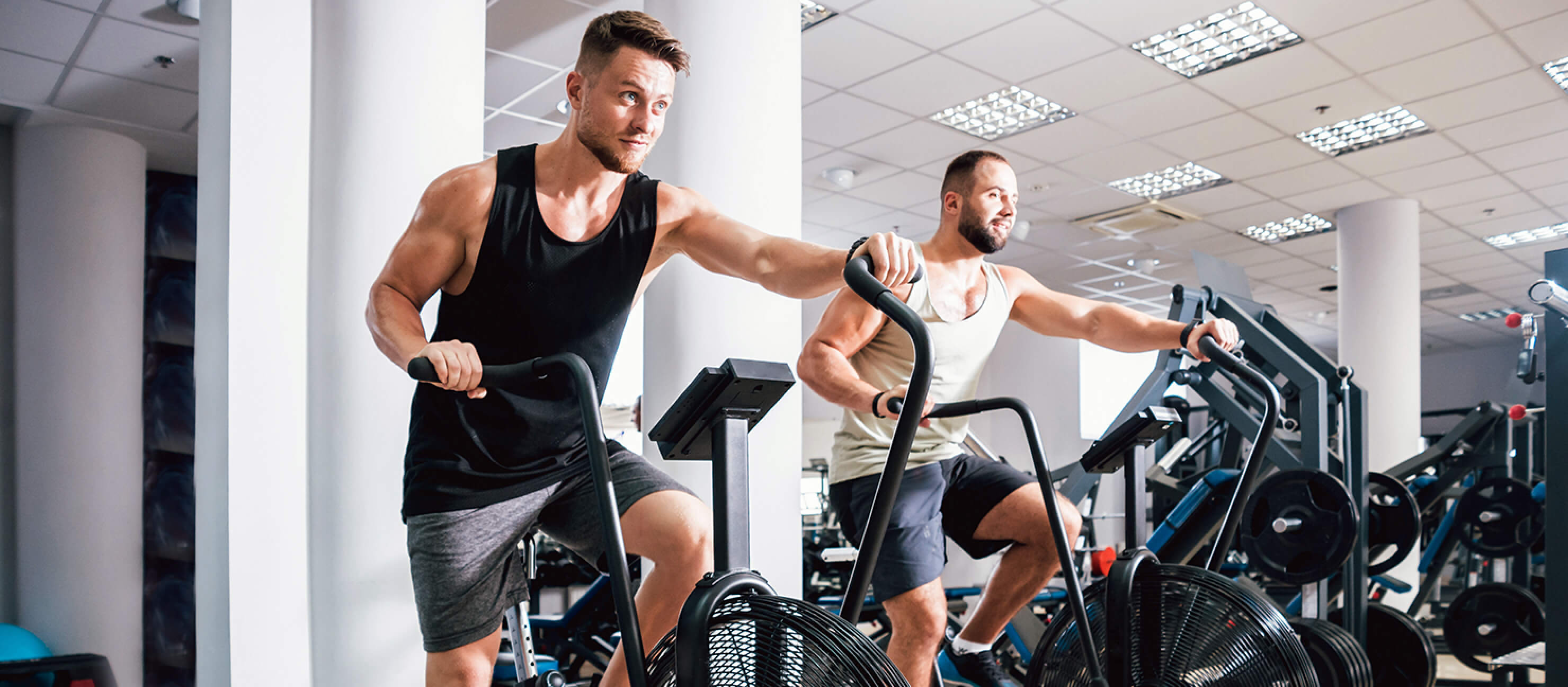 Dual Action Exercise Bike Pros
Full body workout
Complete control of intensity
Fan and air bike versions can generate their own resistance
Dual Action Exercise Bike Cons

Difficult to store
Not as beginner-friendly
Can be noisy (or noisier than other types of exercise bikes)
Expert Tip:
The faster you pedal on an air bike, the stronger the resistance. Other bikes use magnetic tension or the friction of two plates pushed together to generate resistance, so you can pedal at your leisure.
Mini exercise bikes provide a mix of flexibility and convenience compared to regular exercise bikes. Whether you choose to set one under your desk at work or use it while you watch TV on the sofa, you can use these anywhere a chair is present.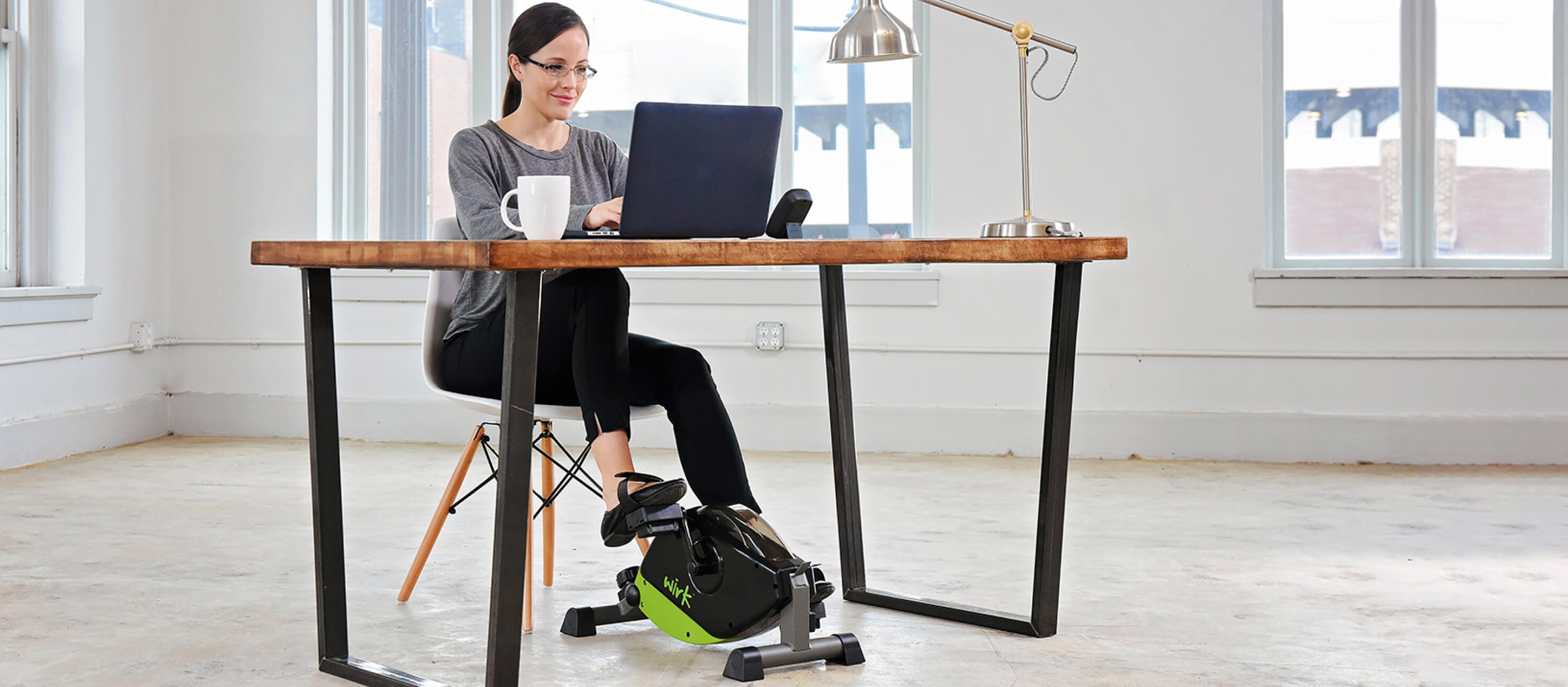 Mini Exercise Bike Pros
Easy to store or transport
Less expensive
Quieter than other bike types
Mini Exercise Bike Cons
Few features and resistance options
No handlebars for support
Can be unstable
Expert Tip:
Place it on the table and pedal your arms instead for an upper-body workout.
Foldable exercise bikes have a hinge at their center that allows for a portable, minimal design. Think about a pair of scissors, and you have the same concept — on a much larger scale! They're great for small spaces and apartment corners. A handy feature they have are small wheels that help you move them from space to space.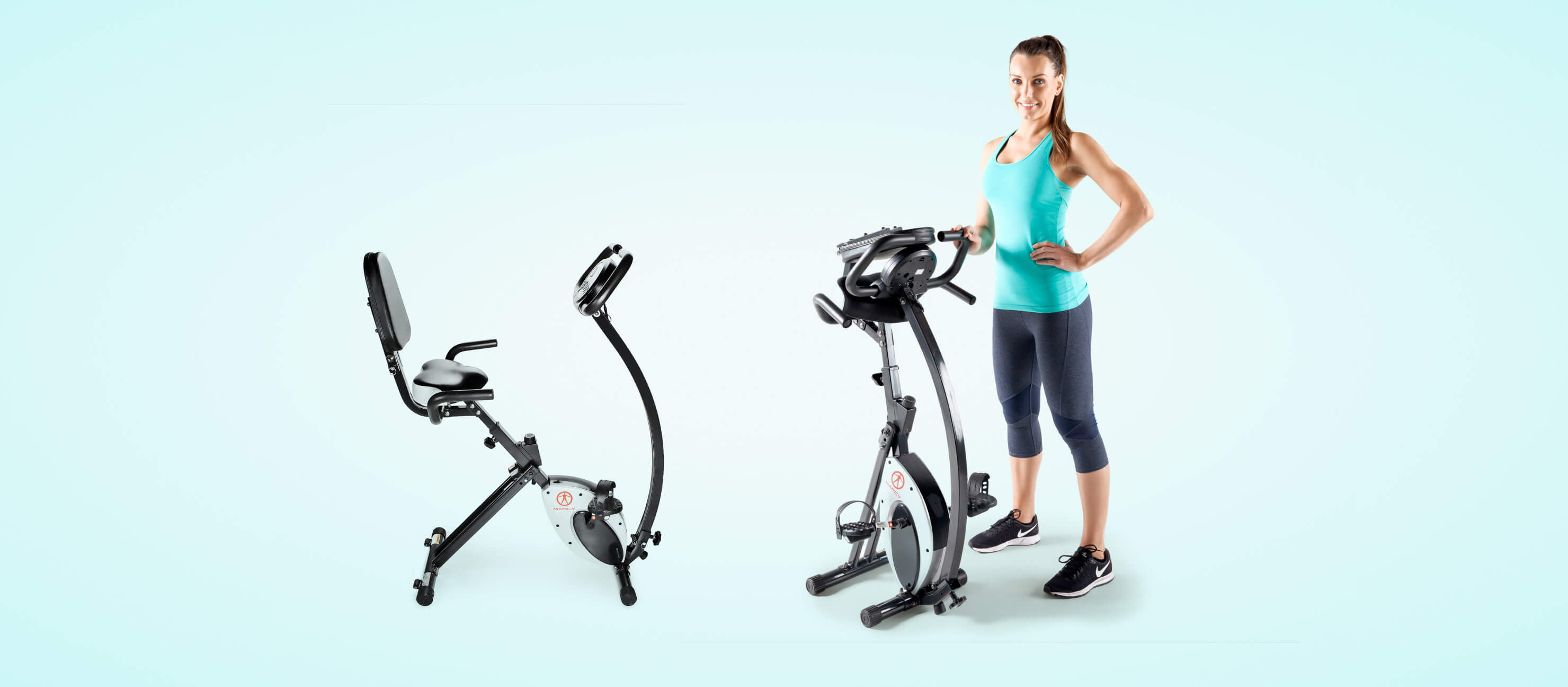 Foldable Exercise Bike Pros
Easy to store, use, and move
Less expensive than other types
Portable and apartment-friendly
Foldable Exercise Bike Cons
Can be unstable
Fewer bells and whistles
Low weight limit
What Are the Different Exercise Bike Resistance Types?
Magnetic resistance — Exercise bikes that use magnetic resistance have internal magnets to create tension on the flywheel. These magnets do not make contact with this wheel. Rather, they move closer and farther away from the wheel as their force administers different levels of resistance.

Contact resistance — Stationary bikes using a contact resistance system depend on friction to apply varying levels of resistance to the flywheel. This wheel makes contact with a pad (usually made of felt or leather) that — over time — wears down.

Fan wheel or air resistance — Bikes that leverage air resistance instead have a caged fan rather than a flywheel. To move this fan, you have to pedal. These are perfect for high-intensity interval training (HIIT), since the resistance increases the faster you pedal. This is the loudest type of exercise bike resistance of the three.
What Are the Benefits of a Stationary Bike?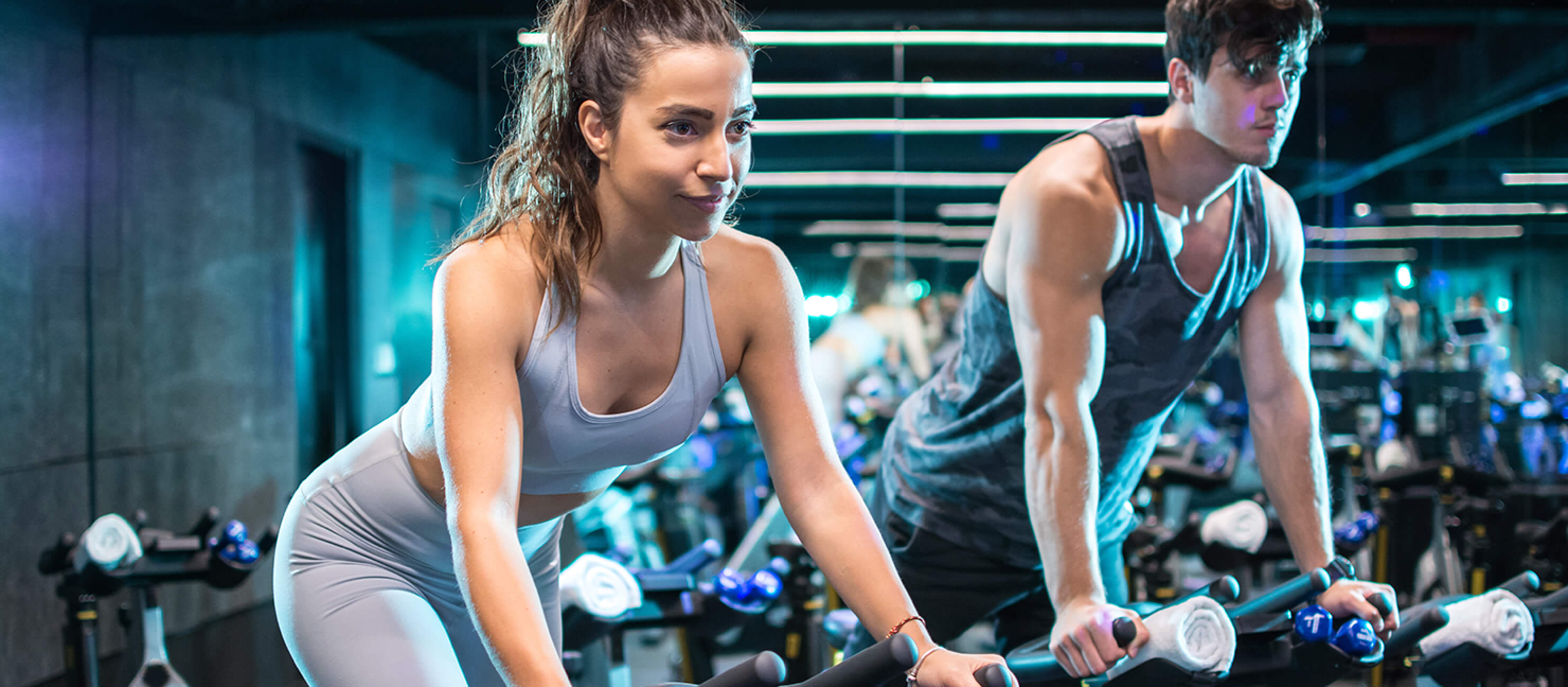 A safer workout — There's no risk of road hazards like distracted drivers, low visibility, or even unsafe road conditions.

A low-impact workout — Pedaling is gentle on joints while still strengthening your supporting muscles. This offers the elderly and those recovering from injuries a break from higher-impact workouts like running.

Weight loss promotion — Depending on your body type and workout level, one hour on a stationary bike can burn 600+ calories — making it a quick and easy way to increase your calorie deficit to promote weight loss.
Easy access to HIIT — Shift between a slow or fast pedal speed on high resistance for a few minutes. Burn greater calories and build stronger cardio muscles with those high-intensity intervals.

A beginner-friendly workout — Stationary bikes don't require the balance that road bikes do — which means you don't need any special training to get started.

An easy and fun way to exercise — Indoor cycling is an anytime, all-weather activity that can be done while watching TV, reading a book, or just focusing on your fitness journey.
Choosing an Exercise Bike & What to Consider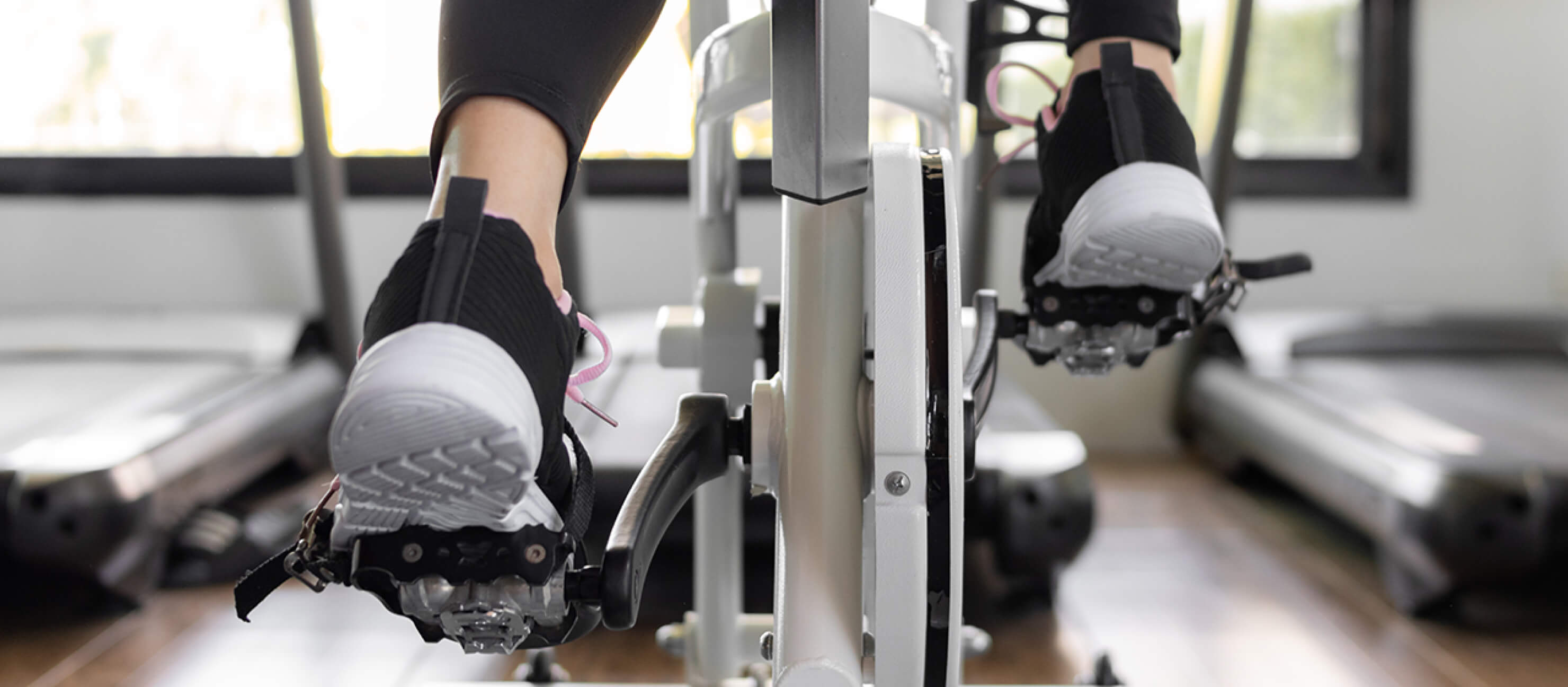 Seat comfort — Comfort is key to a good workout to avoid injury and to make sure you actually use your bike once you get it! If it's not 100% to your liking, invest in padded bike shorts or a different seat cushion.

Adjustability — Most types of indoor exercise bikes have an adjustable seat height. This is non-negotiable for proper ergonomics. Some may also have adjustable handles to help you fine-tune your position.

Stability — Stability is easier to gauge in person, but you can look for stabilizing features like overall bike weight or grippy feet. You can also purchase stabilizing mats to help augment your bike.

Resistance — Exercise bikes have different kinds of resistance to help you get a more complete workout. A key distinction between these is how that resistance is generated and changed.

Connectivity — Connected fitness features pack extra workouts and quality-of-life improvements into your bike — meaning your bike will grow with you as you ramp up your fitness journey.
Cost — Consider your budget when it comes to an exercise bike. You can always upgrade your bike as you settle into a routine and learn more about what you're looking for.

Accessories — Some bikes come with extra features and accessories to help you get a better workout. Make sure to check if certain accessories (like cycling shoes) are necessary to operate the bike.

Warranty — A good warranty provides peace of mind — and makes sure you can correct issues quicker should your bike stop working.

Product Reviews — Check the review section on the product page or look for articles and videos featuring the bike. This gives you access to what experiences people have with each exercise bike type on your list.
The right exercise bike can be a key tool in building a fitness routine that helps you get to your health and wellness goals. Shop our wide variety of exercise bikes in-store or online. If this is just one stop on your journey to a full home gym, read our beginner guide for fitness equipment to see which pieces you'll need next.