Patience is an angler's strongest virtue. You cast and wait. Whatever your strategy, patience sometimes goes unrewarded. Sometimes the fish seem fully fed, shy, or they simply aren't coming because they are not around. All the care you put into the best bait or crafting that perfect fishing lures slips fruitlessly into the water. But it doesn't have to be that way. The beauty of a fish finder is that your strategy is amplified and your time spent more effectively. A day of fishing is always enjoyable, but reeling in a few winners makes the day even better. It will also make that fish fry or campsite cook-off stellar.
Not used to working with a fish finder? Hesitant about the cost? Here's everything you need to know about fish finders. Fish finders are a helpful tool no matter what kind of fishing you do—fresh water or sea water. 
Finding the best fish finders is best informed by what kind of fishing you do. 
Read below about: 
A brief history of sonar (and fish finders).
How does a fish finder work? 
Choosing between the two types of fish finders.
Tips for buying fish finders. 
A few top-notch fish finders for whatever your budget.
From Icebergs to Nazis, A Brief but Cool History of Sonar
Just after the Titanic sank in 1912, echolocation became a big deal. Clearly, you couldn't see things underwater even if there are indicators above the water line. When submarines became another underwater threat during World War I, research into sonar boomed. (If you'll pardon the pun.) Anti-submarine warfare, like torpedoes and sonar-fitted underwater mines, was a new and unabating threat. The need continued through World War II, fueling research.
Since the development of sonar spanning both World Wars, civilians and non-government institutions have taken up sonar to explore Earth's vast underwater world. Divers use hand-held sonar devices. Fishermen use fish finders to echolocate schools of fish as competition and overfishing by fleets make it more difficult to fish old haunts using traditional methods. Commercial fishing now entirely relies on sonar. With today's advances, the depth and seafloor contour and composition can be revealed from above. 
The first actual fish finder was developed in 1948 in Nagasaki, Japan. 
How Does a Fish Finder Work?
Sonar is actually an acronym for Sound Navigation And Ranging. A fish finder, also called a sounder, is a type of sonar tool specifically designed to find fish. Newer fish finders have integrated GPS navigation, marine radar, and compasses. These not only help you find fish, they help you find your way. So, they're a great tool for low visibility below and above water. The GPS integration also allows you to have an overview of the area and mark spots, so you can come back. 
Essentially, sonar uses sound to locate objects underwater. Active sonar, like in fish finders, sends sound pulses into the water and waits for an echo. It can then paint a picture of what the sound bounced off of, like a school of fish. Frequencies range from infrasonic, which means very low, to ultrasonic, which means very high.
For fish finders there are two main types of sonar: down scan and side scan. There is also new technology into going into a combination. 
Two Types of Fish Finders: Which makes for the Best Fish Finders?  
Choosing from the two types of fish finders can be tricky. You will want to consider the kind of fishing you do. Down Scan fish finders scan directly below the boat. Side Scan fans to the sides of the boats.
Side scans go up to 240 feet to each side and provides a photo of the area. Designed to explore sea wrecks, it's also great for scouting or fishing lakes with heavy weed lines.
Tips for Buying a Fish Finder
Portable or Fixed?
Fish finders are affixed permanently on many larger fishing boats. 
A portable fish finder has many advantages. They allow versatility, so you can enjoy all types of fishing—wherever the fish may lead you. You do not have to choose between canoe fishing and lake fishing. Perfect for rental boats. They are easy to transport and lighter weight. And, you can move the fish finder to locations. Or, just move the fish finder around the boat.
Affixed fish finders also have advantages. They are generally more high-tech, upping your fish hunting game and increasing your hull. Your GPS maps may be more reliable, which is great if you are docked somewhere you fish from frequently. The screen size can be larger. If you own a boat, you are truly equipping your boat for the best fishing with a large, high quality fish finder. 
So the best fish finders are, to no small extent, going to depend on the kind of boat you own and fishing you do. If you are an occasional fisherman, the best fish finders for you may be portable and simple. If you are a serious sport fisherman or like elusive catch, the best fish finder for you will mean investing a little more seriously. 
Screen Size

Buy the fish finder with the biggest screen you can afford. Screens range from 3.5" to 16". You can see more of the information gathered by your fish finder at one time. For a good mid-range screen size, choose a 9" screen. Make sure that you don't sacrifice more important features for viewability.

You also want to check pixels. Sometimes, the quality of the image goes down as the screen size goes up. This can make it difficult to choose a fish finder online. Buy in person at a your nearest Academy Sports + Outdoors. 
As for kayaks, which are small and low to the water, fish finders are nonetheless important for marking locations and effective fishing. You will want to choose a smaller screen than normally recommended. Lightweight and waterproof are also important features. If your heart is set on a specific fish finder, add a waterproof case.
Glare Protection
Bright sunlight can make the fish finder screen hard to read. Some corrections for this are simply to relocate the fish finder to a shadier spot or get a shade visor. There are also LCD films that cut glare when applied, but you can also dim the screen's brightness and contrast. 
Newer fish finders have glare-resistant screens. Summer sun can shine on. Especially if you have an open boat, this is a fabulous feature.
Low-light Fishing
If you are an early morning, wintery weather, or evening fisherman, look for a fish finder with a back-lit screen.
GPS Integration
GPS and fish finding detection combos are most common in quality fish finders. You may want to go cheaper and just use a fish finder. We suggest spending a little more for a GPS, especially if you are into boat or kayak fishing. For pier fishing or shoreline fishing, GPS may be less important.
Prices Can Be Deceiving in Buying a Fish Finder
Shopping by price without considering other factors is a mistake. It then becomes another device gathering dust. A quality fish finder is worth the investment as an indispensable tool for sports fishermen. Fish finders are tech, so they cost more than other accessories. 
A Few Top-notch Fish Finders for Any Budget
Investing in the Best
Garmin ECHOMAP Plus 93sv Sonar/GPS Chartplotter Combo
With multiple types of scanning sonars, built-in Wi-Fi and 17,000 downloadable maps you could probably locate Moby Dick--or just a great haul. This is a fish finder for serious fishermen. You can save thousands of logs and way points and 100 routes. It has a 9" 400 x 800 pixel display that reads in sunlight. Full color, photographic imagery. Racing assists.
Humminbird Helix 12 CHIRP Sonar/GPS Chartplotter Combo
Here's to seeing below the surface! Humminbird's Helix 12 features a 65000-color,12-inch screen with an LED back lit display that has an incredible 1280 x 800 resolution. Humminbird lets you to see depths of up to 1500 ft. in a 3-D map view. Selective Fish ID+ gives you an edge on finding fish and not letting submerged plants and debris get in the way. Or use the preloaded maps. Save up to 2500 way points and 47 routes. 
Moderate, but a Fisherman
Lowrance Elite-7 Ti Mid/High DownScan Fishfinder/GPS Combo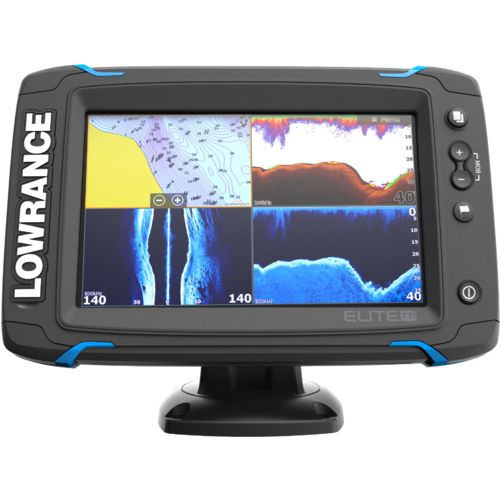 This fish finder gives you a little bit of everything. It has CHIRP Sonar, Side Scan, and Down Scan imaging. The 7" high-resolution, back lit LED screen has an 800 x 480 resolution, 2X zoom and fish symbol ID. Plus, you can store up to 3000 way points and 100 trails. 
Humminbird Helix 7 CHIRP DI/GPS G2 Chartplotter
Explore fully with this fish finder. It has capacity for a large variety of cartography features with the simple insertion of a micro-SD card. Save up to 50 routes and 2500 way points. Blue tooth enabled. It also has a temperature alarm and 7" LED back lit 3-D display with 800 x 480 resolution. 
Just the Basics, but Equipped
Garmin STRIKER 4 CHIRP Sonar/GPS Fishfinder Combo
This super portable GPS fish finder combo is perfect for on-the-go fishing trips or a day on the water. It has a 3.5" color display, fish symbol ID, high-sensitivity GPS, and a way point map. It only weighs 8.1 oz, so you can easily pack it in a fishing bag. 
ReelSonar iBobber Portable Sonar Fish Finder
Are you inseparable from your phone? Totally app-driven? Your cellular assistant can help you with your fishing, too. This extremely portable scanning bobber gathers all the information you need and displays it onto your phone from as far as 100 feet. Perfect for smaller boats or shore-based fishing. It will also create detailed trip logs, including storing how well your fishing went.