Your sports bra is more than just part of your workout or activewear aesthetic. It maximizes your comfort and support as you move. But wearing the wrong size or type can hinder its performance — and yours!
A Brooks Running study found that sports bras with inadequate support can shorten your running stride by four centimeters. That means you could add 1.5 KM throughout an entire marathon. Achieve your best results in comfort and style with our sports bra size chart to help you find the perfect fit.
Sports Bras vs Regular Bras
Despite their similar design and basic purpose to provide support, sports bras and regular bras vary drastically in terms of actual function. Athletic gear's focus lies solely on performance. But the rise in comfortable athleisure apparel has blotted the lines between workout and everyday clothing.
Bottom line: Sports bras and regular bras each have their own unique features:
A sports bra's entire design supports your chest through compression — minimizing movement to varying degrees while wicking away your sweat while you move.

Regular bras, however, mostly fulfill an aesthetic function. You'll still receive enough support for everyday use while also enhancing your shape and achieving a specific silhouette.
Find the Best Fit With Our Sports Bra Size Chart
As tempting as it may be to lump them in your regular bras, you should really expect more from your sports bras. Measure and calculate your bra/cup size BEFORE purchasing one. You'll be able to account for any changes your body experiences due to hormones, age, weight loss, or even pregnancy.
Expert Tip:
For the closest measurements, it's best to measure yourself without a bra on. If you prefer to have one on, make sure yours has no padding.
Step 1: How To Measure Your Bust Size
Measure around the fullest part of your bust using a soft tape measure. Make sure the tape is straight and level across your back.
Round up to the nearest whole inch, then write this number down. This is your bust measurement (BM).
Step 2: How To Get Your Band Size
Measure around your rib cage, just under your bust. Make sure the tape is straight and level, and don't go too far down your ribs. (Think of where your everyday bra band sits.)
Round up to the nearest whole inch, then write that number down. This is your rib cage measurement (RCM). Calculate your band and cup sizes using your rib cage measurement and the chart in the next step.
Step 3: How To Calculate Your Cup Size
To calculate your cup size, simply subtract your rib cage measurement from your bust measurement (BM - RCM = Cup Size).
Use the difference between these two measurements (in inches) to calculate your suggested cup size with the chart in step 4.
Step 4: How to Find the Right Size Sports Bra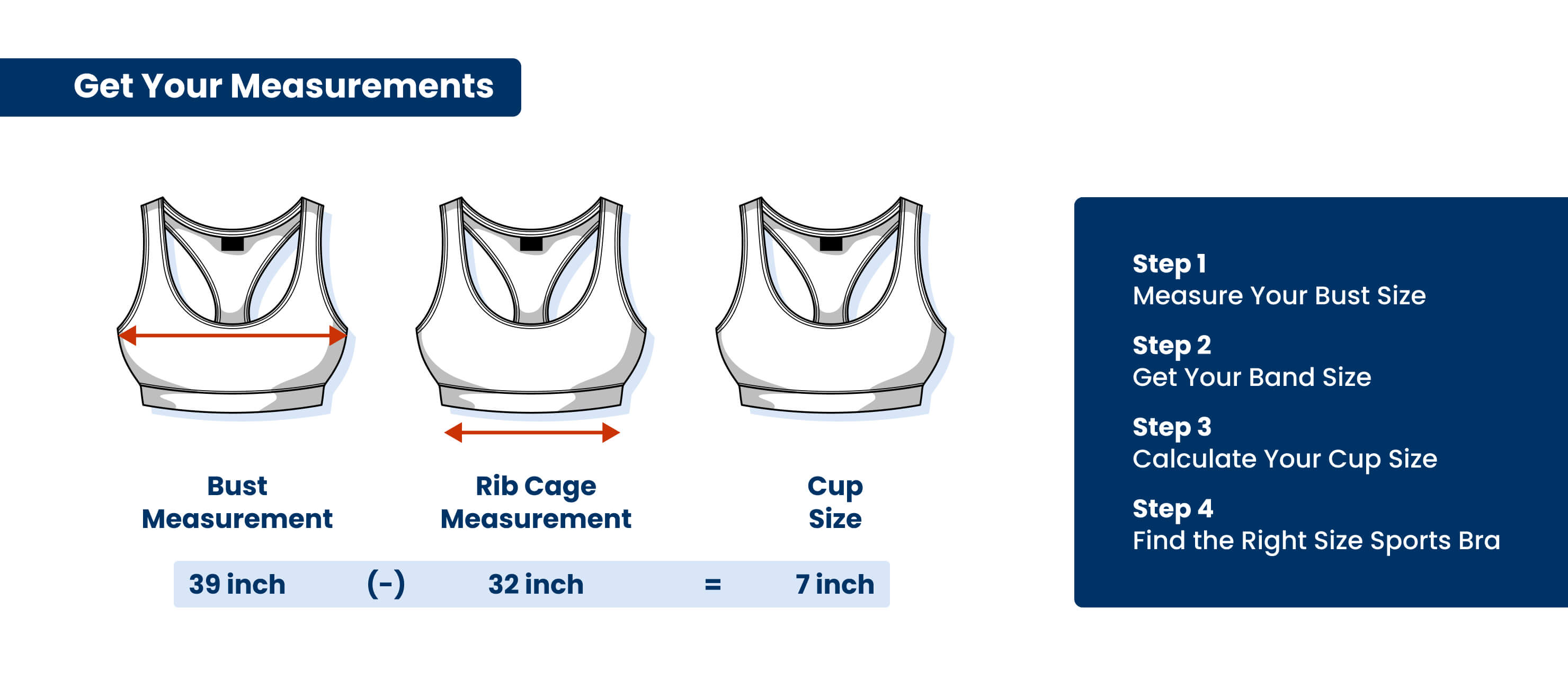 Once you've figured out your band and cup size, you'll next need to convert them into the right sports bra size! Some sports bras are made in band and cup sizing, while others use t-shirt sizing — small, large, 2XL, and so on.
Don't get rid of your measurements! You can use them to help you pick your new sports bra no matter the brand. Always try them on to ensure there is no overflow, riding up, digging in, or any other signs of a wrong fit.
Measurement Chart

Rib Cage Measurement
Band Size
Bust Size Minus Rib Cage Measurement
Your Cup Size Is...
25" to 27"
30
3"
AA
27" to 29"
32
4"
A
29" to 31"
34
5"
B
31" to 33"
36
6"
C
33" to 35"
38
7"
D
35" to 37"
40
8"
DD
37" to 39"
42
9"
E
39" to 41"
44
10"
F
Expert Tip:
Sports bras should fit tighter than your everyday bras — but not so tight as to restrict movement or breathing.
Find Your Ideal Sports Bra Support Type
Most brands adhere to their own categories, sizes, and features. That makes standardization a bit tricky. However, sports bras can be generally filed into the type of support they provide. Each sports bra suits different levels of activity impact and workout intensity.
Sports Bra Support Guide

Level
Features
Activity
Ideal For
High Support

Firmly restricts breasts for most high-impact activities with adjustable straps & bands
Encapsulation or compression construction with separate cups to maximize support

Running
Dancing
Racquet sports
Cross training
Larger cup sizes or high-impact activities
Medium Support

Better restricts breasts for medium-impact activities
Encapsulation or compression construction
Pullover or hook closure band

Jogging
Hiking
Zumba
Cycling
Most cup sizes or medium-impact activities
Low Support

Lightweight materials used
Typically simple compression construction
Narrow strap width
Pullover sports bra band

Walking
Yoga/Pilates
Strength training
Stretching
Smaller cup sizes or low-impact activities
Lower-impact activities (like light yoga or walking) require less support than high-impact activities like pickleball, running, or rebounding. Depending on your body type and individual comfort preferences, feel free to try out different support levels to see what feels right to you.
Understand the Different Types of Sports Bra Construction
Brands constantly innovate sports bra technology to improve your workout experience and enhance your performance. As you shop, you'll notice different features (like special compression or sweat-wicking materials) in each sports bra. These features suit different results. However, a sports bra's general construction remains fairly standard.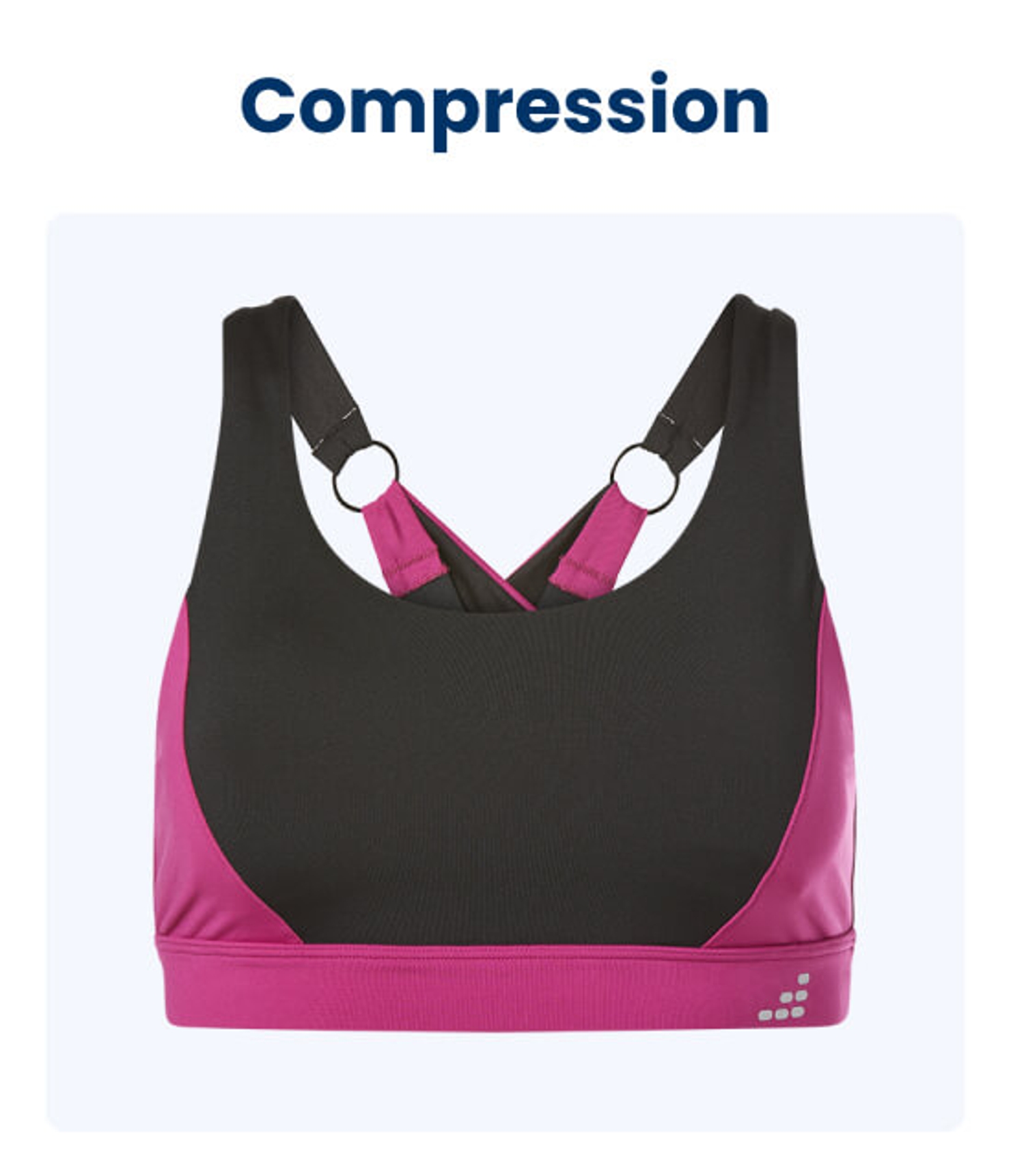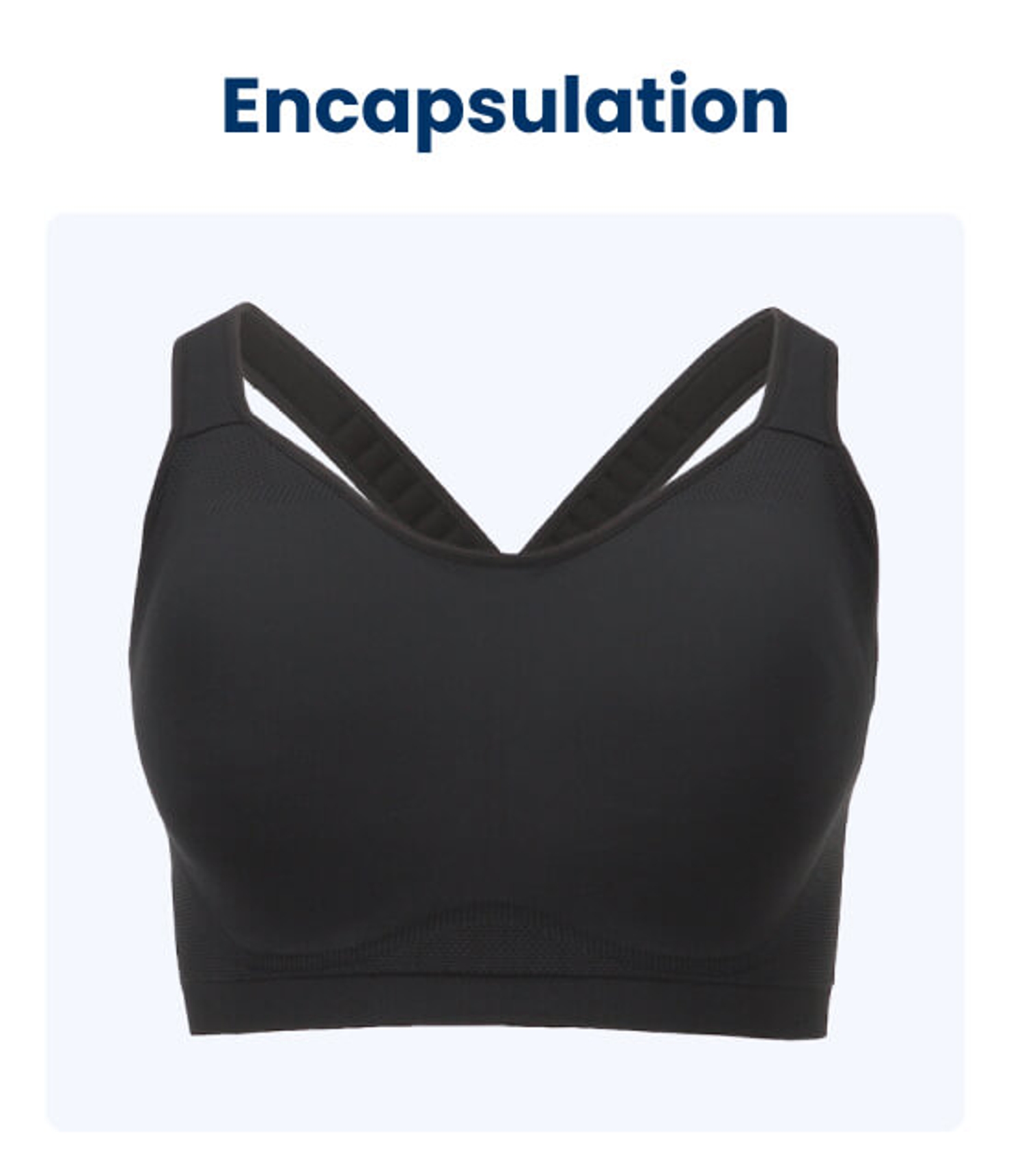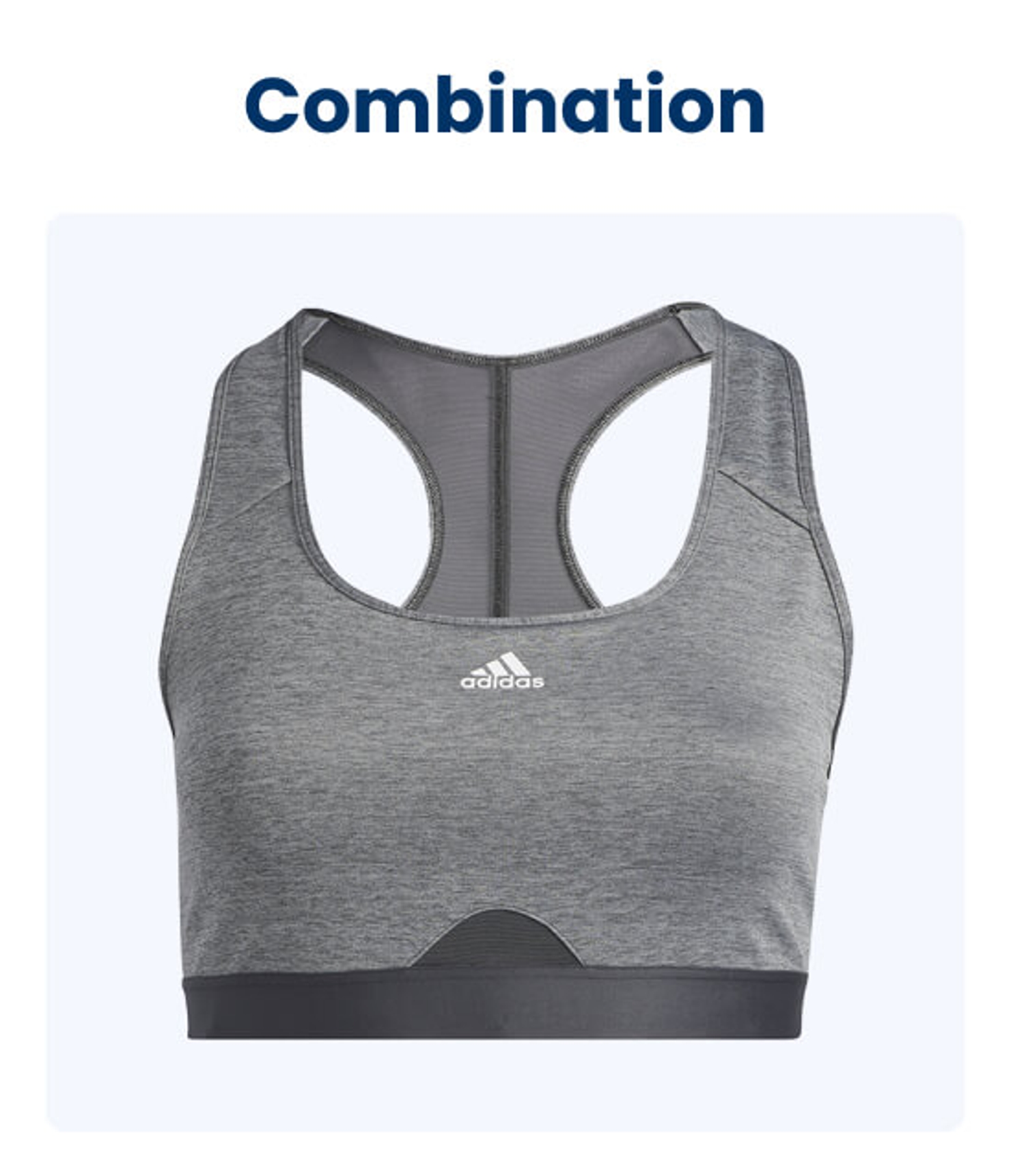 The feature with the greatest impact on experience is the type of construction since it has the largest influence on the level of support.
Compression - These bras compress against the rib cage to restrict breast movement. Usually, these bras fit over the head and do not offer built-in cups, which can result in a flatter shape but superior support.

Encapsulation - These types of sports bras have built-in cups to individually support each breast and reduce movement. Since there's little-to-no compression in their construction, these bras provide a more natural shape and offer less support.

Combination - These use a combination of both encapsulation and compression for all-around support and shaping. They're a great option for larger breast sizes since each breast is compressed against the rib cage to distribute more even support.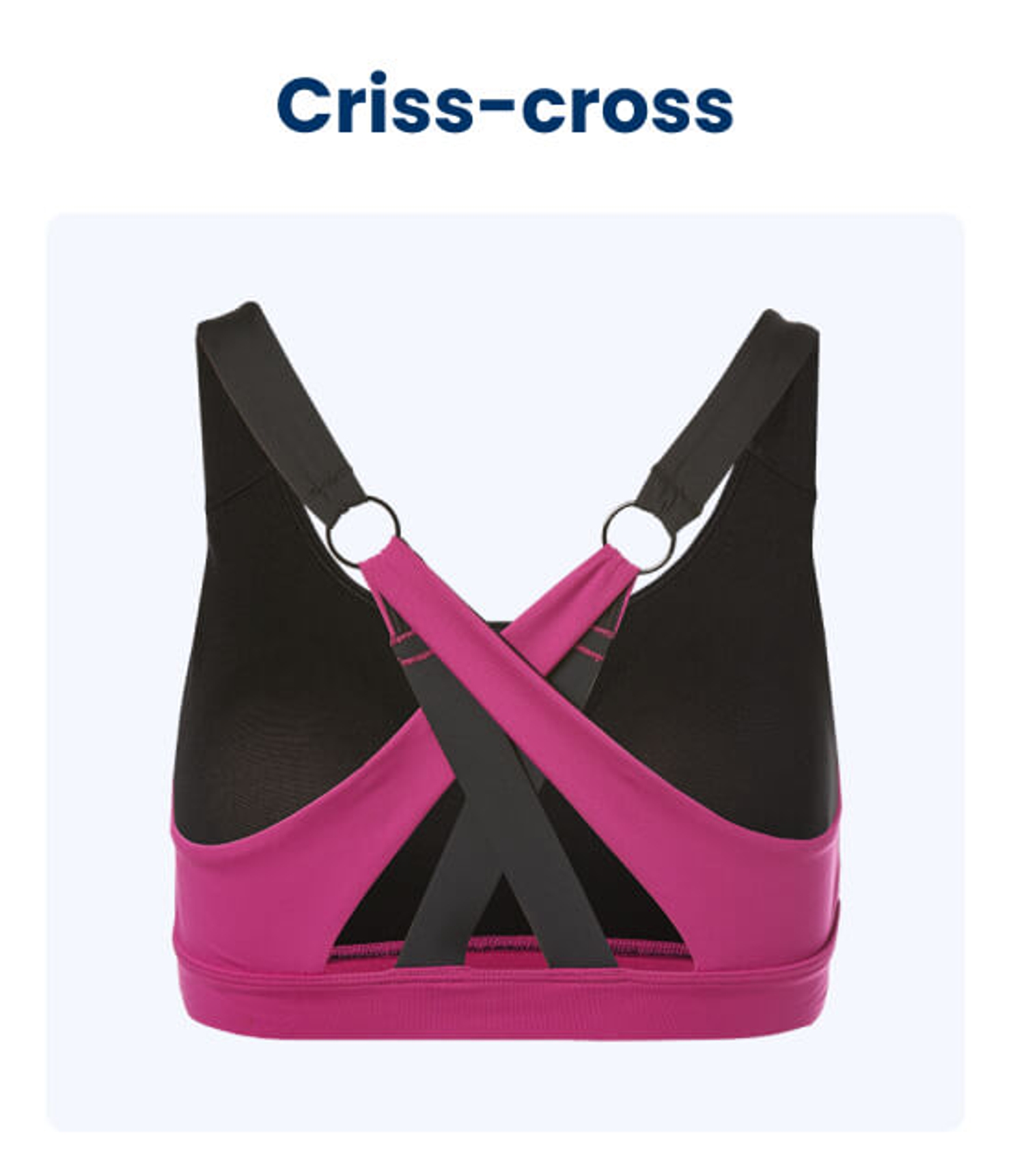 The strap style is more than just a fashion choice. Sports bra straps help to distribute the breasts' weight across your body and keep you comfortable throughout your workout.
Tank Top - These sports bra straps are the most commonly associated with everyday bras. They travel vertically from the band (or back) of your sports bra and over the curve of your shoulder. This versatile strap style can be adjustable or nonadjustable depending on the design and intended support level.

Racerback - These sports bra straps reach between your shoulder blades in a 'Y' shape. This distinct shape allows for a full range of motion of your arms without worrying about straps sliding down. These straps meet closer to your neck than a tank top style and can add pressure for those with heavier breasts if not sized properly.

Criss-cross - These sports bra straps criss-cross in varying patterns and designs on the back of your sports bra. You might find them more of a fashion statement compared to the other styles. Most criss-cross straps provide low to medium support.
Expert Tip:
As a rule of thumb, the thinner the strap, the less support the sports bra will provide. Ultimately, pick the strap that properly accommodates your intended level of activity or movement intensity.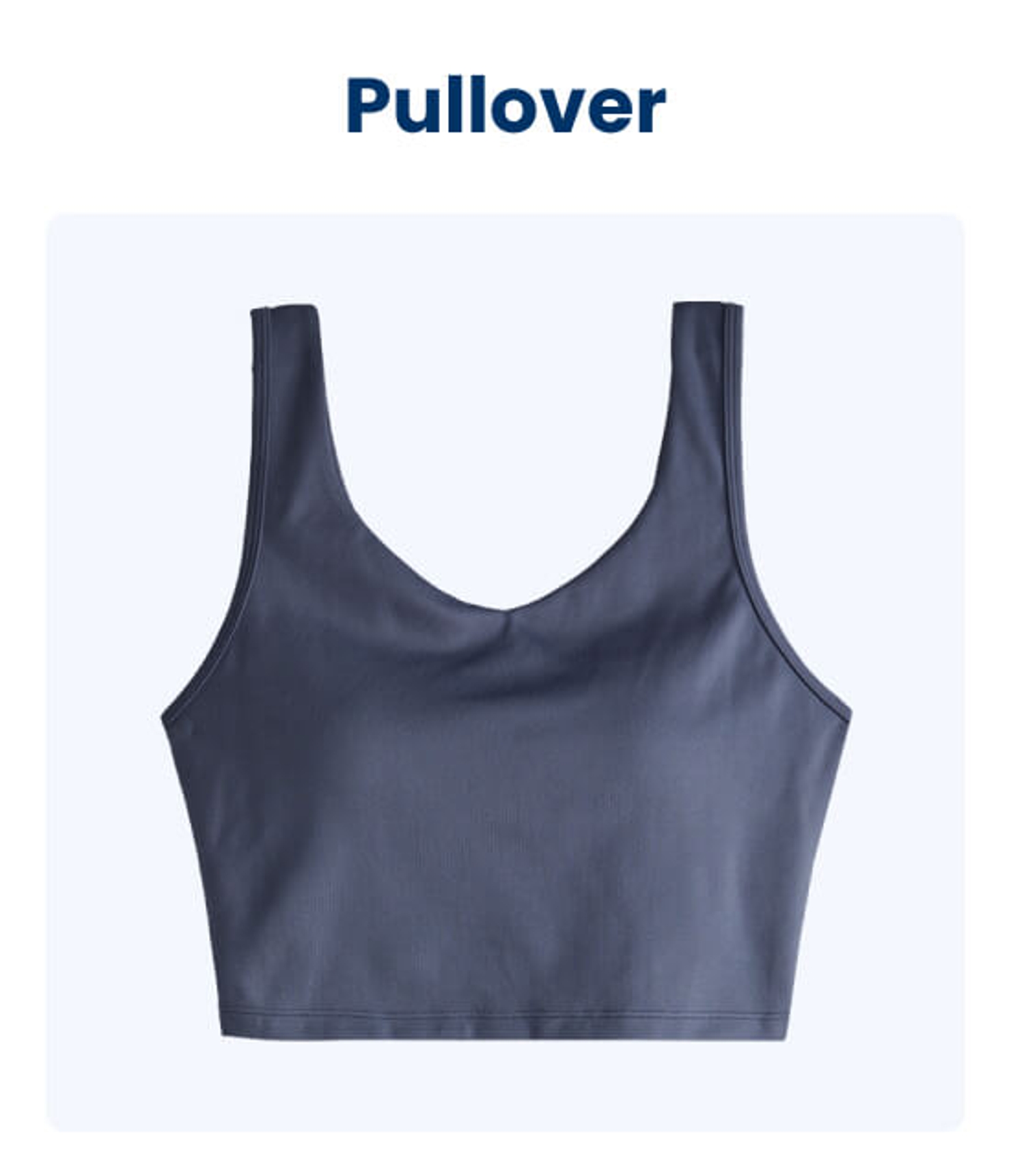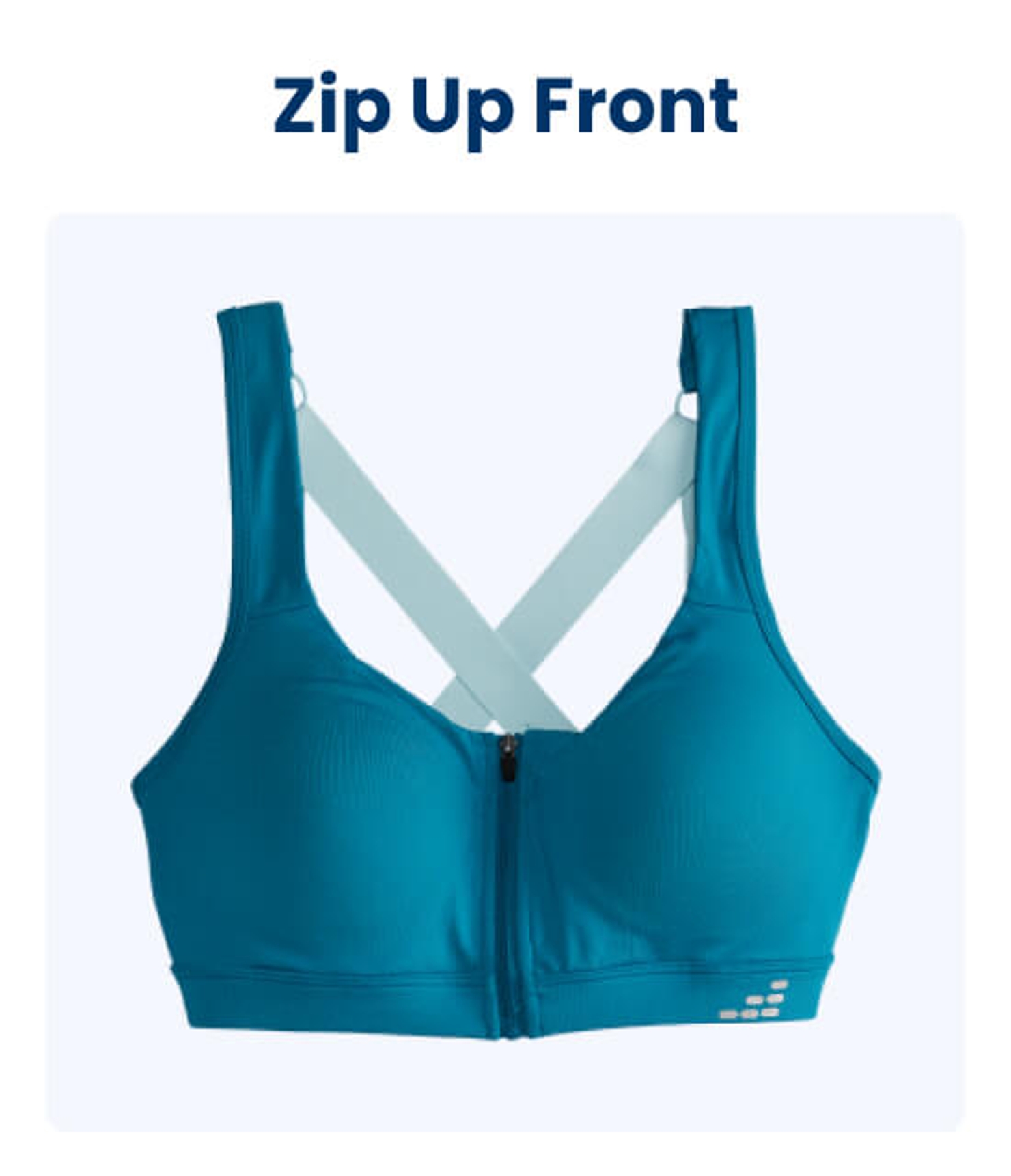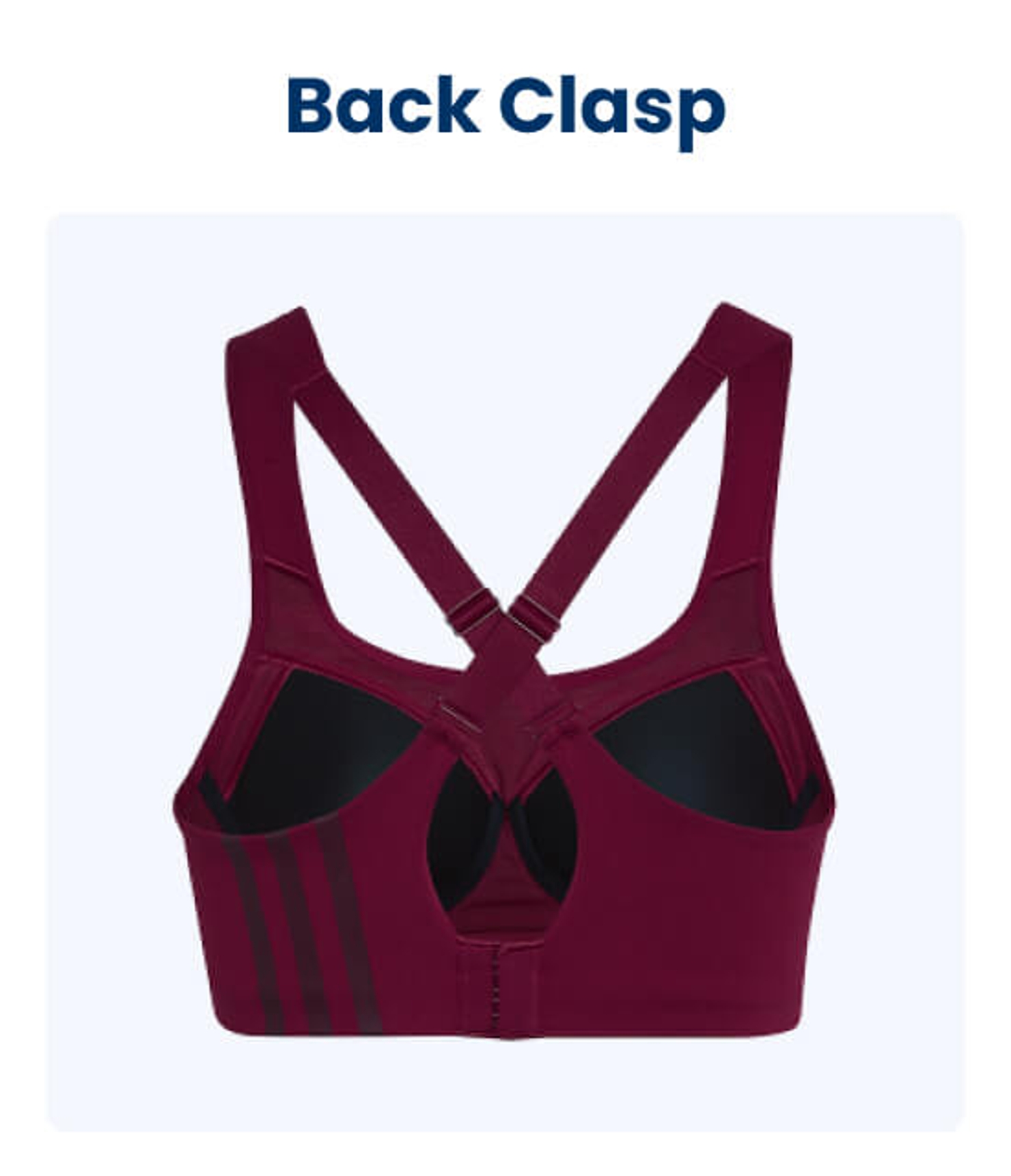 The band — not the straps — should provide the bulk of any bra's support for maximum comfort. If you've found one type of sports bra uncomfortable on your shoulders, try switching up the band type!
Pullover - Wear these by pulling them over your head like a tank top. They use an elasticized band that follows around at the bottom to provide their support. Some pullover sports bra styles may even function as workout tops.

Zip-Up Front - These sports bras unzip entirely. Put them on and take them off like you would a vest. If you've ever struggled with wrestling out of a sweaty sports bra after a high-intensity workout, you might find a zip-up front sports bra a breath of fresh air!

Back Clasp - These sports bras clasp in the back (just like an everyday bra) for a more customized fit. Depending on the style, they may have anywhere from two to four rows of hook-and-eye closures. Typically the more rows they have, the greater the support.
Perfecting Your Sports Bra Fit
The next step is to make sure your sports bra fits properly! While you're trying one on, keep these points in mind to determine how it should fit:
Slipping off, gaping, or riding up means that the sports bra is too large.

Digging in, pinching, or causing overflow or skin bulging means the sports bra is too small.

If only the straps are digging into your shoulders, it could be that the band size is too large.
Expert Tip:
Before heading out for your next workout, put your sports bra to the test! Jog, bend over, and stretch in place. You should feel supported and secure through every movement.
Frequently Asked Questions
A sports bra is a type of bra made specifically for increased physical activity. They restrict (or minimize) breast movement, improve impact support, and wick away sweat. They're usually constructed of sturdier materials.
Q. How do you take care of a sports bra?
Sports bras can be an investment of their own! To extend the life of yours, there's a simple method to clean it after an intense workout session. Washing a sports bra by hand remains the best way to maintain the integrity of its support capabilities:
Step 1 - Fill up a clean sink, large bowl, or bucket. The combination of a lukewarm to warm water temperature and a very small amount of laundry detergent is enough to fully clean the garment.

Step 2 - Let the sports bra soak for at least 15 minutes. However, 30-60 minutes is even better after a particularly high-intensity workout.

Step 3 - Grab the sports bra in both hands and gently scrub (or massage) the fabric.

Step 4 - Dump out the old water if using a bucket or large bowl, or drain your sink of the soapy water. Rinse out the detergent from your sports bra under your sink faucet with cold water.

Step 5 - Pin each strap of your sports bra to a hanger and allow it to air dry. Alternatively, drape the sports bra over your shower rod.
Expert Tip:
NEVER use fabric softener when you clean a sports bra. They actually clog the special moisture-wicking fibers. Any dirt, bacteria, or sweat currently in the fabric stays trapped rather than getting clean.
Whether it's hot yoga or mountain biking, the best sports bra is the one that helps you get the most out of your workout — and helps you have fun out there. Because everyone's body, exercise routine, and budgets are different, Academy Sports + Outdoors stocks a wide variety of sports bras online and in-store to help you find the perfect fit.
Sources: