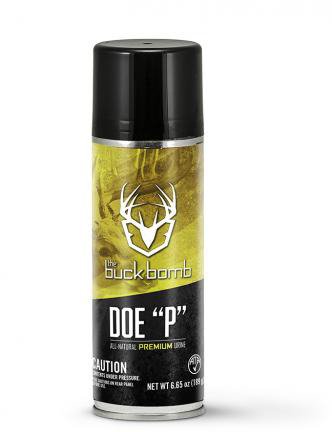 Buck Bomb Doe P 6.65 oz Aerosol Bomb - view number 1
---
DETAILS & SPECS
---
REVIEWS
---
Q&A
---
Using urine from whitetail does, the Buck Bomb Doe P 6.65 Oz. Aerosol Bomb makes it seem like other deer have been in the area. The bomb works as a cover scent, allowing you to attract bucks and does or simply cover your own scent.
Can be smelled from up to a quarter of a mile away in 3-mile-per-hour winds
Atomizer nozzle sprays intermittently and locks down if you wish to spray the entire can
Helps bring bucks and does to your spot
Urine from young does and fawns is very effective in early bow season
NVERTR 180-degree ball valve lets you spray the bomb upside down
Made in USA
Product weight: 0.56 pound
Scent Type: Deer
Product width (in.): 2.2
Product height (in.): 7
Product depth (in.): 2.2
Buck Bomb Doe P 6.65 oz Aerosol Bomb
Important Product and Safety Information
Item will only be shipped using Ground Shipping to the contiguous 48 states only.
Buck Bomb Doe P 6.65 oz Aerosol Bomb