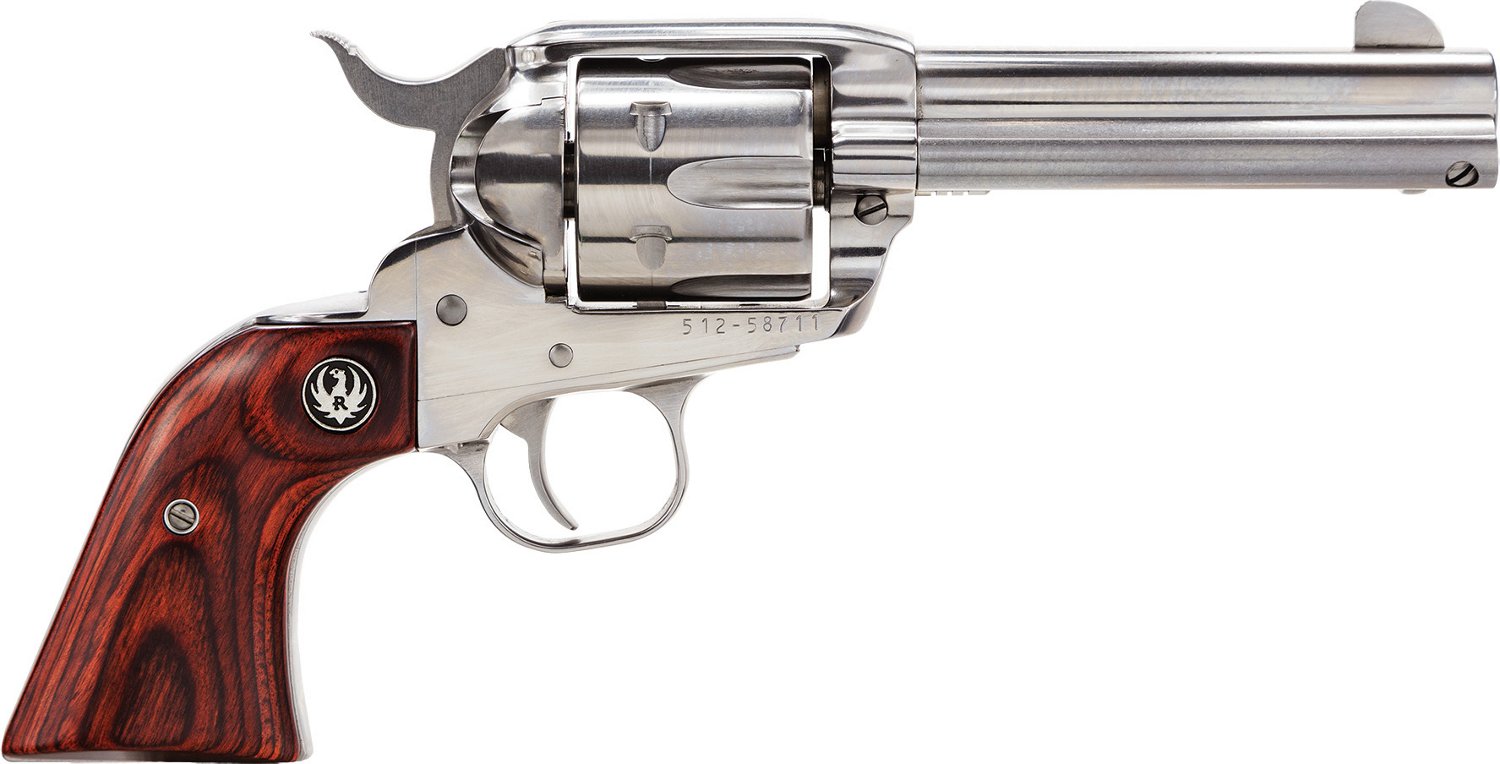 Ruger Vaquero Standard .357 Magnum Revolver - view number 1
---
DETAILS & SPECS
---
REVIEWS
---
Q&A
---
Made for all the cowboys and cowgirls out there, the Ruger Vaquero Standard .357 Magnum Revolver boasts a Western-style rosewood grip. It comes with a beveled cylinder and a reverse indexing pawl. Medium-frame build with a cold hammer-forged barrel and a high-gloss, stainless-steel finish. Fixed blade front sight.
Bears close resemblance to the classic, single-action revolvers of the late 1800s
MA approved and certified
Precise rifling on the cold hammer-forged barrel
Exposed hammer and a traditional, beveled cylinder
Single action with a 6-round capacity
Medium-frame, stainless-steel construction with a high-gloss finish
Transfer bar safety and loading gate interlock
Reverse indexing pawl
Western-style, rosewood grip
Fixed blade front sight
Crescent-shaped ejector rod
Metal finish: High-gloss stainless steel
Action: Single
Product weight: 2.8 lb.
Barrel length (in.): 4.625
Handedness: Right
Grip: Rosewood
Product length (in.): 10.25
Front sight: Fixed blade
Style: Revolver
Magazine capacity: 6
Rate of twist: 1 in 16 inch RH
Caliber: .357 Magnum
Rifle Ammo Type: Centerfire
Ruger Vaquero Standard .357 Magnum Revolver
Important Product and Safety Information
Firearms purchased online are shipped to your local Academy Sports + Outdoors as selected in the checkout process.
We recommend the use of protective eyewear whenever using or near the use of this item.
You must be a resident of the state selected for pickup.
Please note that all firearm purchases require valid US government issued ID and related firearm paperwork.
Ruger Vaquero Standard .357 Magnum Revolver