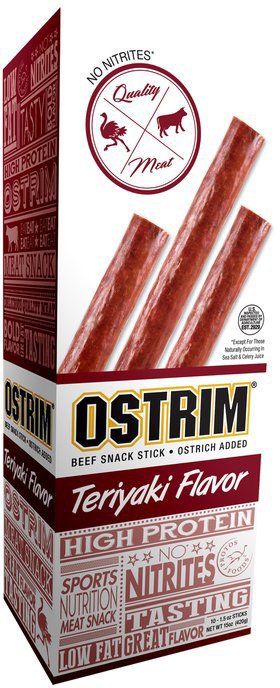 Ostrim Beef And Ostrich Snack Sticks - view number 1
---
DETAILS & SPECS
---
REVIEWS
---
Q&A
---
Reach for the Ostrim Beef And Ostrich Snack Sticks to enjoy a delicious, high-protein treat that fills you up the right way. Made with low-fat meats, these snack sticks have no nitrites or gluten to fit into most diets.
Tasty snack made with high-protein ingredients
Low in fat with no nitrites or gluten
Ostrim Beef And Ostrich Snack Sticks
Important Product and Safety Information
WARNING: Product is only intended to be consumed by adults 18 years of age or older. Use only in accordance with the directions for use and warnings. KEEP OUT OF REACH OF CHILDREN.
Consult with a health care professional before using any dietary supplement.
Ostrim Beef And Ostrich Snack Sticks
Our Price in Cart