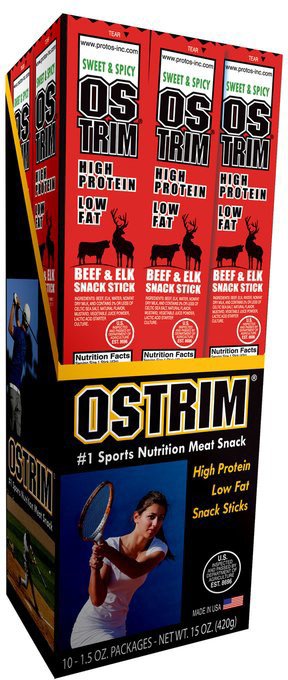 Ostrim Beef and Elk Snack Stick - view number 1
---
DETAILS & SPECS
---
REVIEWS
---
Q&A
---
Enjoy a healthy snack that's rich in real meat protein with this Ostrim Beef and Elk Snack Stick. Crafted with real beef and elk meat, the stick provides you with up to 14 grams of protein while remaining low in fat.
Low in fat
Delivers real meat protein as part of a healthy snack
Made with beef and elk meat for a snack that features 14 grams of protein
Ostrim Beef and Elk Snack Stick
Important Product and Safety Information
WARNING: Product is only intended to be consumed by adults 18 years of age or older. Use only in accordance with the directions for use and warnings. KEEP OUT OF REACH OF CHILDREN.
Consult with a health care professional before using any dietary supplement.
Ostrim Beef and Elk Snack Stick
Our Price in Cart