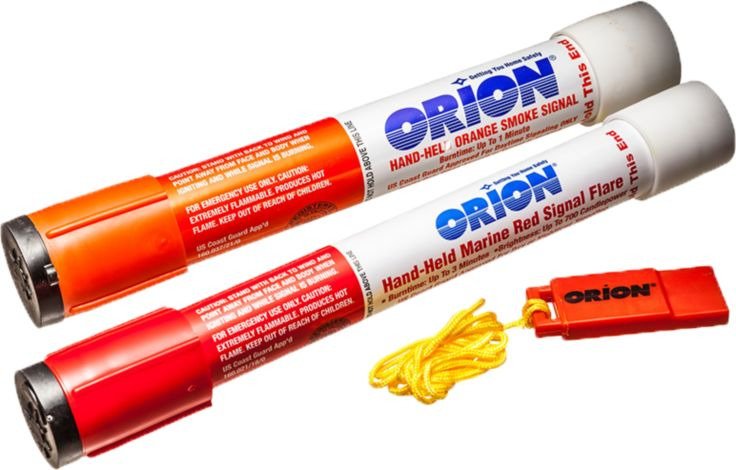 Orion Lake Boat Day/Night Signal Kit - view number 1
---
DETAILS & SPECS
---
REVIEWS
---
Q&A
---
Make sure you can be heard and seen from miles if you're in distress with the Orion Lake Boat Day/Night Signal Kit. This kit includes a smoke signal that can be used during the day, a flare that can be used day or night and a loud, shrill whistle.
Note: Kit does not meet USCG emergency signal requirements. The individual signals are USCG approved, but not in sufficient quantity to meet USCG carriage requirements for regulated waters
Handheld flare with a 700-candela brightness burns for up to 3 minutes
Weather-resistant whistle produces a loud tone that reaches up to 100 decibels at 1 meter
For use on all boats in non-regulated waters
Smoke signal burns for up to 1 minute and produces a large, orange smoke cloud
Signal is USCG approved for daytime use
Flare is USCG approved for day/night use
Waterproof, windproof signal and flare float in water for easy retrieval
Lanyard lets you carry the whistle hands free
Whistle is SOLAS and USCG approved
Important Product and Safety Information
Item will only be shipped using Ground Shipping to the contiguous 48 states only.
Orion Lake Boat Day/Night Signal Kit