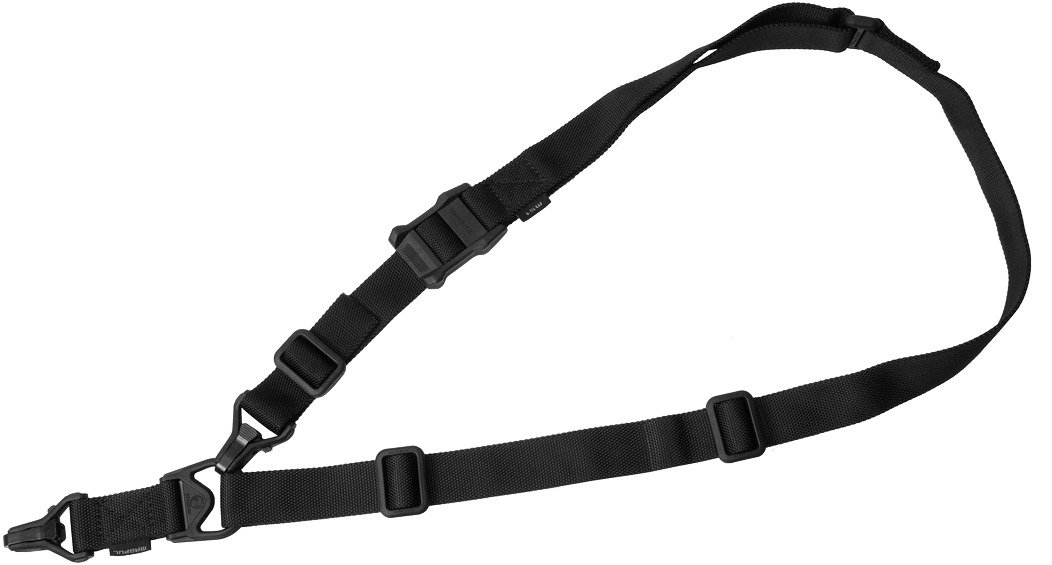 ---
DETAILS & SPECS
---
REVIEWS
---
Q&A
---
Designed with symmetrical Paraclip™ shackles and positive-locking hardware, the Magpul MS3 GEN2 Sling quickly transitions between 1- and 2-point configurations and lets you release your firearm in a snap. The durable nylon webbing guards against chafing and offers a reduced IR signature. Made in USA.
Made in USA
1.25-inch nylon webbing guards against wear and chafing
Hardware is made from hardened steel and durable polymer
Symmetrical Paraclip™ shackles simplify transitions between 1- and 2-point configurations and allow quick firearm release
Paraclip™ cross-bolt lock bars let you secure the lever closed for added security
Rear mounting: Works with the Magpul ASAP® for optimal shoulder transitions in 1-point mode and the SGA™ receiver sling mount. Also works with most snap-hook style sling loops and standard or QD sling swivels
Front mounting: Works with the Magpul RSA®, MSA™ and forward sling mount, as well as many snap-hook style loops and standard/QD sling swivel for use in 2-point mode
NIR (Near Infrared) treatment minimizes the IR signature of the webbing
Low-profile adjustment slider enables you to adjust the tension in 2-point mode single handedly
Note: Snap-hook style loops with an inner diameter of at least 3/8 inch are required, but 9/16 inch and larger will allow a full range of motion
Important Product and Safety Information
You must be 18 years old to purchase this product. In ordering this product, you certify that you are at least 18 years old and satisfy your jurisdiction's legal requirements to purchase this product.
The sale or shipment of this product to residents of certain jurisdictions is prohibited. Check your local laws before ordering this product. Check your local laws for any other regulations.
We recommend the use of protective eyewear whenever using or near the use of this item.