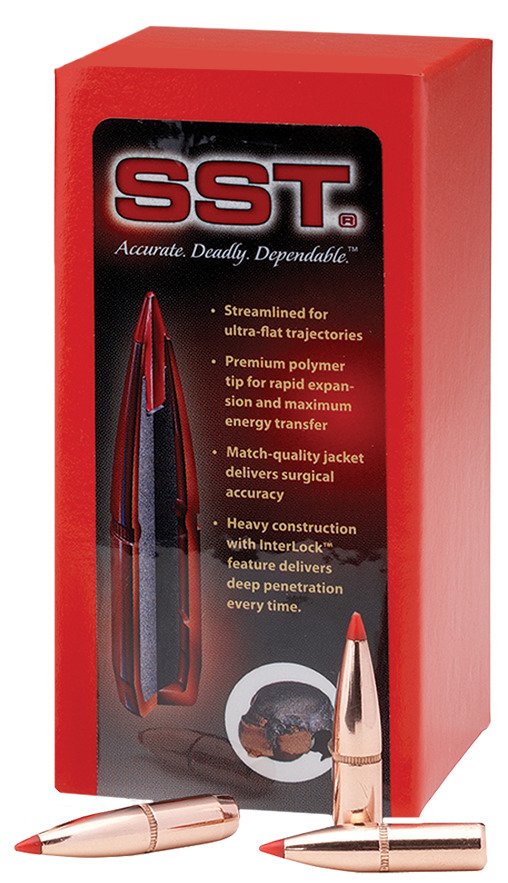 Hornady Interlock 123-Grain SST Bullets - view number 1
---
DETAILS & SPECS
---
REVIEWS
---
Q&A
---
The Hornady Interlock 123-Grain SST Bullets feature a streamlined design for ultraflat trajectories and polymer Super Shock Tips® (SST®) for rapid expansion and maximum energy transfer upon impact. Match-grade copper jackets deliver surgical accuracy, while heavy construction with Interlock® rings deliver deep penetration and dramatic wound channels. Copper bullet coatings.
Use for white-tailed deer, most North American game animals and African plains animals similar in size to antelope and moose
.264 bullet diameter (6.5mm caliber); .308 bullet diameter (.308 Win./7.62 NATO caliber)
100-round box
6.5mm caliber; .308 Win./7.62 NATO caliber
123 grain weight
Secant Ogive, boat-tail profile delivers terrific speed, ballistic efficiency and downrange energy
Cannelure provides accurate and consistent crimping and works with the InterLock® ring to control expansion
Streamlined design with an SST® for ultraflat trajectories, deadly accuracy and quick and reliable expansion, particularly at higher velocities
Polymer tip increases the ballistic coefficient, making it more efficient, and initiates controlled expansion upon impact
InterLock® ring ensures that the core and jacket remain locked solid during expansion, so that the SST® retains the mass and energy needed for dramatic wound channels
Hunting - Species: Big Game
Number of rounds: 100
Grain weight: 123
Caliber: 6.5mm caliber; .308 Win./7.62 NATO caliber
Hornady Interlock 123-Grain SST Bullets
Important Product and Safety Information
You must be 18 or older to purchase Rifle or Shotgun Ammunition and 21 or older to purchase Handgun Ammunition. In ordering this product, you certify that you are of legal age and satisfy your jurisdiction's legal requirements to purchase this product.
For safety reasons, we do not accept returns on ammunition. Always make sure you use the correct ammunition for your specific firearm.
The sale or shipment of this product to residents of certain jurisdictions is prohibited. Check your local laws before ordering this product. Check your local laws for any other regulations.
We recommend the use of protective eyewear whenever using or near the use of this item.
Item will only be shipped using Ground Shipping to the contiguous 48 states only.
---
Shipping Restriction: Currently we are not able to ship this product to the following state(s).
Hornady Interlock 123-Grain SST Bullets