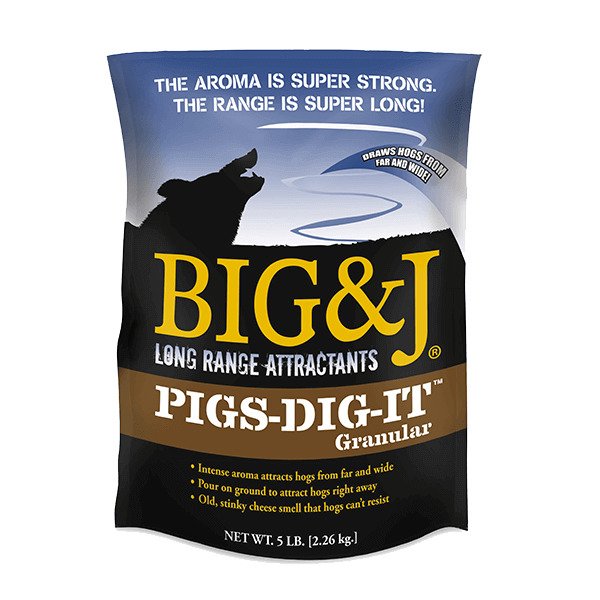 Big & J Pigs-Dig-It Wild Hog Granular Attractant - view number 1
---
DETAILS & SPECS
---
REVIEWS
---
Q&A
---
When you're on the hunt for wild hogs, pour some Big & J Pigs-Dig-It Wild Hog Granular Attractant on the ground to draw them in. The cheese smell works long range, and once the hogs are on site, the granular ingredients slow them down to give you more time to react. Add the attractant to shelled corn to maximize effectiveness. Made in USA.
Pour the entire bag on the ground in an area with ample air circulation
Add it to shelled corn to keep the hogs around even after the corn is gone
Long-range formula attracts wild hogs to the area
Infused with an irresistible cheese smell
Made in USA
Contains grain by-products, sweet corn, refined soybean oil, calcium carbonate and natural and artificial sweeteners
Granular consistency makes it difficult for hogs to clean up, keeping them around longer
Product weight: 5 pounds
Holster Material: Granular
Product width (in.): 4
Product height (in.): 10.5
Product depth (in.): 4
Feed Type: Hog
Big & J Pigs-Dig-It Wild Hog Granular Attractant
Important Product and Safety Information
ATTENTION: Feeding and baiting wildlife is prohibited or restricted in some places. Before using this product, be sure to check all relevant federal, state, and local regulations.
---
Shipping Restriction: Currently we are not able to ship this product to the following state(s).
Big & J Pigs-Dig-It Wild Hog Granular Attractant