YOUR BUYING GUIDE TO

FOOTBALL
helpful information about gear, apparel, and helmets + pads
Your Football Guide to cleats, footballs, and gloves.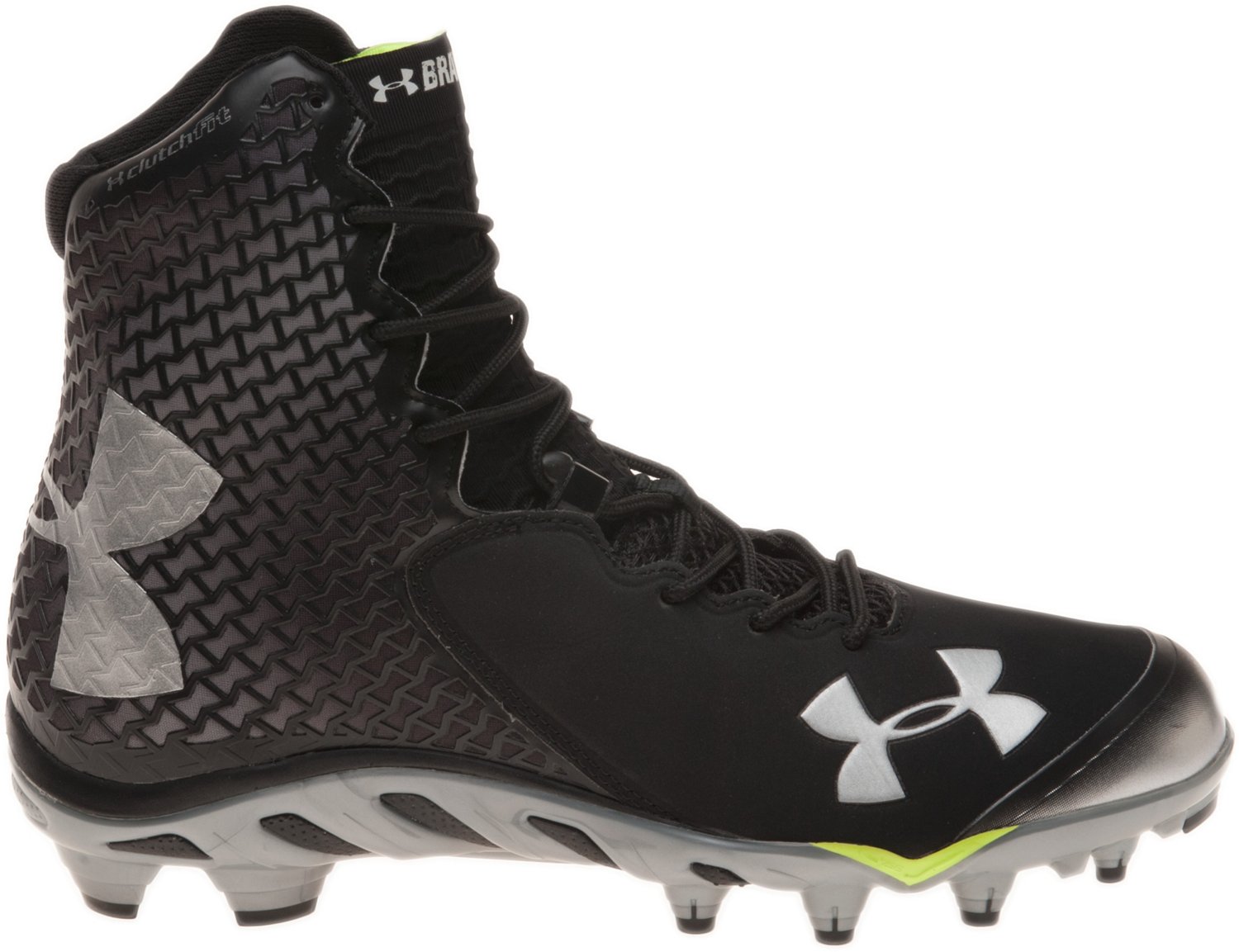 Buying Cleats:
---
When buying cleats for football, subtle features can be the difference between a win and a loss. To get the most from your performance be sure to find the cleat that perfectly fits your style of play.
Studs
Molded Studs:
Features hard plastic molding that provides great traction and grip on firm ground or artificial grass. Mostly used in youth and high school leagues, molded cleats are typically less expensive than detachable studs, and are generally preferred by younger and more casual players.
Detachable Studs:
Consists of longer and more powerful studs that can be removed and changed depending on preference and field conditions. These cleats are generally more expensive and used by pro, college, and competitive high school players.
Height of Cleat
Low:
Keeps the ankles free from restriction, providing mobility to make cuts and reach high speeds. Provides low to no ankle support. Designed for fast and agile players.
Mid:
Average ankle support and stability without minimizing mobility or speed. Designed for most skill positions such as running back, quarterback, wide receiver, and defensive back.
High:
Includes 3/4 to 5/8 cut. Maximum ankle support and stability helps prevent rolling and twisting the ankles while slightly restricting mobility and speed. Designed for positions that make predominantly lateral movements on the field such as defenders and linemen.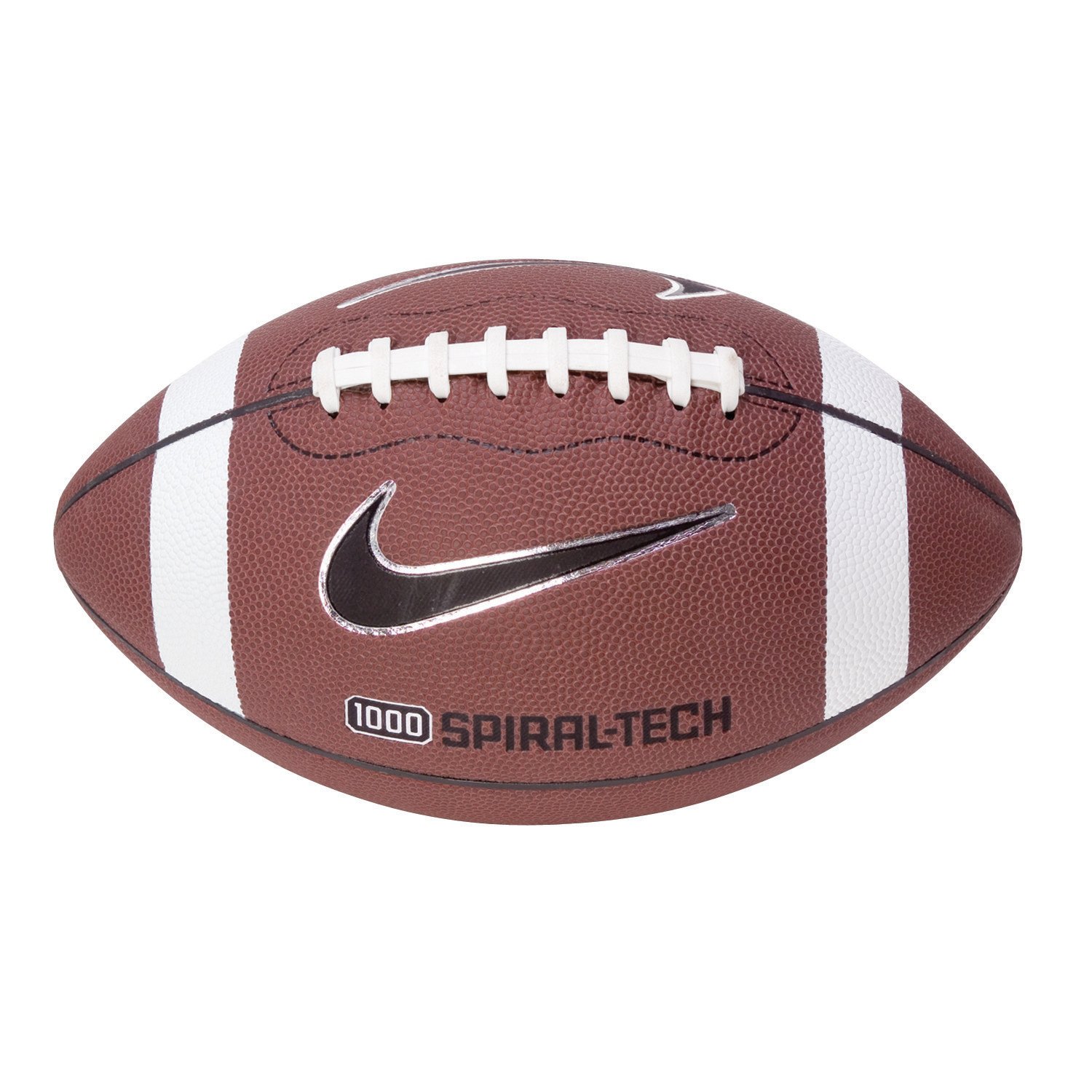 Buying Footballs:
---
At Academy, we carry footballs ranging from Pee wee League to the Professional League.
Sizes
Pee Wee Footballs:
Pee wee sized footballs are designed for use with players 8 years old and under.
They are perfect for practice or game day and are approved by virtually every youth football league.
Junior Footballs:
Junior sized footballs are designed for use with players between 9-11 years old.
They are perfect for practice or game day and are approved by virtually every youth football league.
Youth Footballs:
Youth sized footballs are designed for use with players between 12-13 years old.
They are perfect for practice or game day and are approved by virtually every youth football league.
NFHS High School Footballs:
Standard sized footballs used for high school level play.
NCAA College Footballs:
Standard size used in college play all around the United States.
NFL Pro Footballs:
Football size used by the NFL and other professional leagues.
Easy identification of official NFL football has no UPC bar code on ball.
Material
Synthetic:
Tend to cost less than leather footballs.
Composite footballs look and feel like leather, but tend to resist moisture better than real leather.
Like leather footballs, these balls are generally intended for use on grass or turf surfaces.
Leather:
The highest grade footballs and are typically used in game and practice play.
Many of the leather footballs are made with a tanning process that makes the ball tacky. This makes it easier to grip, particularly when wet.
Some leather footballs are also made to resist absorbing moisture.
Can be used in all weather conditions.
Leather footballs that are not specified as water proof or water resistant should not be used in wet conditions. The ball can absorb water, becoming heavier and harder to grip.
Leather footballs are only intended for use on grass or turf surfaces.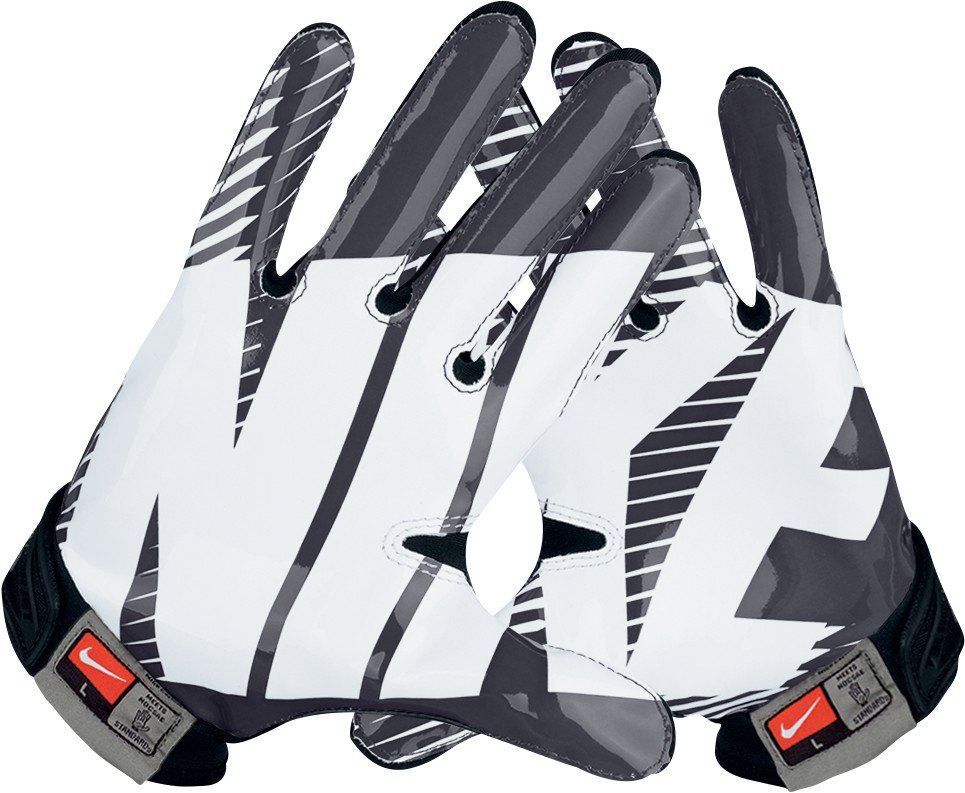 Buying Gloves:
---
Gloves provide quite a few benefits including grip, warmth, protection, and even moisture control.
The color of football gloves is regulated by the league in which the athlete is participating. The NCAA (National Collegiate Athletic Association) states gloves may only be grey. Check league rules and regulations for acceptable glove color.
Receiver Gloves
Enhances performance by gaining better traction or squeeze between the hands and the football.
Form fitted with a tacky material on the palm.
Receiver gloves are ideal for running and/or defensive backs and kick/punt returners.
Lineman Gloves
Used to protect the hand when blocking or tackling an opponent.
Made with leather material at the palm for breathability.
Typically padded at the top of the hand, the knuckles, the bottom palm, and thumb.
Your Football Guide to Girdles, Pants, and Tops.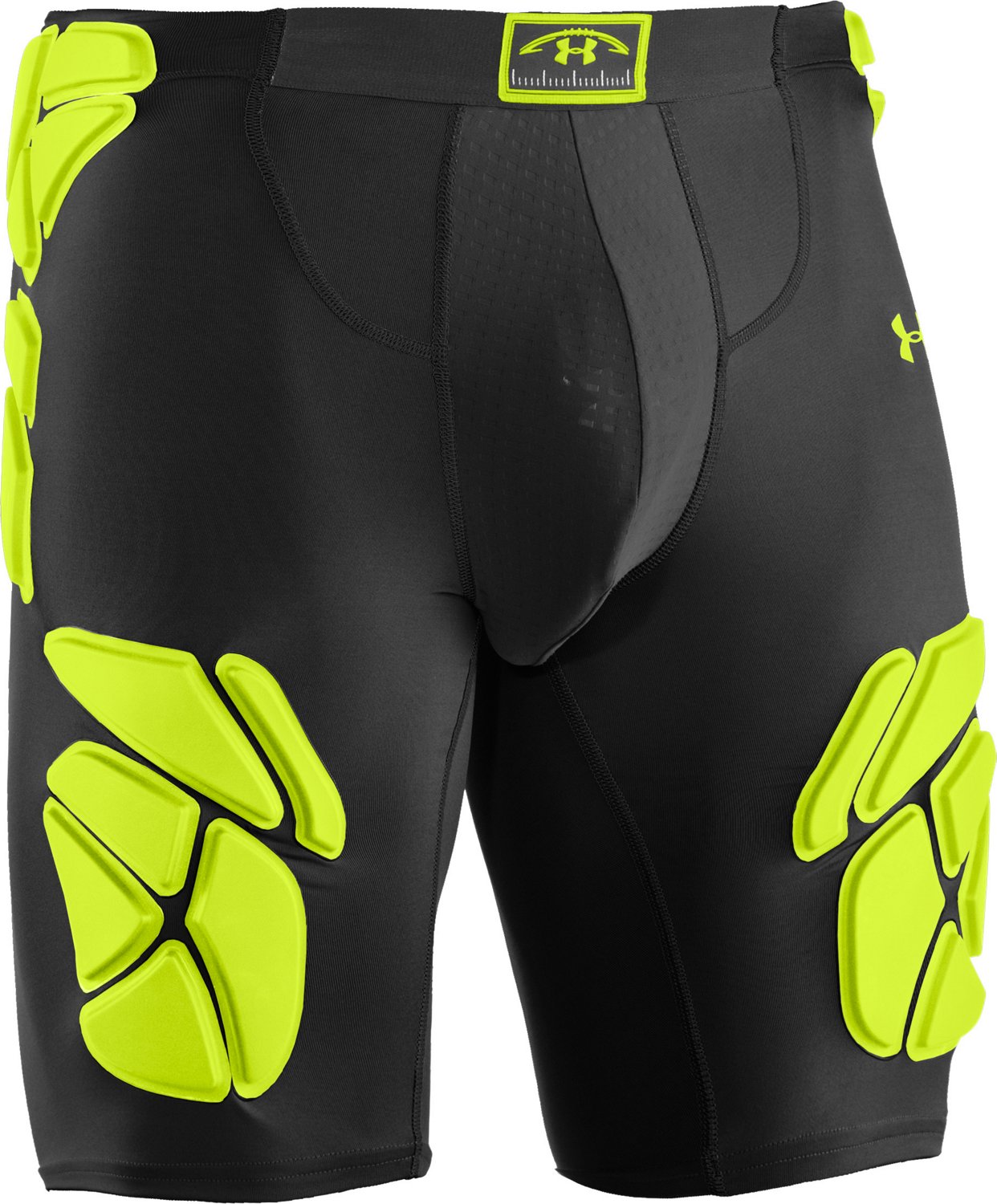 Buying Girdles:
---
What to look for when shopping for football girdles.
Standard:
A standard girdle has 5 pockets where you can insert your own pads (2 thigh pads, 2 hip pads, and 1 tailbone pad).
Remove pads before washing.
*Note: Pads should be removed before washing.
Integrated:
Integrated girdles have a full set of pads (2 thigh pads, 2 hip pads, and 1 tailbone pad) permanently sewn into the girdle. The pads can not be removed as they are part of the garment.
1/2 Integrated:
These are a combination of an integrated girdle and a standard girdle. They have permanently sewn in pads, typically 2 hip and one tailbone, and pockets for inserting thigh pads. This allows the player to customize the bulk and feel of the thigh pad while offering permanent hip and tailbone protection.
Sizing:
Please review this sizing chart to see what size girdle you might need. This is based on average sizes and could be different depending on brands of girdles.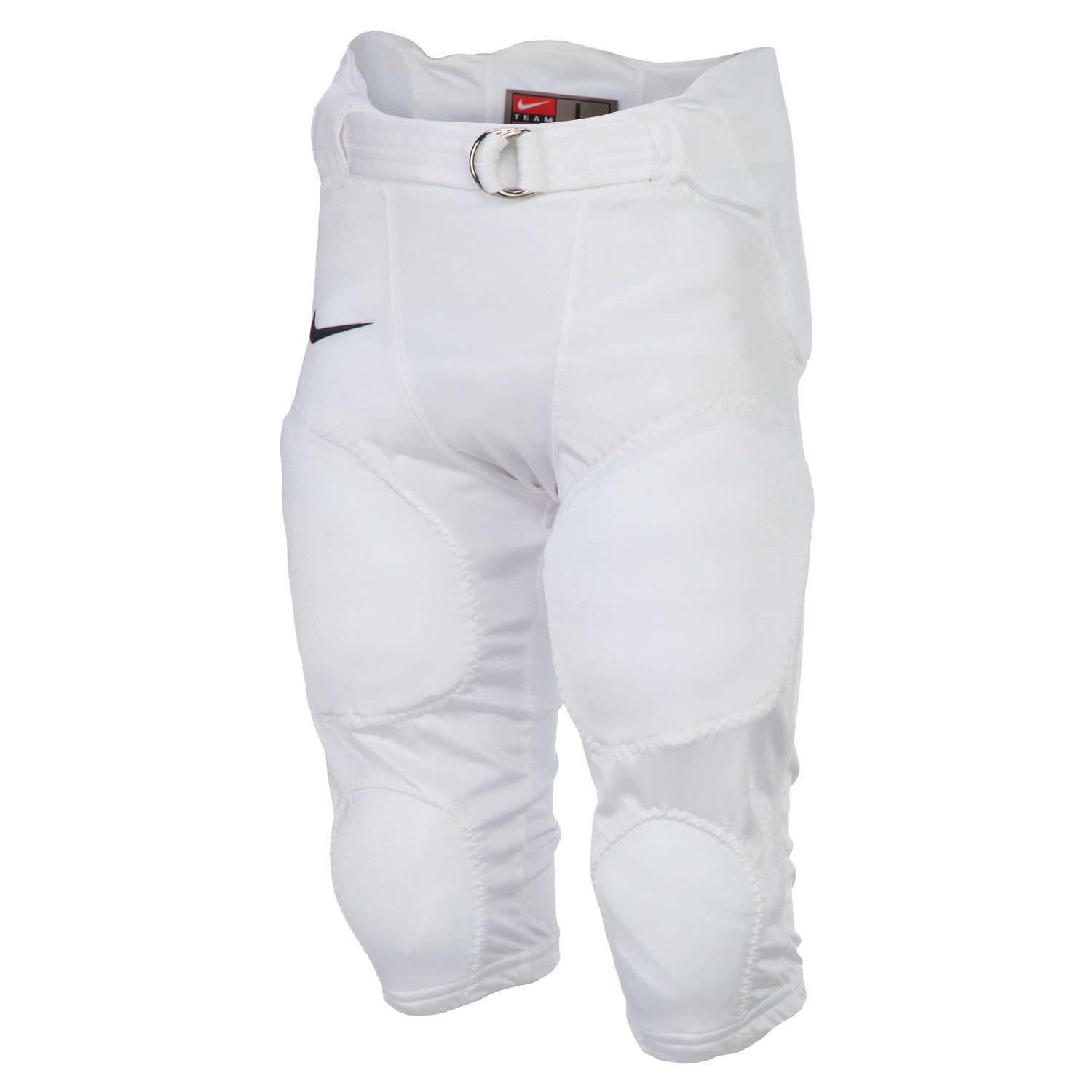 Buying Pants:
---
What to look for when shopping for football pants.
Slotted:
The necessary pads can be slipped into built-in slots.
Integrated:
Knee and hip pads are built into the pants.
Snap-In:
The necessary pads can be slipped into built-in slots and additional hip pads snap in place.
Sewn-In:
Similar to integrated but the pads are sewn in place.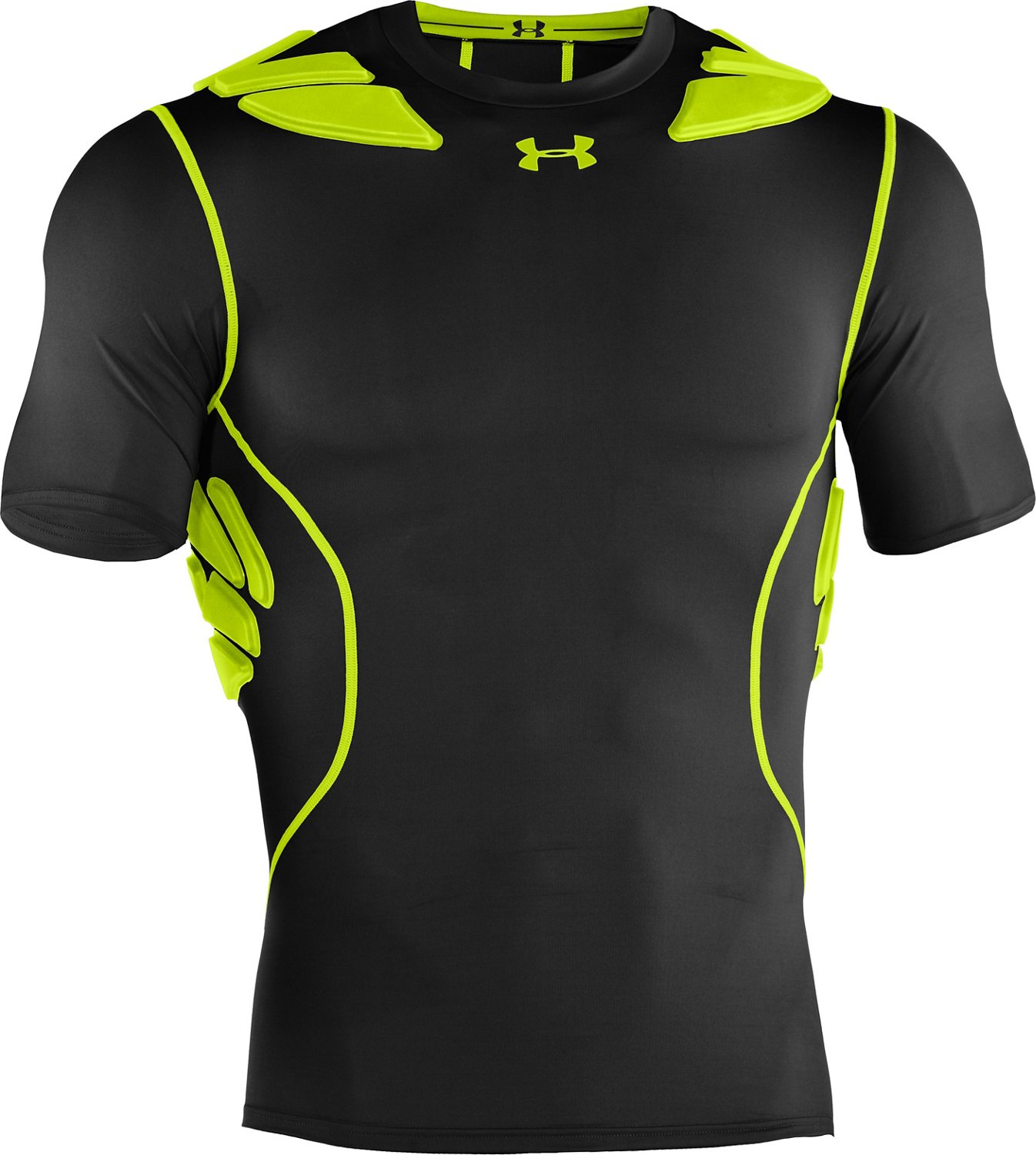 Buying Tops:
---
What to look for when shopping for football tops.
Padded Compression Tops:
Tight-fitting material that is worn under the jersey and pads. Helps provide extra protection in areas such as the ribs, shoulders, and spine. Extra padding is generally built in.
Practice Jerseys:
Jerseys that are meant to be worn during drills and practice. They are generally made of a light breathable mesh that is lighter and thinner than most game jerseys. They generally come in solid colors to distinguish positions.
Game Jerseys:
Are meant to be word during sanctioned games and are generally made of a higher quality, lightweight, polyester material.
Your Football Guide to Chinstraps, Helmets, and Pads.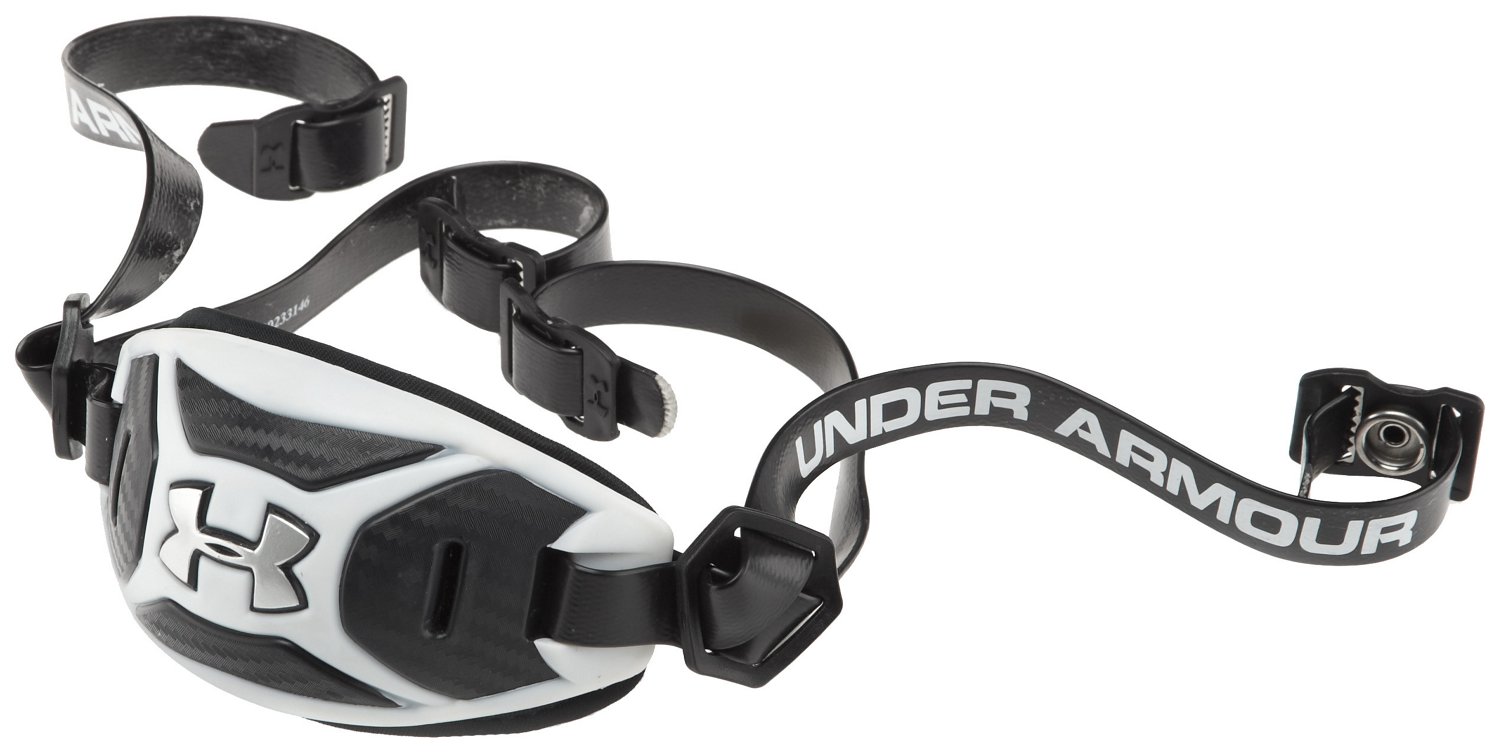 Buying Chinstraps:
---
What to look for when shopping for football chinstraps and mouth guards.
Chinstraps
Properly fitting of a chinstrap is important. If the chinstrap is too loose, the helmet can move around on the players head, which can cause serious injury.
Soft Chinstraps:
Stay on the chin, keeping the helmet secure to the players head..
Conforms to different chin sizes and shapes allowing the player to be more comfortable.
Hard Chinstraps:
Provide protection to the player's chin which reduces the chance of injury.
Newer designs conform to different chin sizes allowing the chinstrap to stay on the chin. Newer designs also improve comfort.
Mouth Guards
Mouth guards are plastic dental appliances which when worn can provide a degree of protection for both the mouth's soft tissues (lips, cheeks, gums, and tongue) and hard tissues (teeth and jaw bones).
Sports mouth guards can help prevent:
Tooth fracture, tooth dislocation, and bone (jaw) fracture
Bruising or laceration of the soft tissues of the mouth
Wearing a mouth guard may help to protect an athlete from concussions.
Athletes with braces should wear mouth guards specifically designed for braces to help prevent cuts to their lips.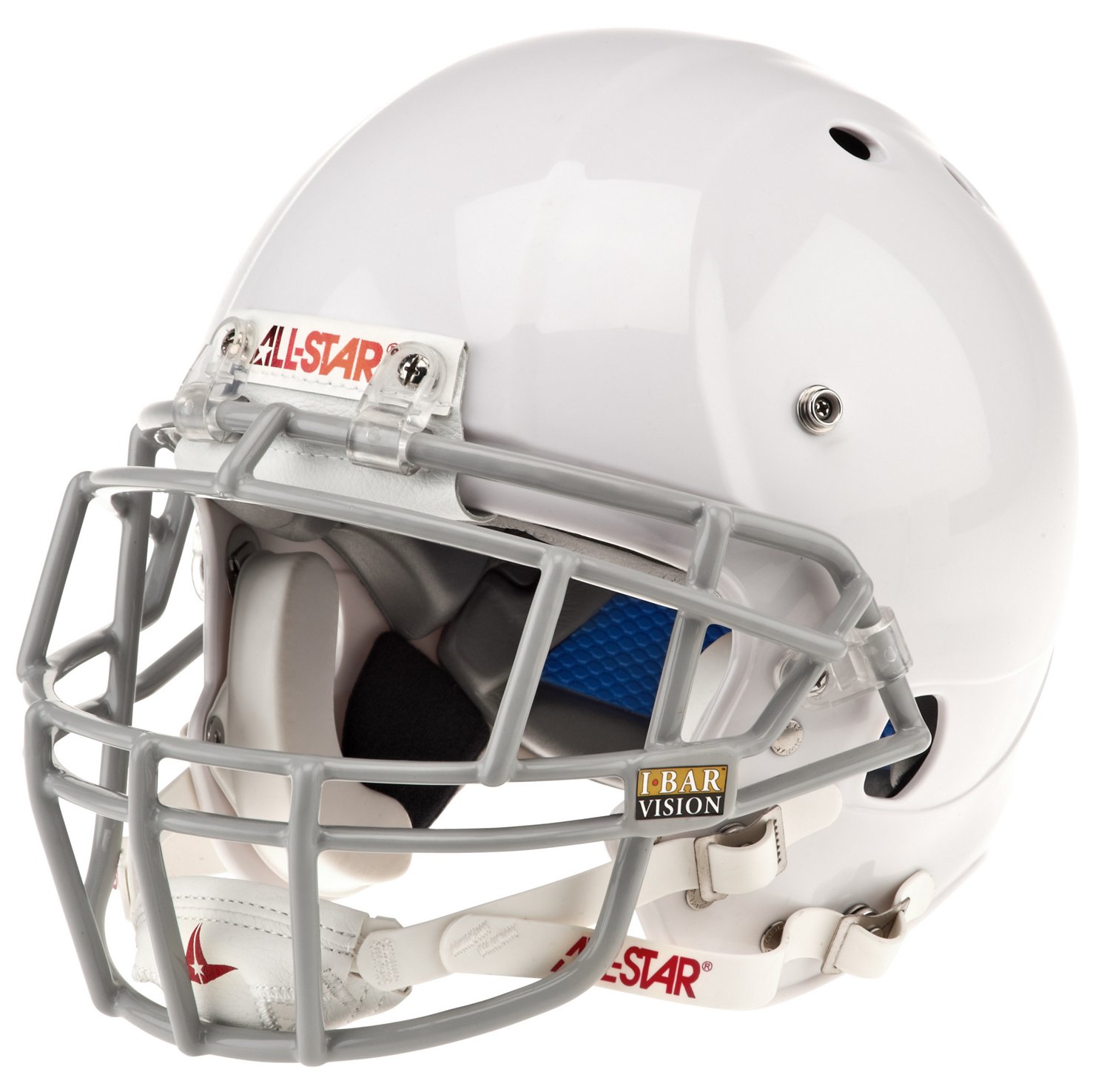 Buying Helmets:
---
Football helmet technology and features have advanced over the past decade.
Sizing a Helmet:
Use measuring tape or head caliper at 1" above the eyebrows to determine the size of the head.
This measurement will correspond to the various sizes offered in helmet models.
Helmet manufacturers strongly suggest players maintain a moderate to short hairstyle during the season because more extreme changes in hair length often require a new fit.
The front of the helmet should sit 1" above the eyebrows. This is the point at which the largest percentage of head mass is encompassed.
Press downward with the fingers interlocked on the top of the helmet and pressure should be on the crown of the head, not on the brow.
The chinstrap should be exactly centered without slack to anchor the helmet properly.
Remember, not all manufacturers size the same so the Football Helmet Sizing Chart may be used to determine the general helmet size.
All-Star Helmet Features:
Tri-Bar cage offers face protection
Soft chin cup for comfort
Flared center provides increased shell strength and improved deflection
UltraCool ventilating system incorporates air channels with 8 optimally sized ventilation ports
Hybrid Impact Liner is a high energy absorbing EPP (Expanded Polypropylene) impact liner for uniform protection around the entire head with strategically placed VN (Vinyl Nitrile) inserts
New DuraSoft Comfort Padding System is a hypoallergenic 3 part design allowing for quick and easy size adjustment
DuraSoft Liner removes quickly for easy cleaning and maintenance
E-Z Ear Channel features repositioned standard jaw pads for ease of placing the helmet on and taking the helmet off of a player's head
Riddell Helmet Features:
Reusable face mask attachment
Superior comfort in an anti-microbial moisture wicking liner
Adjustable crown liner which provides and comfortable and secure fit
Light weight facemasks
Schutt Helmet Features:
Equipped with SUREFIT slots in the shell for use with the inside fitting of a chinstrap
Adjustable chinstrap
Spherical shape which helps turn some of the biggest hits, changing the helmet-to-helmet collisions into more of a glancing blow
Vinyl-encapsulated fit liner helps the comfort of the player and forms to the shape of the head better than a conventional dual foam liner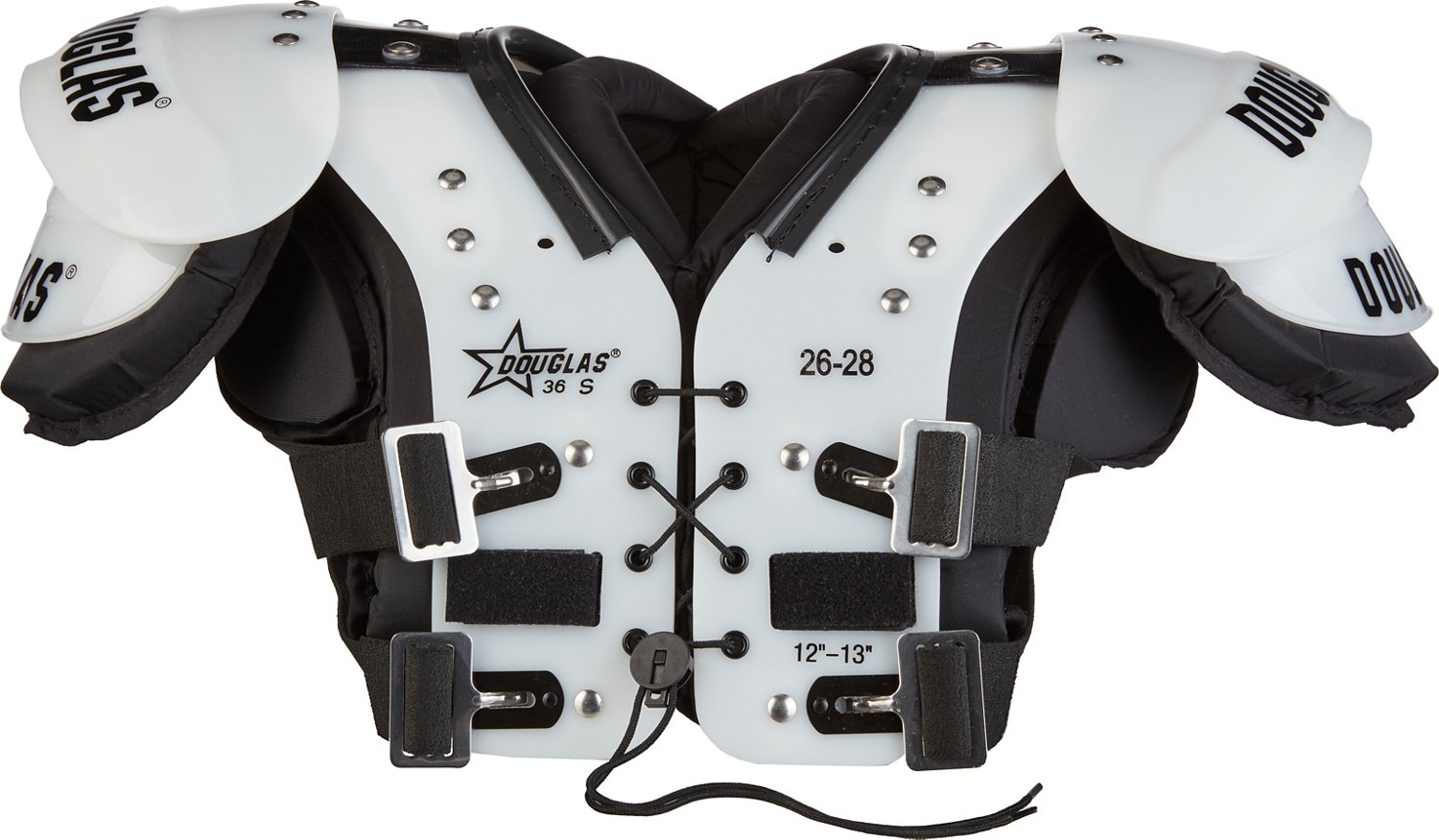 Buying Pads:
---
What to look for when shopping for football pads.
Shoulder Pads:
Finding the correct shoulder pad is important for the safety of the athlete.
Most brands list the weight ranges on the front right side of their shoulder pads
After finding the size by weight, use the following measuring methods to check shoulder pads for proper fit:
Stand up straight with arms at their side, Measure across the back, from the outside end of one shoulder bone to the outside end of the other shoulder bone, Round the measurement up to the next half-inch
Thigh Pads:
Gives better protection to players who are often tackled
Slides into the football pant pockets
Knee Pads:
Slides into the pockets of most football pants in the knee area
The knee pads can easily be placed in the pants by turning the legs of the pants inside out
Note: Remove for washing. Pads should not be placed in the dryer; air dry only.
Rib Vests:
Academy carries rib protectors that are designed to provide protection to the ribs
They are sized based on the shoulder pad
Rib vests connect to the shoulder pads by attaching the four screws to the pre-drilled holes on the back of the pads
Back and Sternum Kick Plate:
A back plate adds protection to the back area
A sternum plate adds further protect to the chest area
The Junior Series back plate provides lower back protection for youth players
The extra grommet holes allow players to raise or lower the back plate
Forearm Pads:
Protects the arms of a player (usually offensive and defensive linemen who use their arms to block and tackle)
Provides protection from the wrist to the elbows
Collar Pads/Neck Rolls:
Attaches to the back of the shoulder pad to further protect the collarbone
At Academy, we have specific models to fit shoulder pads and offer both youth and adult sizes