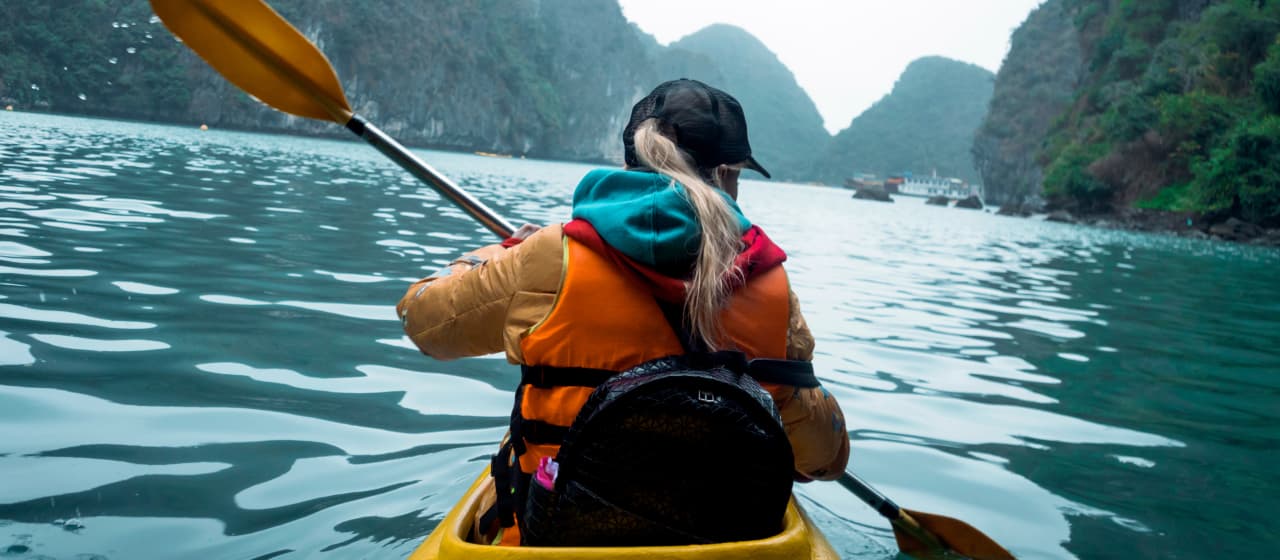 No matter where you choose to paddle your kayak — be it on a recreational lake in the height of summer or along the coast in the dead of winter — knowing what to wear kayaking is one of the most crucial things to consider. Comfort is certainly a top priority for most. But you should also look out for clothes that help you stay dry.
Despite how it may initially seem, you don't have to spend a small fortune to have a great time on the water kayaking. It all comes down to a few essential, basic pieces you use to layer for each season. And yes — layering even in the hottest months can be extremely important!
In this guide, you'll learn all about what you should wear for your next adventure on the water:
We created this with mild-to-colder conditions and recreational-to-day touring flatwater use in mind. Extreme polar, whitewater, and deep-sea conditions are simply beyond the scope of this guide.
As a first-time kayaker, we recommend sticking to flatwater conditions. Flatwater is any body of water that doesn't usually have active waves, turbulent wind, or a heavy current. It can be a river, lake, or even the coastal beach on a calm day.
Two popular spots to visit as a complete beginner are your local state parks with a flatwater river or lake or potentially a nearby quiet beach. Wherever you choose to kayak for the first time, consider these factors:
It's All About Layers
There's a huge likelihood that you'll end up submerged in the water when you go kayaking. So when it comes to kayak layering strategies, you'll want to stick to thinner layers that are both adaptive and well-insulated. Those thin layers can also give you the best mobility as you maneuver atop the water.
In the height of summer, layering seems less than ideal. Just always remember to bring other important protective layers: sunscreen and a hat! Even on the most cloudy of days, UPF protection is a non-negotiable essential.
Expert Tip:
Just like we mentioned in our what to wear for hiking guide, you'll want to layer appropriately. However, for kayaking, you have to consider more than the weather conditions.
Layer for the Water — Not the Weather
Your clothes can act as a necessary way to protect your internal temperature and your body should your kayak capsize in frigid water. When the water is cold enough, hypothermia becomes less of a hypothetical risk and more of a potential threat.
Before you head out, know the water's temperature. That way, you can prepare and mitigate as much of that risk as possible. Wetsuits and/or dry suits can help combat these!
Out of all the fabrics out there for you to wear, cotton is usually the worst choice for cold and/or wet conditions. It actually retains wetness by absorbing water. Instead, go for moisture-wicking and quick-drying materials.
Expert Tip:
Nylon and polyester are two fantastic options that are both widely available, too.
Never Forego Your Lifejacket
Arguably the most important piece of equipment every kayaker should wear is a life vest — often called a lifejacket or even a personal flotation device. Every person in or on the water should always wear one of these.
What To Wear Kayaking Layering Guide
When kayaking, always dress for the water: not the weather! The main benefit of a good layering strategy is that you'll be able to explore more when you're out on the water while staying protected from the elements — no matter the season.
What To Wear for Kayaking in Warm Water Conditions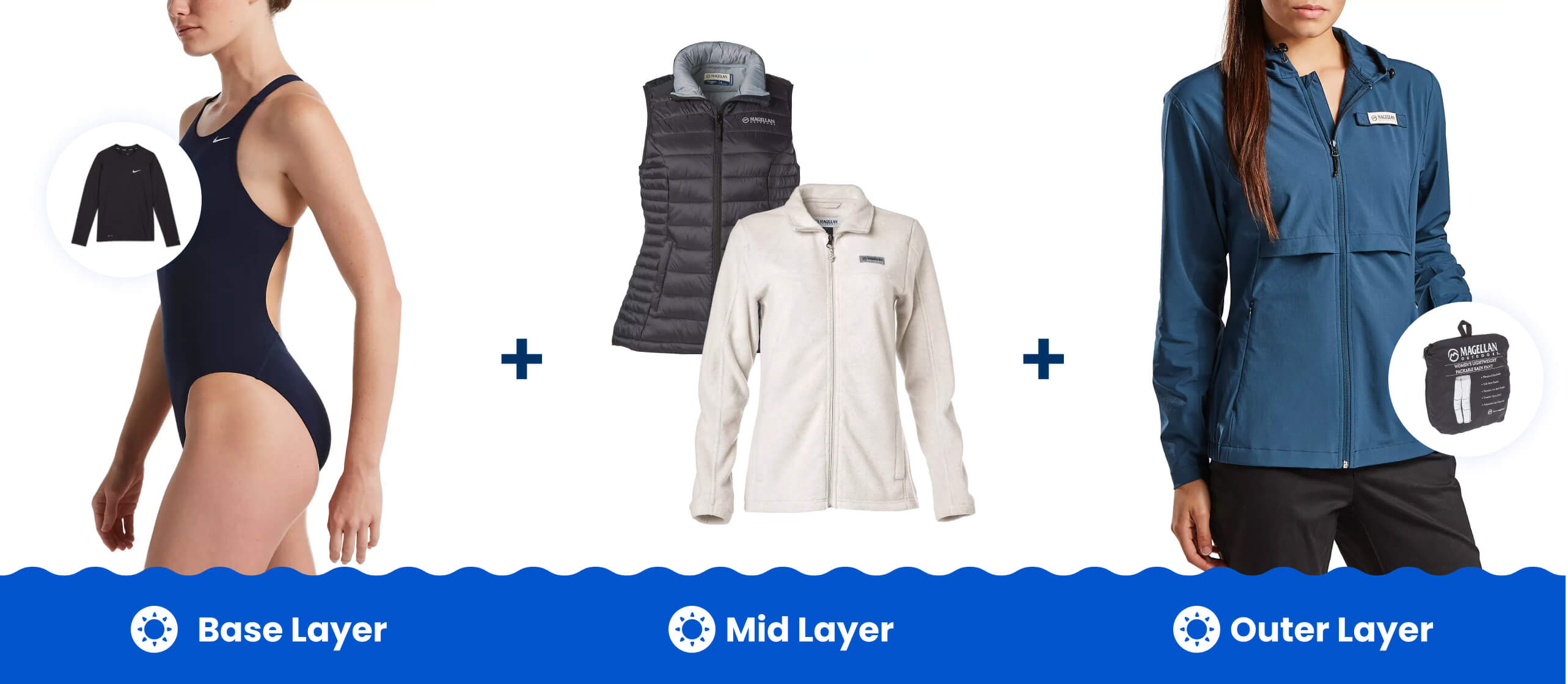 No matter if it's your first time or if you're looking to upgrade from a bathing suit to gear that makes longer trips more comfortable, here's what we recommend:
Mid Layer
Synthetic Long-Sleeve Top: If cloud cover isn't an option when you go out on the water, consider wearing a UPF-protecting long-sleeve shirt over your base layers.

Fleece Jacket: While summer months may not be ideal for fleece jackets, certain times of day might make them necessary depending on where you live.

Fleece Vest: When you're simply looking for a tad more warmth without the restriction in the milder months, fleece vests can be the perfect solution!
Outer Layer
Windbreaker: On those especially windy days, windbreakers can be a lifesaver when you're trying to make the most of your latest kayak excursion!

Rain Jacket & Pants: Rain jackets and rain pants often save the day when a spontaneous storm rolls in. The best part? Since they're lightweight, you can layer them over your base and mid layers.

Water or Boat Shoes: In more mild water conditions, water and/or boat shoes can be a fantastic option! They're made of special materials that help you maintain the best grip on surfaces.
What To Wear When Kayaking in Cool-to-Cold Water Conditions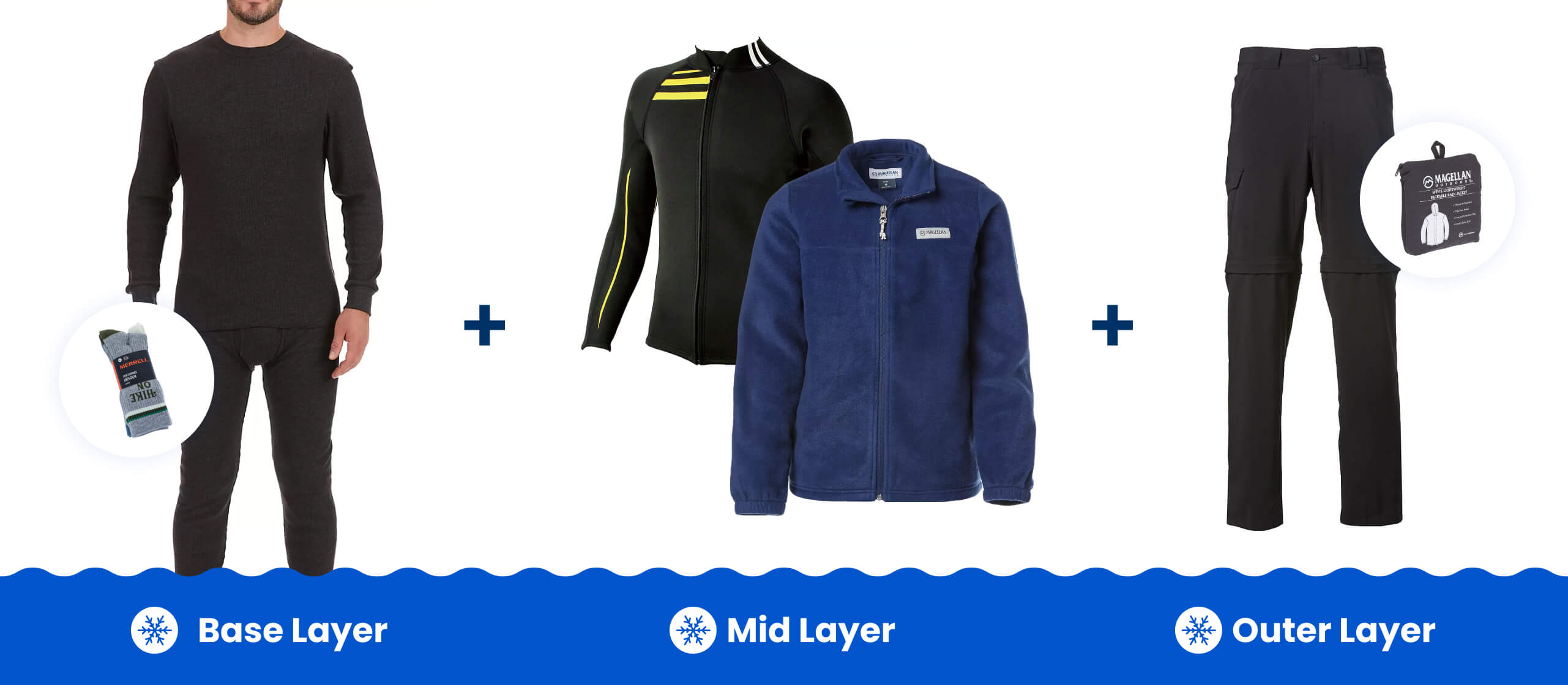 Nothing should stop you from exploring! That's why every kayaker should prepare for cool-to-cold water conditions BEFORE they head out.
Expert Tip:
Situational awareness becomes more and more important as the colder the water and weather conditions get.
There are unique potential risks introduced when you kayak in water cooler than about 70 degrees Fahrenheit should your kayak capsize. This guide focuses on milder, cooler conditions as opposed to more polar conditions than you'd find on a touring expedition in the height of winter.
That being said, dry suits are best suited for those more extreme conditions. Novice kayakers, however, should only focus on the following:
Base Layer
Long Underwear: For colder recreational water conditions, go for non-cotton long underwear for both men and women. Keep in mind that this will keep you warm, but you'll likely not have the best mobility.

Long-Sleeve Top: Rash guards are a good option for cooler temperatures; however, in colder conditions, you'll want to prioritize your comfort and warmth more. In that case, go for a non-cotton long-sleeve top.

Non-Cotton Socks: As with the other gear we've mentioned, if you wear socks when kayaking, go for a quick-drying material like wool or polyester!
Mid Layer
Fleece Jacket or Vest: Wearing a fleece jacket or vest is essential in cooler water conditions. But always remember that you'll also need a life vest, which certainly adds to the bulk and takes away from your mobility.

Wetsuit: When it comes to cool-to-cold water temperatures in flatwater bodies, wetsuit shirts and pants become essential for your safety! They're typically made of thick, insulating material that retains a thinner layer of water warmed by your body's temperature.

Boots or Shoes: While a bit bulky, for beginner explorers, hikers, or anglers looking for the best remote spot, wading boots can be a good choice for colder months. Deck boots could also be another great option when it's rainy outside, too.
Outer Layer
Bottom: If you don't feel you need a wetsuit, polyester pants are a great alternative! You'll often see fishers or hikers wearing these when it's cooler out, too.

Rain Jacket & Pants: Rain jackets and rain pants are made of lightweight, waterproof material that helps keep you dry while you paddle on dreary, wet days. For cooler water conditions, these are especially handy to have just in case that surprise storm starts to pour while you're heading out onto the water.
What To Wear When Layering With a Wetsuit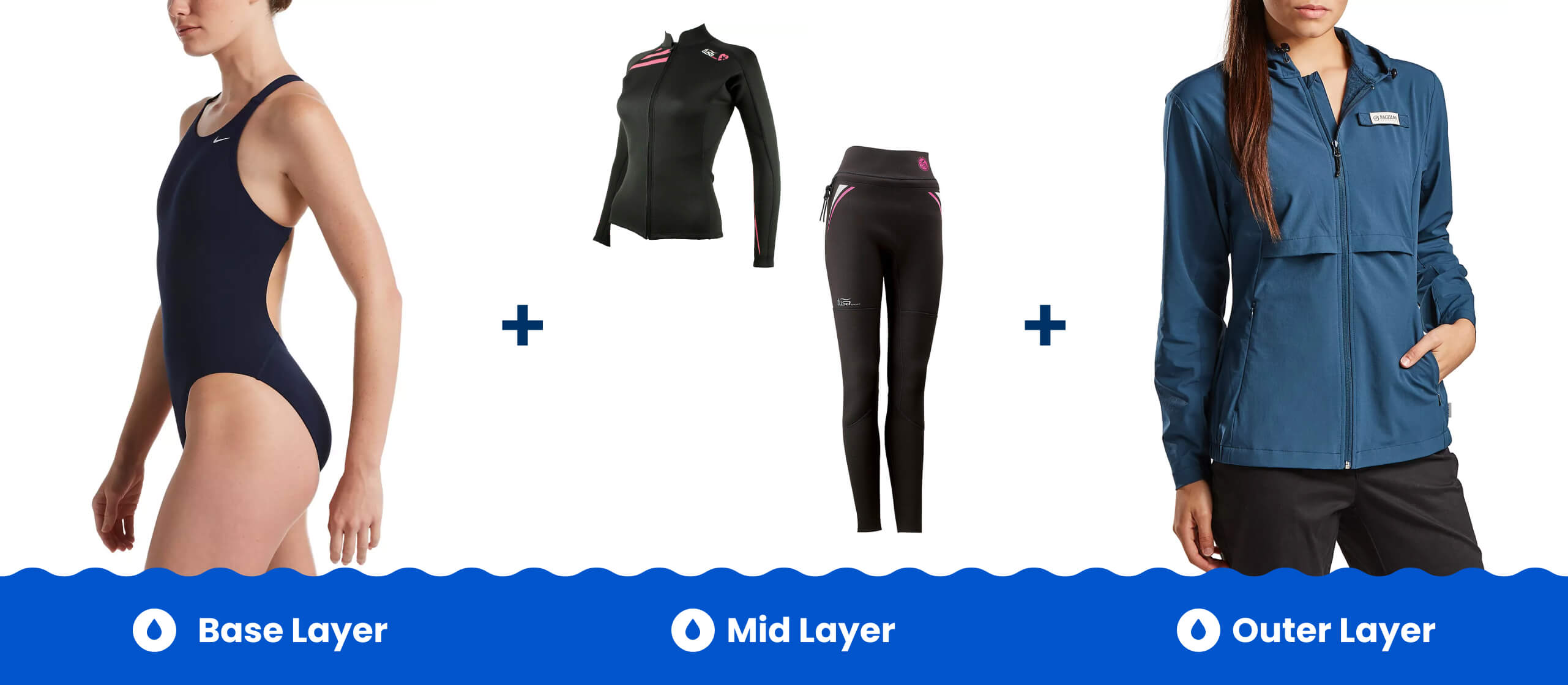 When your wetsuit is submerged in water, there's really no getting around that anything you're wearing underneath will also get wet. Although they're designed for water sports, wearing a wetsuit while kayaking is more practical than you may initially think.
Ill-fated capsizing cases are bound to happen, sure. But as you paddle through the water, it can (and will) splash on you. Wearing a wetsuit helps keep you warm whether you're drenched or splashed.
Expert Tip:
Made of a rubber material called neoprene, a wetsuit warms you up by taking full advantage of your body heat by locking in a layer of water. You'll be wet, but you won't be freezing!
Choosing to wear one when kayaking when the water temperature is cooler than around 70 degrees Fahrenheit is simple:
Base Layer: If you plan on being in the water in colder water and you want the convenience of changing out of it when you're done, wear a bathing suit underneath, so you can change out of the wetsuit quickly and with ease. Otherwise, choose fast-drying material underwear.

Mid Layer: Depending on where you plan to kayak, most standard wetsuits will suffice for cooler flatwater locations. If there's a bit more of a freezing bite to the water temperature, choose a thicker wetsuit!

Outer Layer: Windbreakers are the perfect outer layer when you're wearing a drenched wetsuit. They help block any wind in the air as you paddle through the water.
Other Essentials
Gloves: Paddling gloves can be essential for protecting your hands as you paddle your kayak for longer distances or lengths of time. Between preventing blisters and colder days, having a pair of these is more than nice to have when you need them most.

Wide-Brimmed Hat: Donning a hat made with a wide brim or even capes helps to protect your head from sun exposure. Hats can be one of your most versatile pieces of gear if you choose one with a chin strap to keep it on you rather than letting it float away with the first wind gust.

Personal Floatation Device (PFD): As we mentioned above, life vests are non-negotiable for all kayakers — even if you're paddling through the shallowest flatwater lake! But we know just how important it is to move around. If you find these to restrict your movement a bit too much, choose a PFD that's specifically made for kayaking.
What Should You NOT Wear While Kayaking?
Skip cotton for every layer. It not only absorbs water — it stays wet.

Avoid TOO many layers. They're easy to slip in and tend to fall off when you paddle. Anytime you're submerged, you'll also likely lose track of them in the water.

Skip having your phone in your pocket. Phones are expensive, so if you bring yours, slide it into a waterproof, floating phone case to ensure it's protected should you capsize in the water.

Skip clothes with metal zippers. They corrode quickly in water. Look for velcro or plastic zipper hardware to keep your items for longer.

Avoid flip flops & loose shoes. They're easy to slip in and tend to fall off when you paddle. Anytime you're submerged, you'll also likely lose track of them in the water.
Ready to hit the water? Now you know exactly what to wear kayaking! No matter if you want to sink your paddle in warm or cold water, we've got you covered for all the things you need to prepare for your next trip. Check out our guide all about how to choose the best kayak for you.