No tailgate is complete without the perfect setup. That means having enough space to comfortably accommodate your guests as well as all the necessary tailgating supplies. Not sure where to start? Check out these tailgating setup ideas for everything you need to have the best party on the lot!
Tailgate Checklist: What Do You Need for a Great Tailgating Setup?
Once you get a head count, you'll be able to plan accordingly and know how many supplies to bring. To have the best flexibility and the most fun on the lot, pack these tailgate essentials (use the following tailgating checklist as your guide):
Ultimate Tailgating Checklist

Essential Tailgating Setup
Tent or canopy
Folding chairs for each guest
Beverage cooler
Folding tables for eating, cooking, etc.
Food cooler
Table clothes in your team color
Ice
Canopy weights (for gusts of wind)
Cooking + Grilling
Grill
Rolling utility cart (for your cooking setup)
Grilling tools & accessories
Lighter & lighter fluid
Grill fuel (propane & charcoal are most popular)
Eating + Dining
Food, appetizers, & snacks
(Sturdy) Disposable cutlery
Beverages for everyone attending
Disposable cups
Plenty of napkins & paper towels
(Sturdy) Disposable plates
(Sturdy) Serving utensils/tools
Condiments & spices
Entertainment
Tailgate games (we recommend having at least 3)
Football or frisbee
Portable speaker
Playing cards
Television to watch the game
Tailgating generator
Weather Gear + Safety
Fans (for hot game days)
Extra canopy or tent (for extra space if needed)
Ponchos (for rainy game days)
Mesh net for food (to guard against bugs)
Tent lights
Cold Weather Gear
Blankets
Team hoodies or sweatshirts
Hand warmers
Portable heaters
Layered clothing
Gloves
Safety Essentials
First aid kit
Bungee cords (for mounting and security)
Jumper cables
Clean Up + Extras
Large trash bags
Sunscreen
Wet wipes
Food containers
Hand sanitizer
Foil
Sharpie (for labeling drinks and food items)
Bug repellent
Flashlight
Can opener
Protect Your Tailgating Essentials With the Right Storage System
The perfect tailgate setup begins even before you find your parking spot! Maintain your gear by storing it in heavy-duty storage bins to make sure your gear outlasts the first season. Use smaller storage bins to organize your food or other small supplies for easy access. Academy offers a wide selection of durable storage trunks and coolers so you can keep all your tailgating necessities safe and protected.
EXPERT TIP:
Pack your most important items on the top of your bins to ensure they're easily accessible for a quick, hassle-free setup.
Have a Flexible Tailgating Setup for All Weather Conditions
Football fans are hardcore. Not even the roughest weather can stop them from showing up to support their team. Enjoy the tailgate regardless of the weather with a flexible setup that keeps you prepared.
Tents or Canopies
Whether it's blazing hot, rainy, or windy, stay protected from the elements with a
tent or canopy.
Academy offers a plethora of types to choose from — from small to large, collapsible, screened-in, patterned, and more. You'll always be able to find one that's right for you.
Utility Carts
Easily transport all your gear from one tent to another or the car with a
utility cart!
Academy offers carts that can carry up to 1,000 pounds. That way, you can move your generator, coolers, portable grill, and more easily if the weather starts to act up.
EXPERT TIP:
Pack your most important items on the top of your bins to ensure they're easily accessible for a quick, hassle-free setup.
Portable Heaters and Hand Warmers
Those late-season football games can get chilly, but you can stay warm by bringing along a
portable heater
or hand warmers. You can also keep a team blanket in your car and bring along some extra team-branded accessories like hats and gloves to provide added warmth while showing your team spirit.
Canopy Accessories
Provide some extra protection for your canopy or tent with
canopy accessories
from Academy Sports + Outdoors. If it's windy, put on some canopy weights to keep it secure. And if it's extra sunny, add on the sun shade to provide some shade. You can even add a fan to the top of your canopy to provide extra breeze on hot days.
EXPERT TIP:
Get everything you need for tailgating in any weather from Academy Sports + Outdoors.
Frequently Asked Questions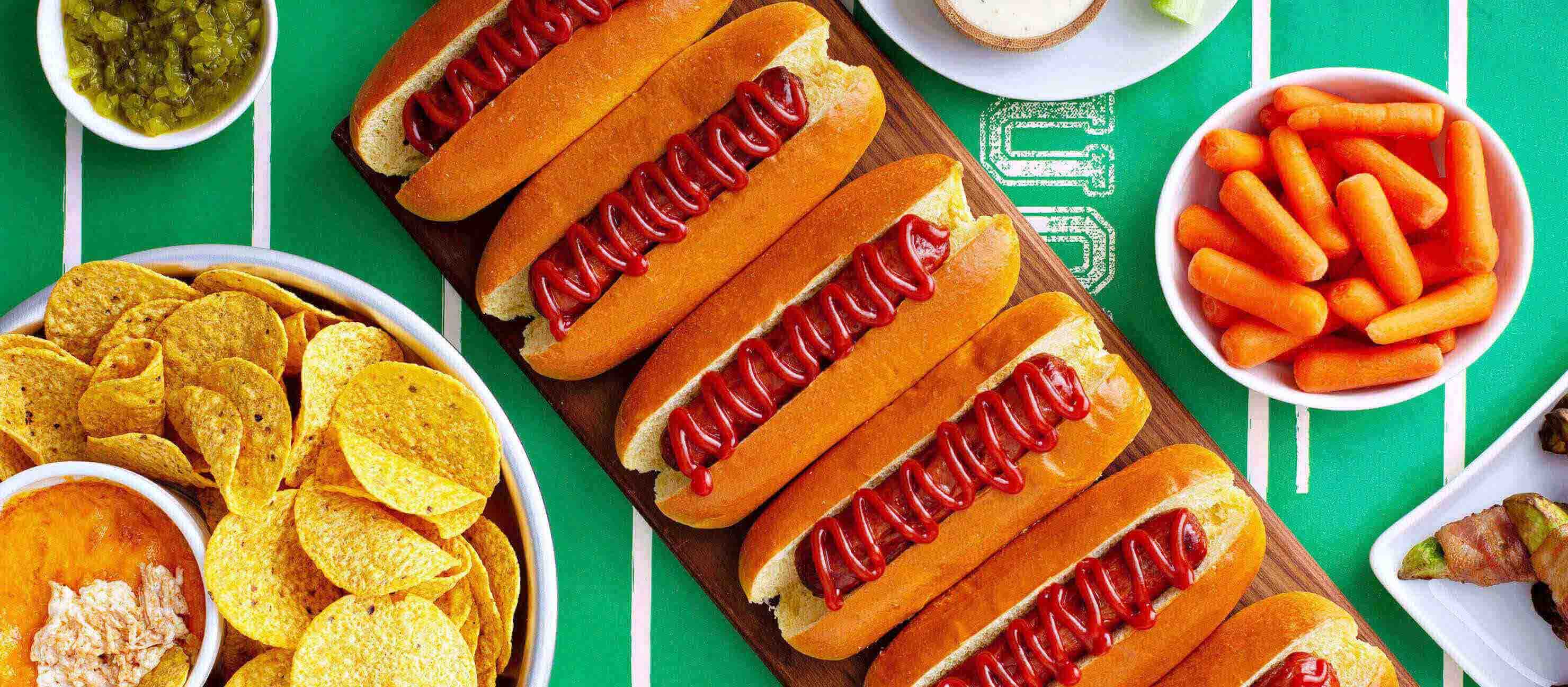 Let's be honest, a tailgate is nothing without some delicious food to eat alongside it! You don't want to be stressed about having to prep and cook all your food at your party. We recommend preparing your food the night before or the morning of to get the most out of your day:
If you plan to grill up some burgers, buy pre-formed patties and cheese slices that are already cut. That way, all you have to do is peel them off and place them on the grill.
If you have ground beef you can shape the patties yourself and place them between sheets of wax paper to prevent sticking and make grilling easier.
If you want chicken or shrimp kebabs, cut up, marinade, and skewer them the night before to simplify what you have to do at the party.
If it's a game later in the season, you can pre-cook soup or chili and bring it along in thermoses and tin mugs to keep it warm and ready to enjoy. If you have a portable generator, you can also bring along a crockpot to keep your food hot and ready.
Don't forget to pack various cooking utensils to cook and enjoy a tasty meal, including tongs, a grill fork, serving utensils, an oven mitt, and napkins. You can keep a supply of these items in a small plastic storage tub so you'll always have them ready to break out at the tailgate.
EXPERT TIP:
Spice up your standard grill food by bringing condiments and spices, like ketchup, mustard, mayo, pickles, hot sauce, and salt and pepper. You can easily transport them by storing them in an empty 6-pack container.
Bring the Fun for Everyone
No tailgate is complete without some tailgate games and some music. After you've enjoyed some tasty food and had a few drinks, bust out the games and tunes to pump up the party! Academy offers a wide variety of games to choose from so you'll find one perfect for your family and friends. You can even get games that are personalized with your team's details. That way, everyone knows who you root for.
Plan to also bring along a portable speaker so you can listen to your pre-game playlist and get everyone excited for the game. Playing cards, frisbee, and football are more popular ideas for entertainment at the party.
Frequently Asked Questions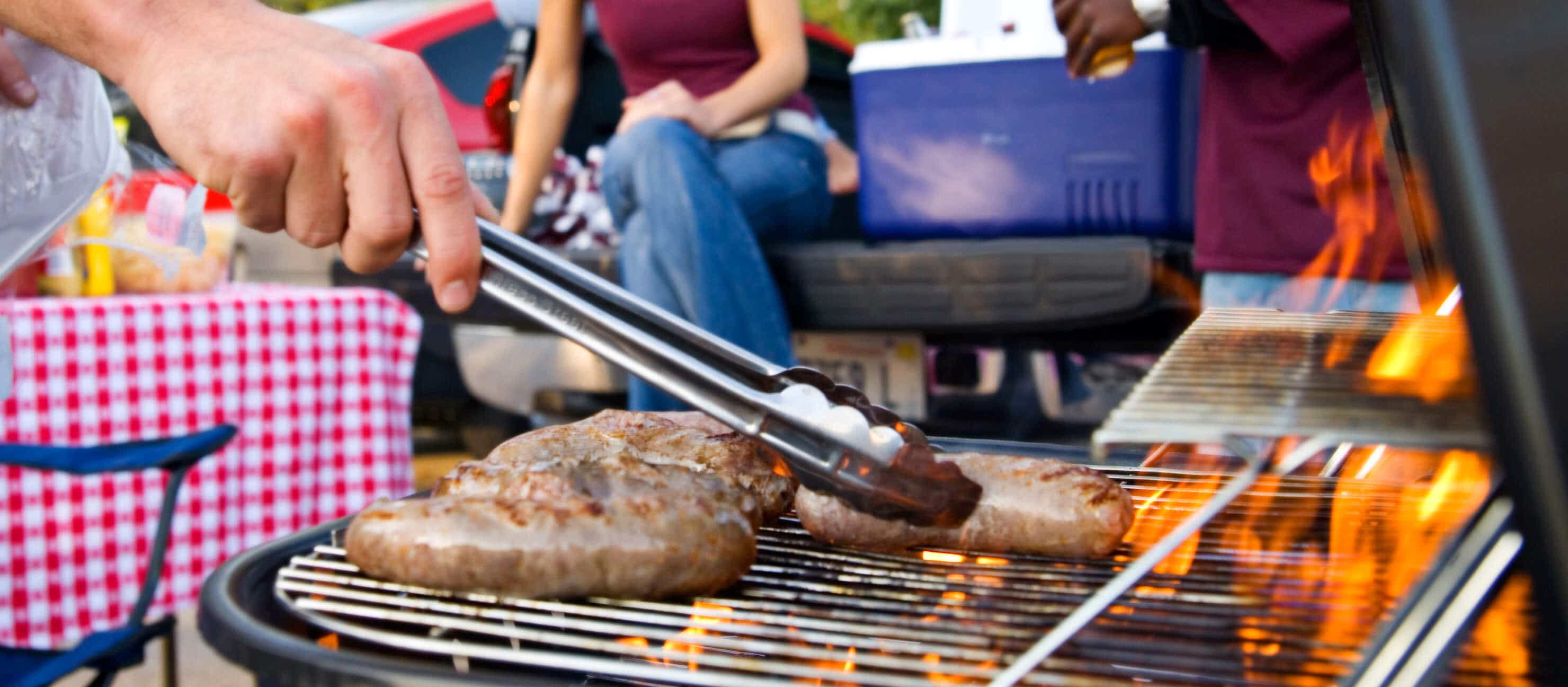 Q: How do you make a tailgate fun?
The best way to have fun tailgating is to have a variety of things to do, including cooking and eating, drinking, playing a lawn game, setting up a photo booth, or watching the pregame show on a portable TV. You should also have a way to play music and plenty of team gear to show your pride.
Q: How do you set up a good tailgate?
A good tailgating setup all comes down to the supplies you bring because if you don't have the right supplies you won't have everything you need to enjoy it. By using our tailgating checklist above, you can make sure to bring all the essentials to set up an amazing tailgating experience.
Q: What should you not do at a tailgate?
Tailgates are a place to have fun and enjoy the camaraderie of sports, so it's necessary to act civilized and respectful of everyone around you. Many tailgating parties involve drinking, but make sure people pace themselves so it doesn't get out of control. You may sometimes have fans of opposing teams near your setup. Everyone should act respectfully and leave the competition on the football field.
Q: What are the best foods to bring to a tailgate?
Some of the most popular foods to enjoy at a party are finger foods that are easy to transport and eat, including dips and chips, veggie trays, sandwiches, and pizza. If you have a portable grill that you're bringing, some common choices are burgers and hot dogs, but make sure you bring along buns and condiments. Chicken wings and nachos are also popular choices.