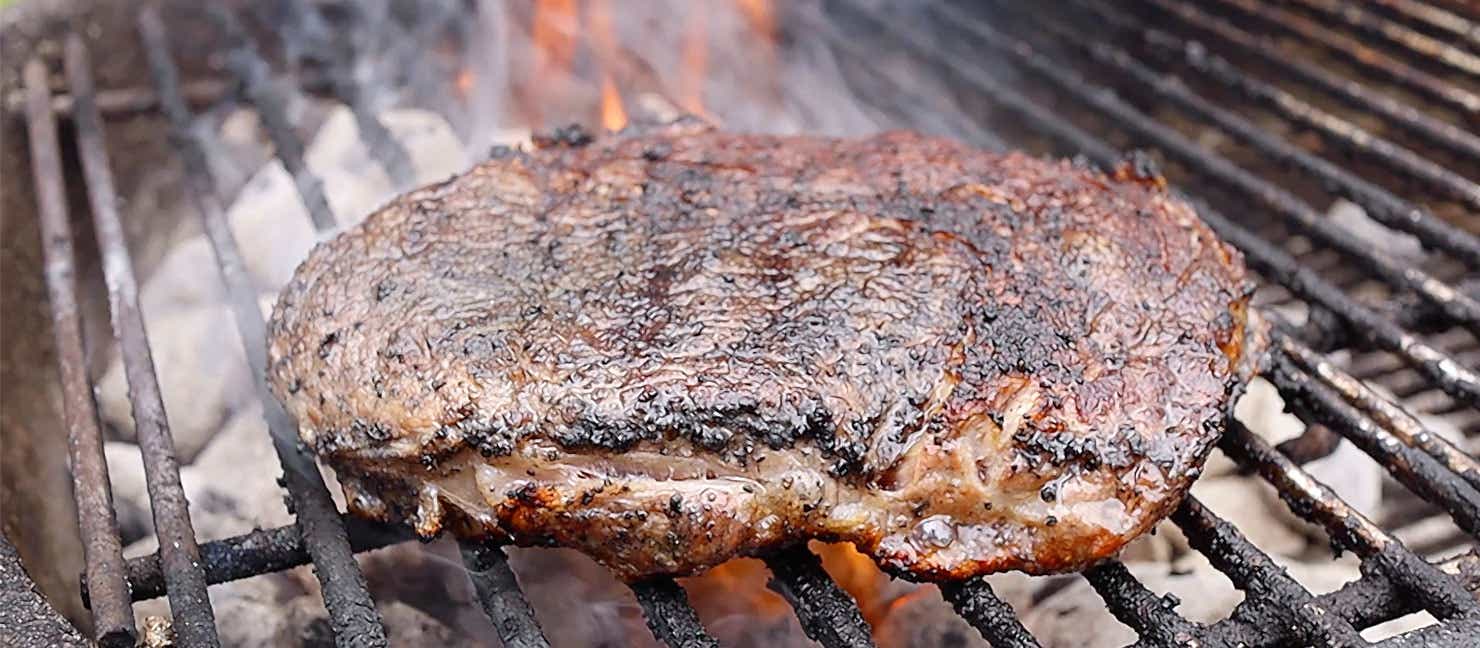 Take out those grills and fire up those charcoals because it's grilling season! Academy Sports + Outdoors partner, Jess Pryles, is here to share some tips to help you kick off grill season just right.
As an author, live-fire cook, and creator of Hardcore Carnivore, Jess has flavored the meals of hundreds of thousands of carnivores around the world. In this video series, Jess will show you how to select the best steak for grilling, how to set up your grill for the best grilling performance, and her simple method for creating the perfect medium-rare steak.
What is the Best Steak for Charcoal Grilling?
Not all cuts are created equal! It can be difficult to know which cut to select from the meat section at your local grocery store. Yet, choosing the best steak for charcoal grilling does not have to be a chore. Jess Pryles has simplified the method of selection down to two things you should look out for when picking out the best rib eye cut:
Marbling
This refers to the amount of intramuscular fat that runs through meat. Marbling looks like a large or little amount of rippled seams within the meat itself. The more marbling you see, the more juice, flavor, and tenderness your steak will deliver, so choose meat with plenty of rippled seams to achieve maximum deliciousness.
The Ribeye Cap
The muscle usually starts on one end of the steak and tapers off. Some steaks feature this muscle, while others do not. Choose the steak that has the ribeye cap muscle to ensure that you and your family get to enjoy a tender, perfect steak this and every grill season.
What is the Best Way to Cook a Steak?
Jess Pryles recommends a two-zone configuration for an optimal cooking experience
Before you jump into grilling the perfect steak, take a good look at your outdoor cooking grill setup. Making fabulous meals on the grill is not only shaped by the cut of meat you have, but the method you use to grill it.
It is good to know that there are two main types of charcoal: lumps and briquettes. Lumps are the most traditional choice and, therefore, will be the easiest to find, while briquettes serve up convenience in the form of consistent heating, making them Jess's personal preference.
After selecting the type of charcoal you want to use, now comes the second step: lighting it. Jess recommends using a charcoal chimney for easy charcoal lighting. Once you fill it up, place a firelighter underneath it and wait about 15 to 20 minutes. When you start to see the charcoals ash over on their top layer, then you know they are ready for use.
Lastly, Jess recommends a two-zone configuration for an optimal cooking experience. This setup requires that you pile all your hot coals to one side underneath your grill grates to create a direct heat side. Leave the other side of the grill free from coals to create an indirect heat side, with a slower cooking time. This method allows you to slow cook easy-to-burn foods like chicken, bacon, or other thinly sliced meats or veggies. Another benefit of this method is being able to get the color and sear you want, while also ensuring your food gets properly prepared.
Steak Grilling FAQ
Q. Should you cover steak when cooking?
A. Remember that when you leave your meat on the indirect heat side and grill with the lid closed you create similar settings to oven cooking but with a more robust flavor.
How to Grill the Perfect Steak
Now that we have learned how to choose the best rib eye and how to create the ideal cooking setup, it is time to start cooking steak! Jess reveals her methods for putting the most perfect steak on the grill and getting the most delicious meal back. First, remember that briskets are not great for hot and fast cooking, like cooking done in under 30 minutes, while steaks like rib eye, the Denver steak, and the flat iron steak are great on the grill.
Is your mouth watering yet??
5 Steps to Grilling a Perfectly Medium Rare Steak
Step 1: Flavor your meat with Hardcore Carnivore Black Beef Seasoning, or another steak seasoning of choice
Step 2: Set up your grill using the two-zone configuration
Step 3: Use Jess's Just Keep Flipping method by flipping over your steak every 20 or 30 seconds
Step 4: Cook until the steak reaches an internal temperature of 135°F on your digital meat thermometer
Step 5: Enjoy!
EXPERT TIP:
Jess believes your seasoning should flavor your meat without overpowering it. So, reach for your favorite Hardcore Carnivore seasoning or even classic salt and pepper, and use enough to enhance your meat's flavor profile.
Now that you can select the best rib eye, set up a cooking space worthy of your prime cut, and can now prepare your steak to perfection, you are officially ready for grilling season.
Jess Pryles is dedicated to helping grill masters prepare their favorite meals in the best (and most delicious, of course!) way they can. Her flavorful collection of seasonings utilizes high-quality ingredients, is free of gluten and MSG and is ideal for you to use on steak, chicken, pork, or anything else to throw on the fire. So, heat up your grill and get cooking!
You can find Hardcore Carnivore seasonings, charcoal, outdoor cooking equipment, and more when you shop in-store or online at Academy Sports + Outdoors.