Crawfish is finally in season, and you're ready to treat your friends and family to a crawfish boil. Now it's time to answer the hard question; how many pounds of crawfish should you order? For lighter eaters—or if you are throwing in other filling features like potato, sausage, shrimp, gator, or other low country boil items—then the minimum amount you want is 3 to 5 pounds per person. If crawfish is the centerpiece, order 5 to 7 pounds per guest.
HOW MANY POUNDS OF CRAWFISH PER PERSON SHOULD I BUY?
First, determine the total number of guests. RSVP's are helpful.
Multiply the total number of guests by the pounds per person.
Pounds per person is 3 to 10 pounds depending on:

Amount of extra featured ingredients
Eaters' appetite (Experience level)

Add a couple extra pounds for every 3 to 4 guests.
Truly experienced Creole crawfish eaters can put away 5 to 7 pounds and easily come back for seconds. If it's a weekend or all-day event, you may want to prepare for 10 pounds a person.
BUYING THE CRAWFISH
Now that you know how many pounds you're buying, here's what to look for when picking up your order. For killer crawfish boils, make sure you buy your crawdads fresh and alive for the best results. The closer to the day and time of the boil, the better.
You can order crawfish online from crawfish farmers or get them locally. If you choose overnight delivery or pick up from a local vendor, make sure your delectable mudbugs are:
Clean, not caked in mud
Delivered next day air or picked up locally
Consistent in size for even cooking
Never keep your crawfish more than three days and never cook dead crawfish. (If they float when you clean them, they're dead.)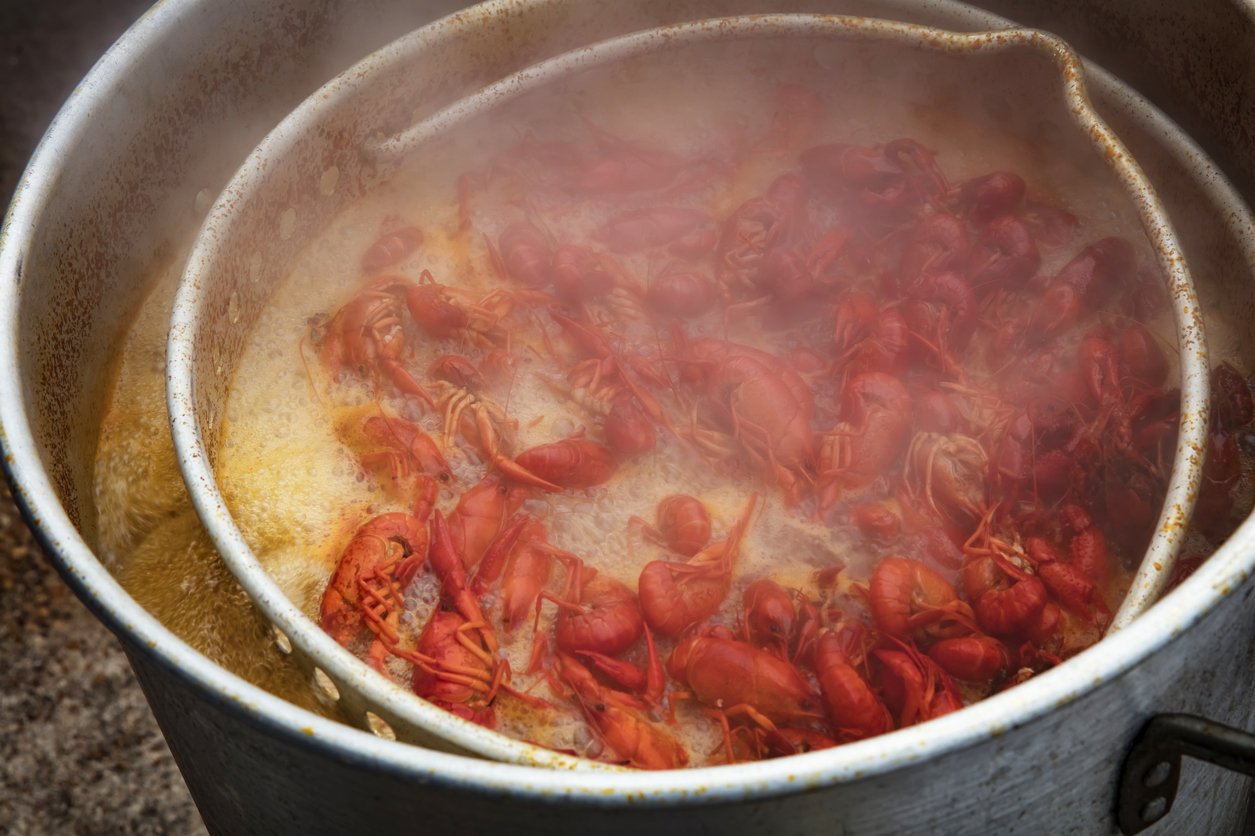 WHAT ELSE WILL I NEED FOR A CRAWFISH BOIL?
Aside from the tables, chairs, and setup for your Louisiana crawfish feast or Lowcountry boil, you will need some basics to cook your order of live crawfish.
For cooking crawfish, you will also need some basic ingredients:
Other recommended ingredients:
Lemon or citrus
Bell peppers, hot peppers, or black or cayenne pepper
Hot sauce
Bay leaves
Celery
Shrimp, clams, oysters, crab, or other seafood stew features
Cajun, Andouille, or spicy sausage (pre-cooked and cut into chunks)