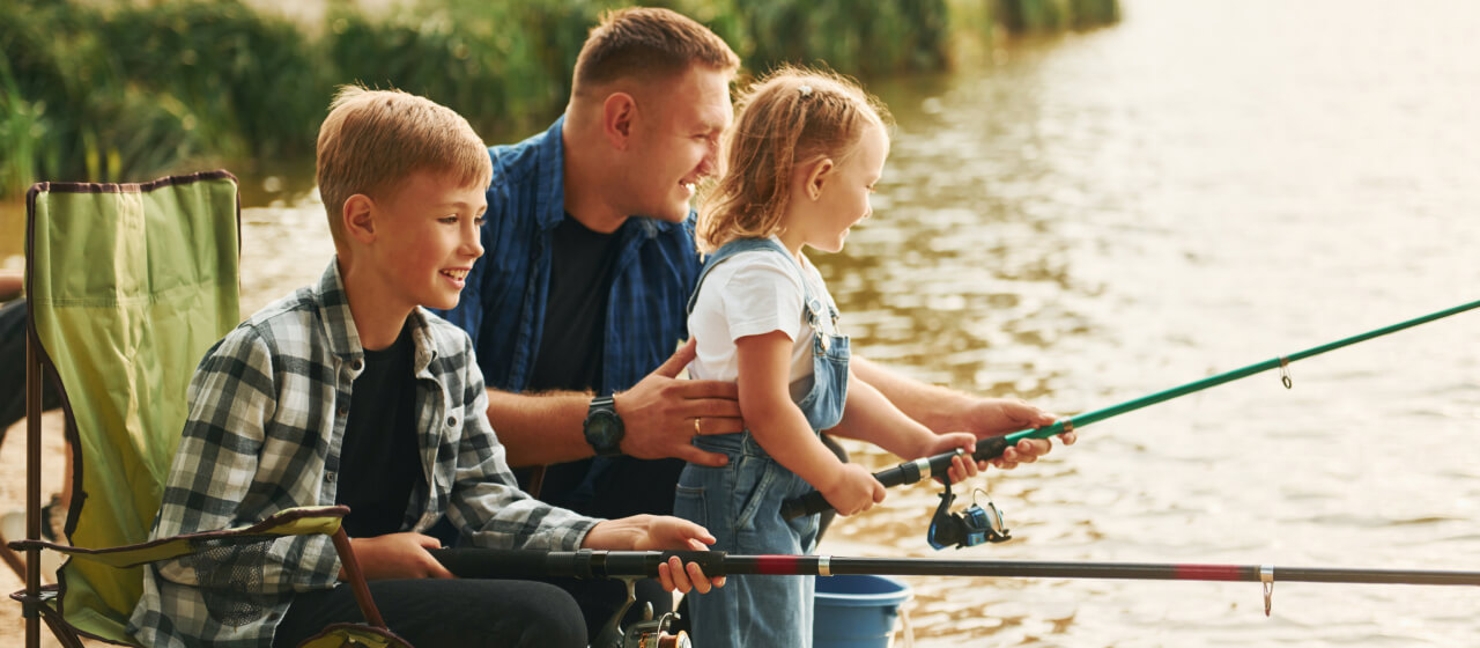 What To Bring on a Fishing Trip
Planning your first fishing trip? We'll tell you everything you need for your fishing trip: from apparel to safety equipment. Take this guide to go! Know exactly what to grab in-store and skip the need to create a shopping list yourself.
The best fishing experience happens when you're both comfortable and prepared for the elements! You'll be sitting in your boat often for hours, so the perfect balance of both is key for every angler. Here's a quick overview of what to bring with you on your next or first fishing trip:
Fishing Clothing to Wear

Item Name
Why It's Important
Our Pick
Jacket + Vest
Depending on the weather conditions, fishing may not be safe without the proper jacket, windbreaker, rain jacket, etc. Vests offer you pockets for snacks, bait, or other things!
See all fishing jackets & vests
Shirts
Fishing shirts come in all materials and types, from long-sleeve to short-sleeve. For the best protection from the sun/bugs, choose a long-sleeve shirt or pack bug spray.
See all fishing shirts
Pants + Shorts
Generally, it's best to fish in pants. Most areas will have more exposure to the sun, the elements, and even bugs.
See all fishing pants & shorts
Hats + Headwear
When you're on the water about to catch the big one of the day, the last thing you need is a sunburn.
See all fishing headwear
Waders
Whether you're fly fishing or just want to protect your clothes from potential water contact, waders help you fish with ease.
See all fishing waders
Shoes + Boots
Wearing non-slip and non-marking shoes/boots is the way to go whether you fish on your boat, a rental, or on a friend's.
See all fishing boots
Dress in layers for a day out on the boat or pier, so you can easily adjust to changing temperatures and conditions. The best layering strategy is one that isn't restrictive while you maneuver a big catch and allows you to adapt to inclement weather:
Bring a windbreaker or water-resistant jacket with a hood in case of spontaneous rainstorms or gusts of wind. You can take it off if it gets warm and still be prepared with a long-sleeve shirt or base layer underneath.

Opt for a shirt with moisture-wicking, anti-odor, and stain-resistant properties so you'll feel fresh and dry all day long.

Many fishing clothes also offer UPF protection to guard against harmful sun rays and keep your skin safe. Hats and waders also offer protection from the sun and water.

Wear shoes that feature non-slip and non-marking outsoles so you won't scuff up the boat or slip in any spills.

Bonus points if you pack an extra set of clothes in your dry bag so you can change out of your dirty, wet clothes before heading off to dinner or drinks with your buddies.
In the event of an accident or emergency, pack items for basic care. At a minimum, we recommend the following:
Fishing Preparedness & Emergency

Item Name
Why It's Important
Our Pick
First-Aid Kit
For obvious reasons, you should never leave home without one of these. Even the most basic kit can mean the difference in a pinch.
Life Gear Quick Grab 88-Piece First Aid Survival Kit
Polarized Sunglasses
They help ease any glare as you search the water as well as protect your eyes from harsh sun rays.
See all polarized sunglasses
Cell Phone Dry Bag
When you're surrounded by nothing but water, you should always be mindful of protecting your expensive electronics without sacrificing them should you need help.
geckobrands Float Phone Dry Bag
Fishing Life Vest
Even in shallow depths, life vests can help you avoid any serious accidents while you're offshore.
See all fishing life vests
Sunscreen + Bug Repellent
When you choose to wear short-sleeve T-shirts or shorts, sunscreen helps protect your body from harmful rays. Meanwhile, bug repellent can help you keep the bugs at bay outdoors.
See all sunscreen & bug-repellent options
Pocket Knife
Whether you decide to rough it out overnight at the last minute or you need to use it for self-defense in a pinch, having one is always better than going without.
See all pocket knives
Additional items include extra water bottles and food, towels, a waterproof dry bag, and a GPS. Always plan ahead to anticipate the most likely of scenarios!
Safety Measures & Traveling
When you use live bait or a catch-and-keep strategy, you'll need somewhere to store those! Bring an appropriate cooler for freshness while you're out on the water and security during travel time:
Fishing Safety Measures & Traveling

Item Name
Why It's Important
Our Pick
Catch Cooler
Unless you plan to release every fish, you'll need a durable, portable cooler to travel with the fish you caught for the day.
Magellan Outdoors Pro Explorer Leakproof 24-Can Fish Camo Backpack Cooler
Fishing License
Different states have different license requirements, so it's important to check your local regulations. Typically you'll need a fishing license if you're an adult fishing in public waters.
-
Printout of State Regulations
Before you head out to fish, since each state may be different, print out a copy of the state regulations and rules about fishing and make sure you follow them.
-
Tape Measure (for Special Regulations)
Certain state regulations will need you to measure the fish you catch to ensure you're abiding by their length limits.
Berkley® Big Game Lip Grip with Measuring Tape
Essential Gear & Equipment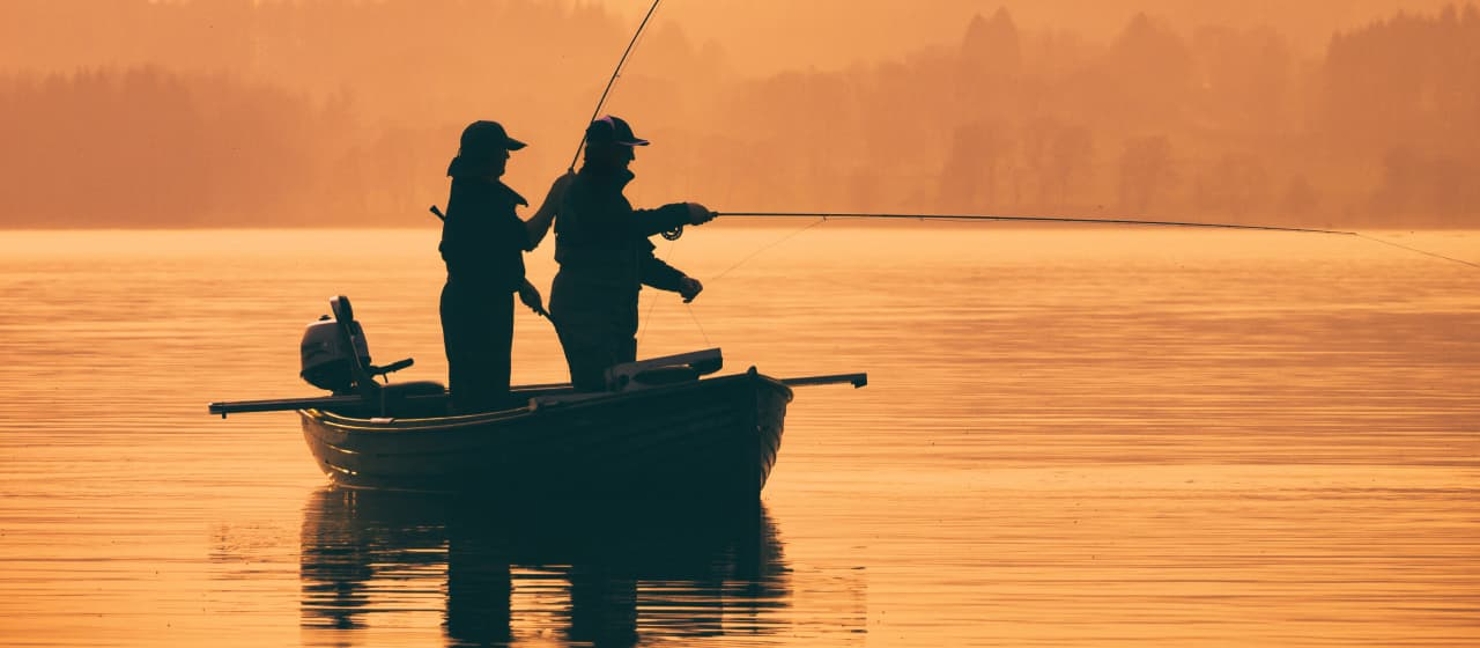 Whether you're a beginner angler or just haven't been out yet this season, make sure you have all the other essentials we covered in our fishing gear and equipment guide for beginners. A fishing trip is more enjoyable when you bring along everything you need for a successful catch.
Essential Gear & Equipment

Rod & Reel Combo
Fishing Line
Hooks
Tackle Bags
Swivels
Bobbers
Baits or Lures
In-Line Spinner Bait
Pliers
Crimpers
Shears
Tackle Box
Frequently Asked Questions
Q. How do you prepare for a fishing trip?
Know where you're planning to fish and what type of fish species you'll be fishing for, so you can bring along the right type of bait and gear.
Plan to get a solid night's sleep and a hearty breakfast so you will feel energized and healthy.
In case of emergency, let your family or a friend know where you'll be fishing and how long you plan to be gone.
Q. What do you wear when you go fishing?
Always wear layers of clothing when fishing so you can stay comfortable throughout a full day of changing weather conditions.
Consider clothes with built-in technologies designed to protect you and keep you comfortable — like UPF technology, moisture-wicking technology, and water-resistant technology.
Accessories like polarized sunglasses, slip-resistant shoes, waders, and hats can also be an asset to you when you're out on the water.
Q. What do I need to go fishing for the first time?
Important items for first-time anglers include a fishing license, your rod and reel, and a stocked tackle box with bait, lures, hooks, a sinker, bobber, and fishing pliers. If you're fishing off of a boat, you should always bring your life vest and have a waterproof bag for your phone and wallet.
Once you've assembled all items from Academy's fishing trip checklist, call up your buddies and plan your next outing! Browse our vast selection of fishing gear and trip essentials to stock up on these items and get ready for a successful catch!