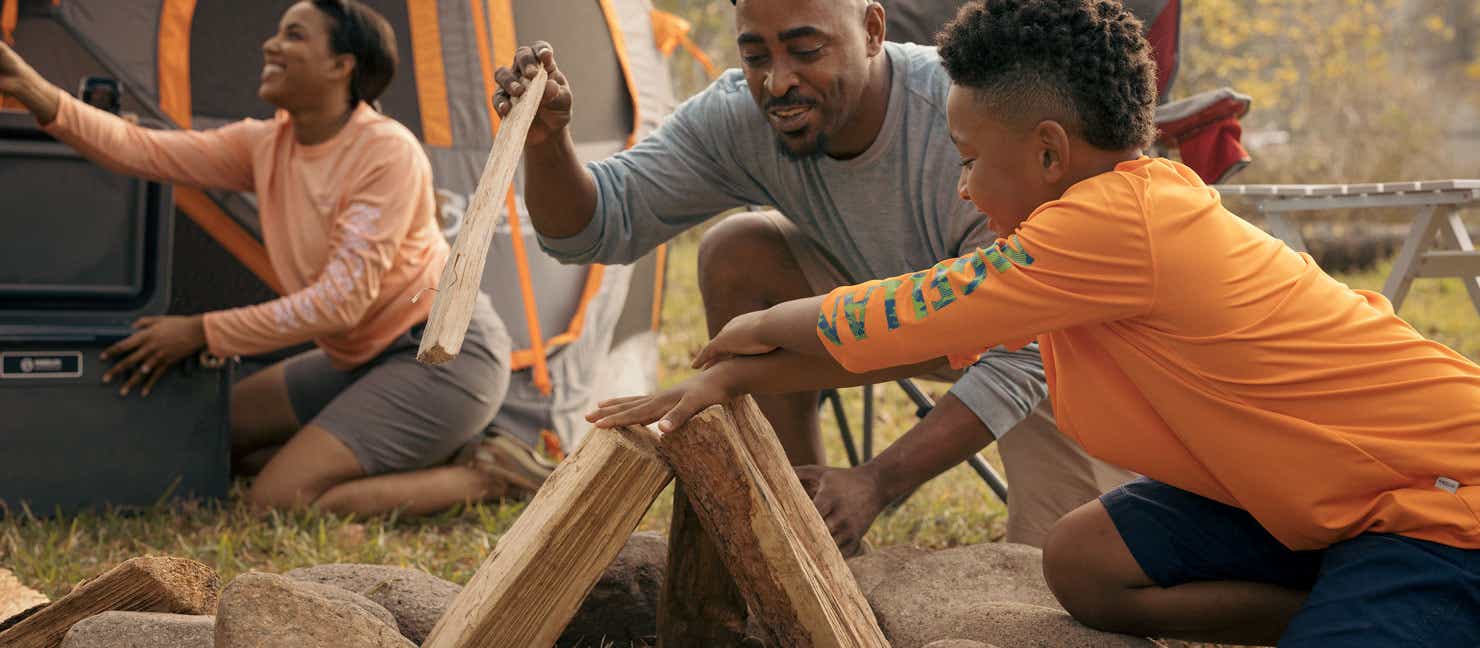 Camping especially is a great way to connect with nature, strengthen relationships, develop new skills, disconnect from technology, and find inspiration. And most importantly – it's lots of fun!
Itching to sleep under the stars but don't know where to start? Keep things simple: Decide where you're going, then gear up with a few basic items, and you'll be well on your way. You can go solo or with friends, for a long weekend (or just one night), at a campsite or even in your own backyard. If you're being safe and respectful of your surrounding environment, there's no wrong way to get started camping! Read on for our guide to gear and safety for first-time campers.
Camping Gear List
for Beginners
Determining what type of gear to buy will be determined on where and when you're camping. Are you driving your car or hiking to a campsite? What season is it? How many nights will you be camping? While your local Academy Sports + Outdoors team member can help you build a personalized gear list for your unique camping adventure, we've outlined some general guidelines and a basic packing list for your first camping trip below.
Tent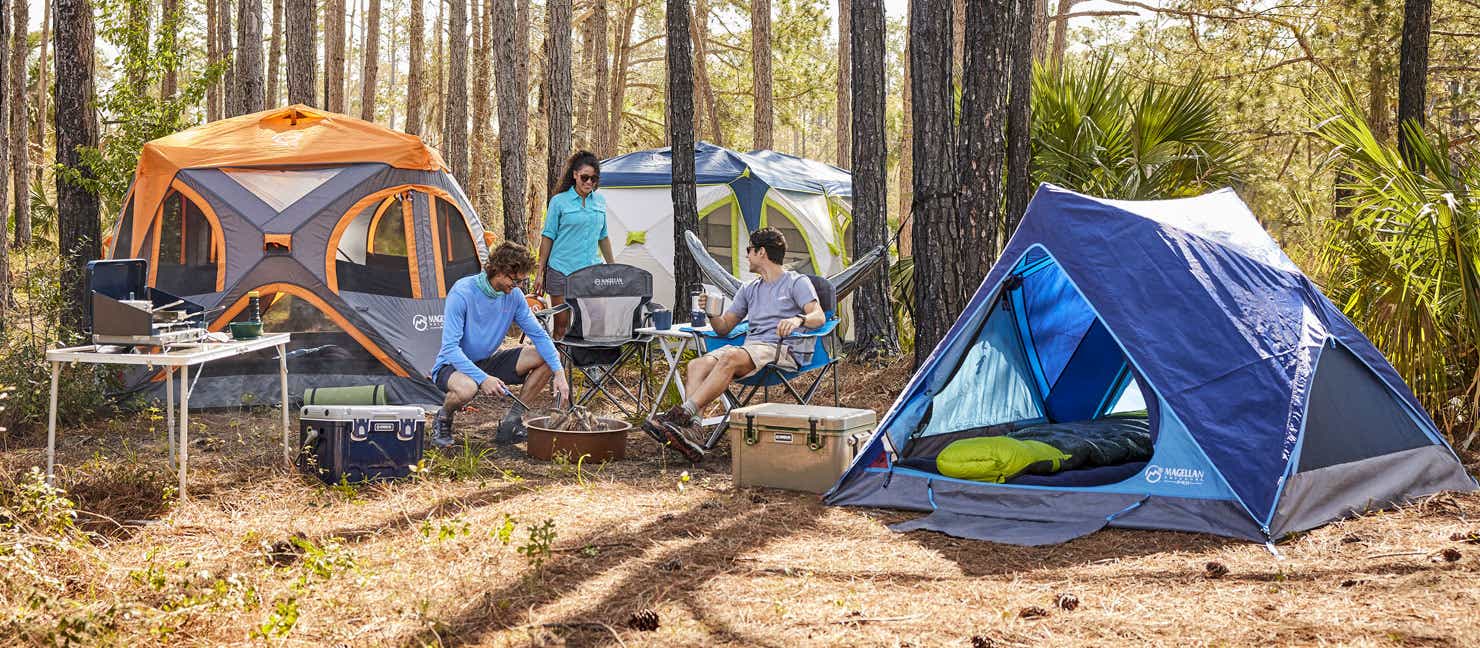 A tent's capacity is based on the number of sleeping bags that can fit inside. So, whether you're sleeping six to a tent or two, you may want to size up to a larger capacity than the actual number of people sleeping in the tent to allow extra space to move around and to store gear.
You may also want to consider the tent's weight if you are hiking a far distance with your tent, as well as the tent's peak height to allow for plenty of room to stand, get dressed, and move around. Extra doors are helpful if you're camping with multiple people and need to come and go while your tentmates are sleeping. Extra chambers and covered entryways are great for stashing muddy shoes or anything else you want nearby, but not in your tent.
Sleeping Bag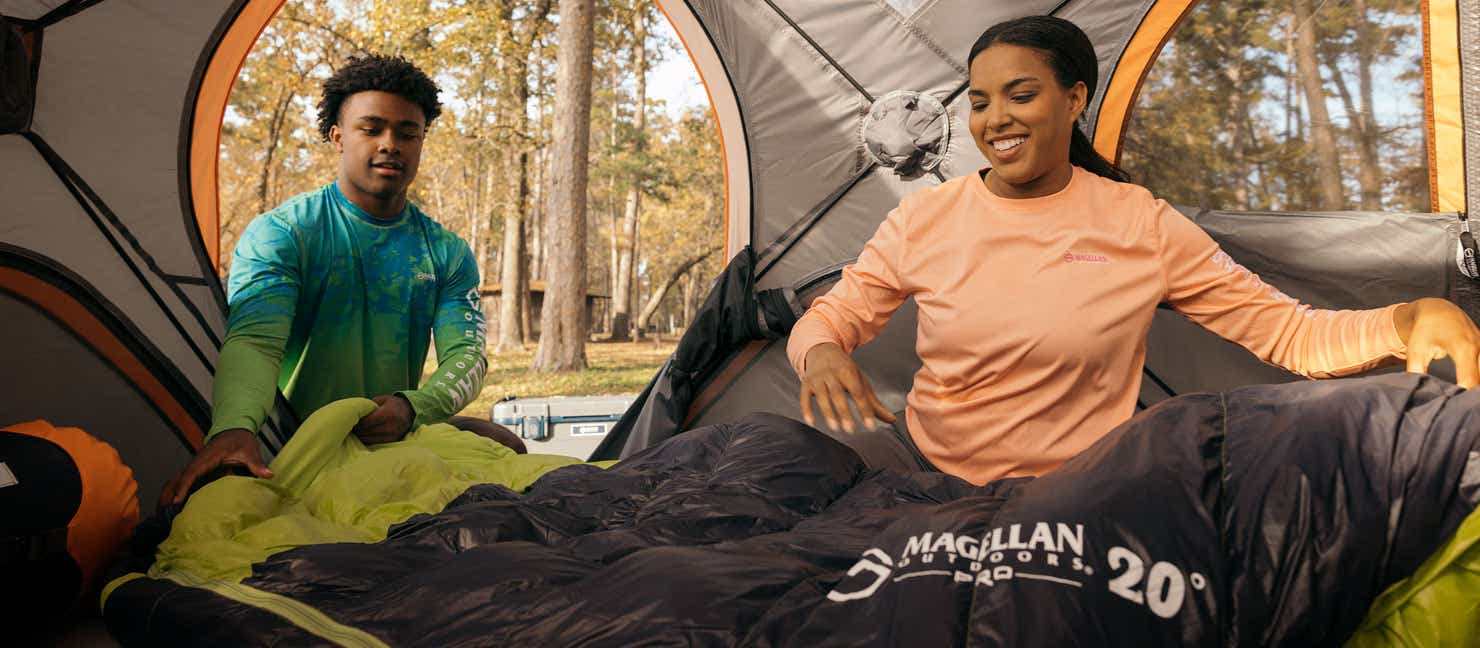 Consider the weather conditions for your trip and the time of year in which you're camping to make sure that your sleeping bag has enough insulation for cooler nighttime temps. If you plan to only camp in the summer, a lightweight bag may be plenty warm for your needs; whereas a three-season bag will give you more flexibility if you camp year-round. And, unless you're backpacking, there's no need for a super snug bag. A rectangular sleeping bag is typically roomier and more comfortable.
There are also many options for your sleeping area if you don't want to sleep directly on the ground. Popular choices include sleeping pads, cots, and air mattresses.
Lighting
Once the sun sets, your campsite can look and feel completely different. There are limited power sources at campsites and, if you choose wilderness camping, there may be no light source at all (besides the moon, that is!) Be sure to bring plenty of lighting like flashlights, lanterns, and/or headlamps. Headlights are great to free up your hands for other tasks, and lanterns provide a nice, steady ambient light.
We recommend electric lanterns over gas lanterns for their low noise, long battery life, and low fire risk. Just make sure you have ample, charged batteries in case of emergency. If you choose to make a campfire, make sure to check local rules and restrictions before doing so.
Meal Prep
and Planning
Bring plenty of food and water on your first trip. It's better to over-prepare in this category for your first campout and adjust going forward. There are tons of options for meals and cooking at your campsite, including pre-packaged and freeze-dried foods — many of which require just boiled water to enjoy.
Cooking Equipment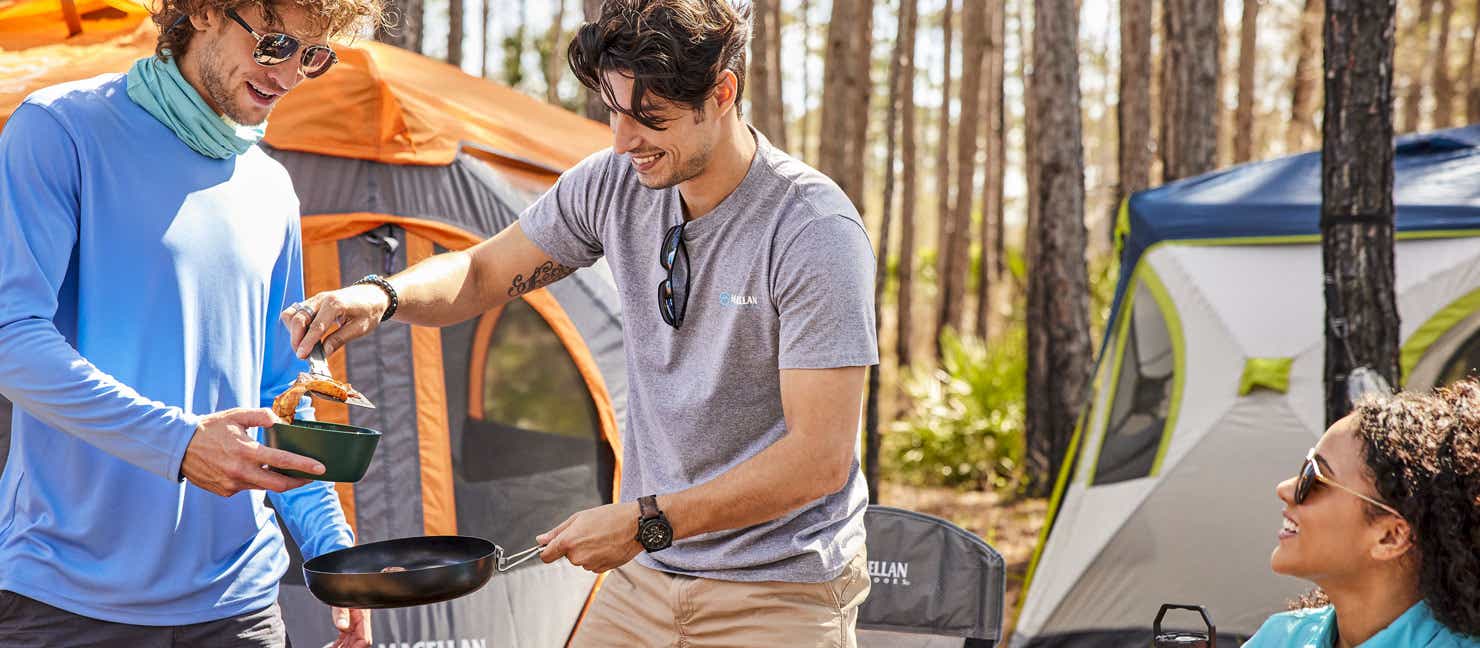 As for cooking equipment, a classic two-burner propane stove should be plenty for you to operate with. Make sure to bring enough fuel and a lighter if you choose to bring a stove. Your campsite may also have grills, but you'll want to check the rules ahead of time so you're properly prepared for their use. You may also want to consider any plates, bowls, cups, and utensils required depending on the food you pack. And if you can't live without your morning cup of joe, make sure to bring your favorite beans and a percolator.
Food and Water Storage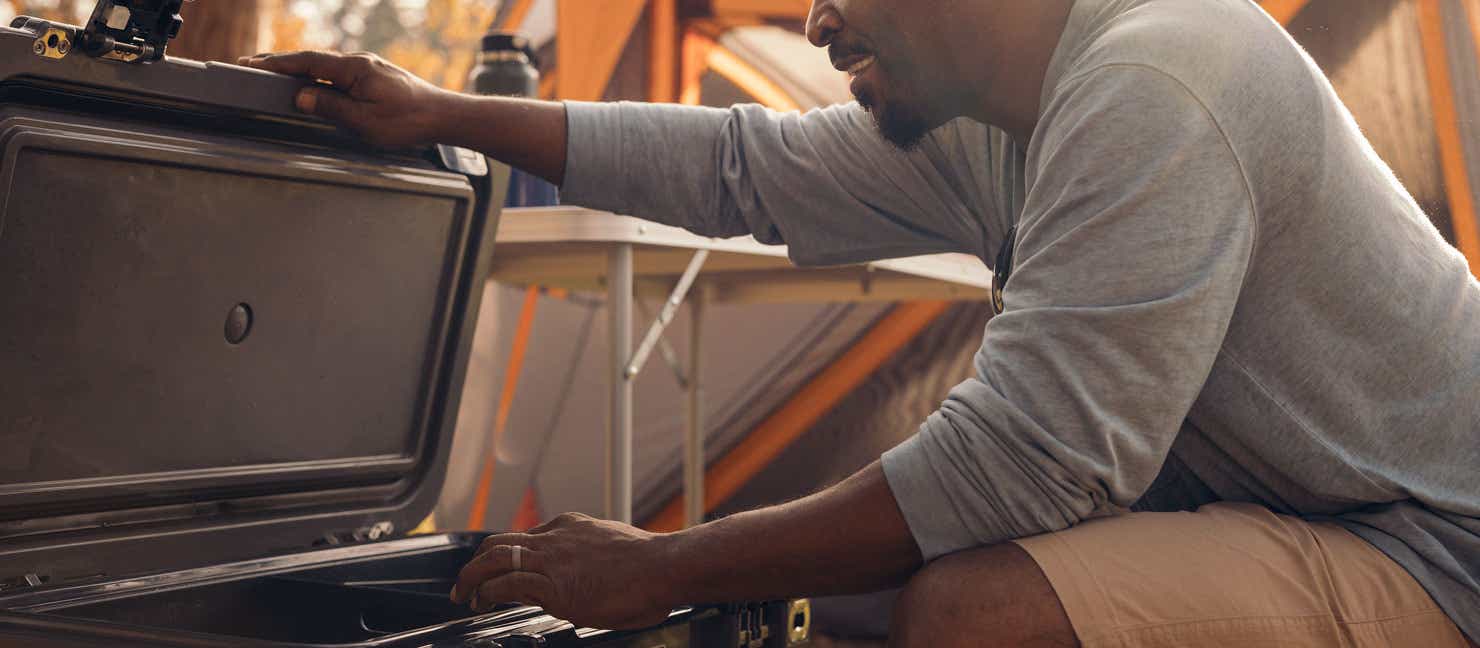 Water is an essential part of your packing list. For car camping, a good rule of thumb is to bring two gallons of water, or about seven and a half liters, per person per day of camping. Bringing this much water means you should have enough drinking water, water for cooking, cleaning, and personal hygiene. If you're backpacking, bring along enough water for each day, about 64 ounces per person.
To make sure your food and beverages are stored at the correct temperatures, it is important to pack your coolers correctly. Work in layers, starting with frozen foods (and anything else you'll need less frequent access to) on the bottom, beverages and snacks toward the top, and ice in between.
EXPERT TIP:
A two-cooler system is also great for keeping uncooked food separate from beverages and other items. Once at your campsite, place your cooler under a shaded area or umbrella out of direct sunlight.
Shop All drinkware and coolers
Shop All water purification
Clothes for Camping
Comfort is key when camping. Think about your plans and the weather: Will you be hiking and swimming? Will it be hot during the day and cold at night? Avoid moisture-trapping cotton and dress in layers of easy-to-move in, moisture-wicking merino, nylon, or polyester instead.
Pack a hat to keep the sun off your face and out of your eyes, a pair of sturdy shoes, and a pair of slip-on shoes for late-night bathroom runs. Bring warm clothes and an insulated or fleece jacket for cold and a waterproof layer for rain, just in case.
Camping Accessories,
Safety, and Hygiene
In addition to your regular toiletries (don't forget any prescription medications!), you should pack toilet paper, soap, hand sanitizer, and even a small bath towel in the event the campground restrooms are not well-stocked.
Plenty of sunscreen an insect repellent are must-haves, as is a good first aid kit. You should also consider the type of fuel or power you need for your lighting supplies and cooking equipment, such as batteries, propane, and lighters.
10 Tips for
First-Time Campers
Here are some other safety advice and tips for first-time campers to keep in mind:
Consider camping close to home, especially when camping for the first time. That way, if you're not comfortable or if bad weather strikes, you can pack up and try again another time.
Speaking of weather, keep an eye on the forecast and plan your trip around good weather to have the best first-time camping experience as you possibly can.
Unless you're with experienced campers, most beginners will be more comfortable in a developed campsite — especially one with toilets and running water.
Research the campgrounds beforehand so you know the area's rules and regulations ahead of time, whether a reservation is needed, any additional costs, and what kind of facilities (if any) such as restrooms and showers you'll have access to.
Practice setting up your tent at home and make sure your ground sheet is properly sized to protect your tent floor.
Once you arrive at the campsite, set your tent, sleeping bag, and sleeping pad up early. It is much easier to do in the daylight!
To avoid inviting any unwanted animal visitors, your food and garbage should never be left unattended. Seal it up in a large bin while you're away from your campsite and lock it in your car at night. Your camping area may have special regulations and even food lockers if there are bears nearby — as a locked car might not be enough to stop them!
Ahead of your trip, familiarize yourself with local, potentially dangerous, plants like stinging nettle or poison oak, ivy, or sumac to prevent accidental exposure.
Don't leave home without letting someone know where you're going and how long you'll be gone.
Always, always, always leave the campsite cleaner than how you found it. Leave no trace!
Watch Now: Camping for Beginners
Watch this video from Academy Sports + Outdoors' Michael Middleton for additional considerations and helpful tips for first-time campers. He'll walk you through how to choose and set up your campsite, recommended camping must-haves, and more.
At Academy Sports + Outdoors, we're here to help you enjoy your first camping experience by answering your questions and providing the best selection of camping essentials for beginners online and in-store.