Men's Training Shoes
(73 items)
Product List
Nike™ Men's Reax 9 Training Shoes

FREE SHIPPING on shoes + most orders over $25

SKECHERS Men's Afterburn M.Fit Training Shoes

FREE SHIPPING on shoes + most orders over $25

adidas™ Men's Game Day Training Shoes

Our Price in Cart

Compare at $64.99

FREE SHIPPING on shoes + most orders over $25

Under Armour™ Men's Strive 6 Training Shoes

Our Price in Cart

Compare at $69.99

FREE SHIPPING on shoes + most orders over $25

Nike Men's Free Trainer 3.0 V4 Training Shoes

Online Only

FREE SHIPPING on shoes + most orders over $25

Nike Men's Free Trainer 3.0 V4 Training Shoes

Online Only

FREE SHIPPING on shoes + most orders over $25

Under Armour™ Men's Zone Training Shoes

FREE SHIPPING on shoes + most orders over $25

Nike™ Men's FS Lite 4 Training Shoes

FREE SHIPPING on shoes + most orders over $25

New Balance Men's 623 Training Shoes

FREE SHIPPING on shoes + most orders over $25

Reebok Men's JJ I Training Shoes

FREE SHIPPING on shoes + most orders over $25

adidas™ Men's Speed Trainer 2 Shoes

FREE SHIPPING on shoes + most orders over $25

Under Armour™ Men's Hit Trainer Training Shoes

FREE SHIPPING on shoes + most orders over $25

Nike™ Men's Train Prime Iron DF Training Shoes

FREE SHIPPING on shoes + most orders over $25

Nike™ Men's Air Max Full Ride Training Shoes

FREE SHIPPING on shoes + most orders over $25

SKECHERS Men's Vigor 2.0 Trait Training Shoes

FREE SHIPPING on shoes + most orders over $25

Reebok Men's YourFlex Train 8.0 L MT Training Shoes

FREE SHIPPING on shoes + most orders over $25

Under Armour™ Men's FLEET ADL Training Shoes

FREE SHIPPING on shoes + most orders over $25

Nike™ Men's Flex Show 5 Training Shoes

Our Price in Cart

Compare at $52.50

FREE SHIPPING on shoes + most orders over $25

Nike™ Men's Reax Trainer III SL Training Shoes

FREE SHIPPING on shoes + most orders over $25

Reebok Men's TrainFusion Nine 2.0 LMT Training Shoes

FREE SHIPPING on shoes + most orders over $25

Nike™ Men's Air Epic Speed Training Shoes

Our Price in Cart

Compare at $49.99

FREE SHIPPING on shoes + most orders over $25

Reebok Men's ROS Workout TR 2.0 Training Shoes

FREE SHIPPING on shoes + most orders over $25

Nike™ Men's Air Max Typha Training Shoes

FREE SHIPPING on shoes + most orders over $25

Nike™ Men's Flex Train Aver Training Shoes

Our Price in Cart

Compare at $63.75

FREE SHIPPING on shoes + most orders over $25

Under Armour™ Men's Charged Core Training Shoes

FREE SHIPPING on shoes + most orders over $25

SKECHERS Men's After Burn Memory Fit Training Shoes

FREE SHIPPING on shoes + most orders over $25

Nike™ Men's Metcon 3 Training Shoes

FREE SHIPPING on shoes + most orders over $25

Nike™ Men's Free Train Versatility TB Running Shoes

FREE SHIPPING on shoes + most orders over $25

Nike™ Men's Free Train Versatility TB Running Shoes

Our Price in Cart

Compare at $99.99

FREE SHIPPING on shoes + most orders over $25

Fila™ Men's Memory Sendoff Training Shoes

FREE SHIPPING on shoes + most orders over $25

Nike™ Men's Free Train Versatility Training Shoes

FREE SHIPPING on shoes + most orders over $25

Fila™ Men's Royalty Training Shoes

Our Price in Cart

Compare at $29.99

FREE SHIPPING on shoes + most orders over $25

Reebok Men's DMX Max Supreme Walking Shoes

Our Price in Cart

Compare at $69.99

FREE SHIPPING on shoes + most orders over $25

Nike™ Men's Zoom Trout 3 Turf Shoes

Our Price in Cart

Compare at $119.99

FREE SHIPPING on shoes + most orders over $25

Nike™ Men's Zoom Train Action Training Shoes

Our Price in Cart

Compare at $99.99

FREE SHIPPING on shoes + most orders over $25

Nike™ Men's Air Epic Speed TR II Training Shoes

FREE SHIPPING on shoes + most orders over $25

BCG™ Men's Zenith TR Walking Shoes

FREE SHIPPING on shoes + most orders over $25

Nike™ Men's Metcon 2 Training Shoes

FREE SHIPPING on shoes + most orders over $25

Nike™ Men's Metcon 2 Training Shoes

FREE SHIPPING on shoes + most orders over $25

Reebok Men's Dashhex TR Training Shoes

FREE SHIPPING on shoes + most orders over $25

Under Armour™ Men's Zone 2 Training Shoes

FREE SHIPPING on shoes + most orders over $25

Nike™ Men's Quick Training Shoes

Our Price in Cart

Compare at $139.99

FREE SHIPPING on shoes + most orders over $25

Reebok Men's CrossFit Speed Training Shoes

Our Price in Cart

Compare at $99.99

FREE SHIPPING on shoes + most orders over $25

BCG™ Men's Blaze II Training Shoes

FREE SHIPPING on shoes + most orders over $25

adidas™ Men's Speed Trainer 2 Training Shoes

Our Price in Cart

Compare at $74.99

FREE SHIPPING on shoes + most orders over $25

Under Armour™ Men's Micro G® Limitless 2 Training Shoes

FREE SHIPPING on shoes + most orders over $25

Reebok Men's RealFlex Train 4.0 Shoes

FREE SHIPPING on shoes + most orders over $25

Reebok Men's CrossFit Nano 5.0 Training Shoes

FREE SHIPPING on shoes + most orders over $25

bvPartNumbers1:108796995,201565138,107962912,107757652,103527227,200870455,101855809,201121430,107388931,200823870,104694094,108741724,104932321,106857133,106669061,105465630,103259672,105880569,201312482,107388527,108889753,109266831,105489359,108158192,106668025,106668332,107756828,103260083,109856523,106668640,107935578,106669474,111160074,107986869,108911498,108432411,109866828,109551447,105430541,108824562,109579634,107385406,107986658,108793372,108702266,110544826,105880358,103885534:bvPartNumbers2

bvPartNumbersNew1:103527227,106668640,105430541:bvPartNumbersNew2
{ searchResult: { pageSize: 48, searchTerms: '', totalPageNumber: 2.0, totalResultCount: 73, currentPageNumber:1, attributes: "" } }
CompareAdd more to compareAdded
Related Products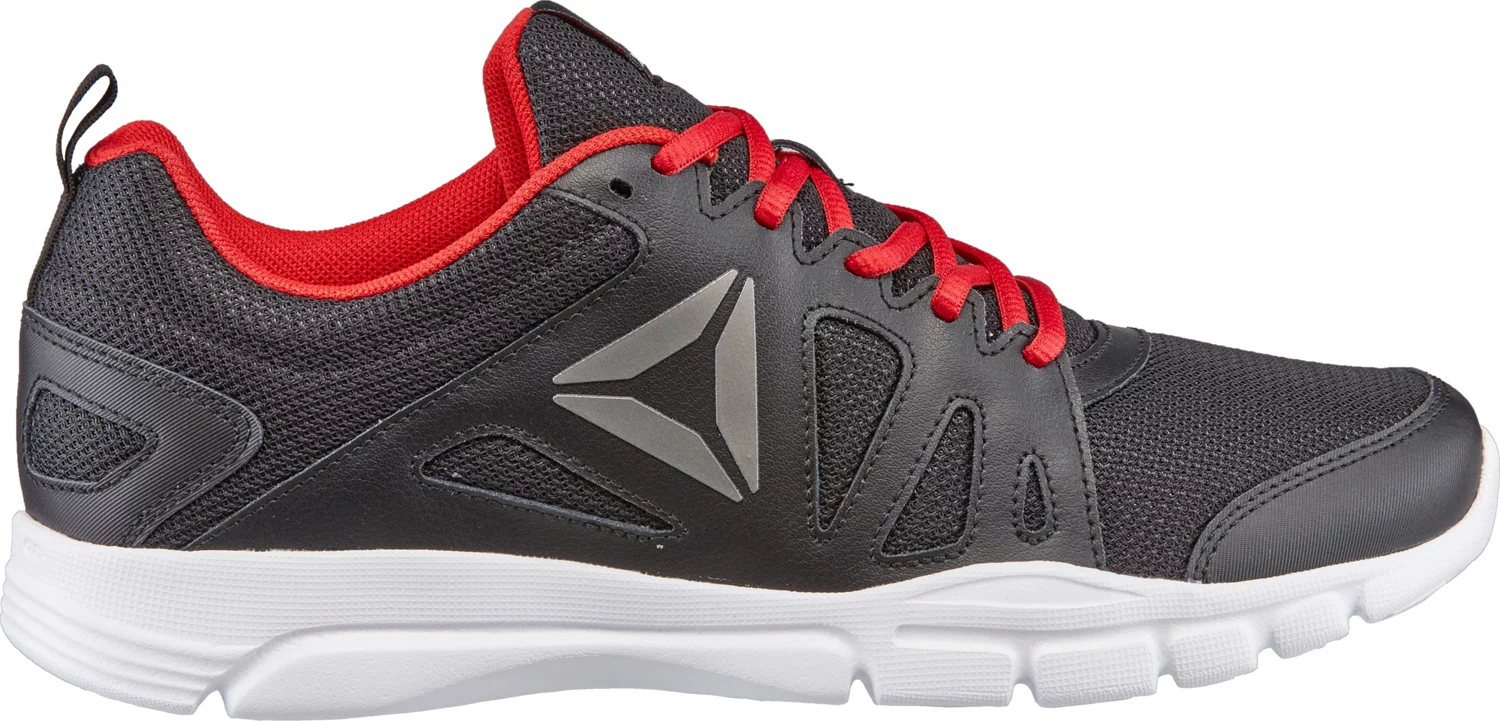 Keep your feet feeling comfortable as you take ...
bvseo_sdk, java_sdk, bvseo-3.1.1
CLOUD, getContent, 98ms
SPOTLIGHTS, CATEGORY
bvseo-msg: The resource to the URL or file is currently unavailable.;
Workout & Training Shoes for Men
Whether you're looking for your next pair of weight training shoes for the gym or a casual pair of men's sport shoes to use for your next jog through the neighborhood park, our selection of men's athletic shoes will help you discover the extent of your physicality. Academy Sports + Outdoors is your go-to store for the best running shoes offers a path to a healthy and fit lifestyle, achievable and enjoyable for all. In a wide range of colors, such as red and orange, we can help you find your singular fitness look, or you can pick up multiple pairs to match an array of gym shorts and tanks.