We don't currently carry this product, but here are some items we think you'll like
Related Products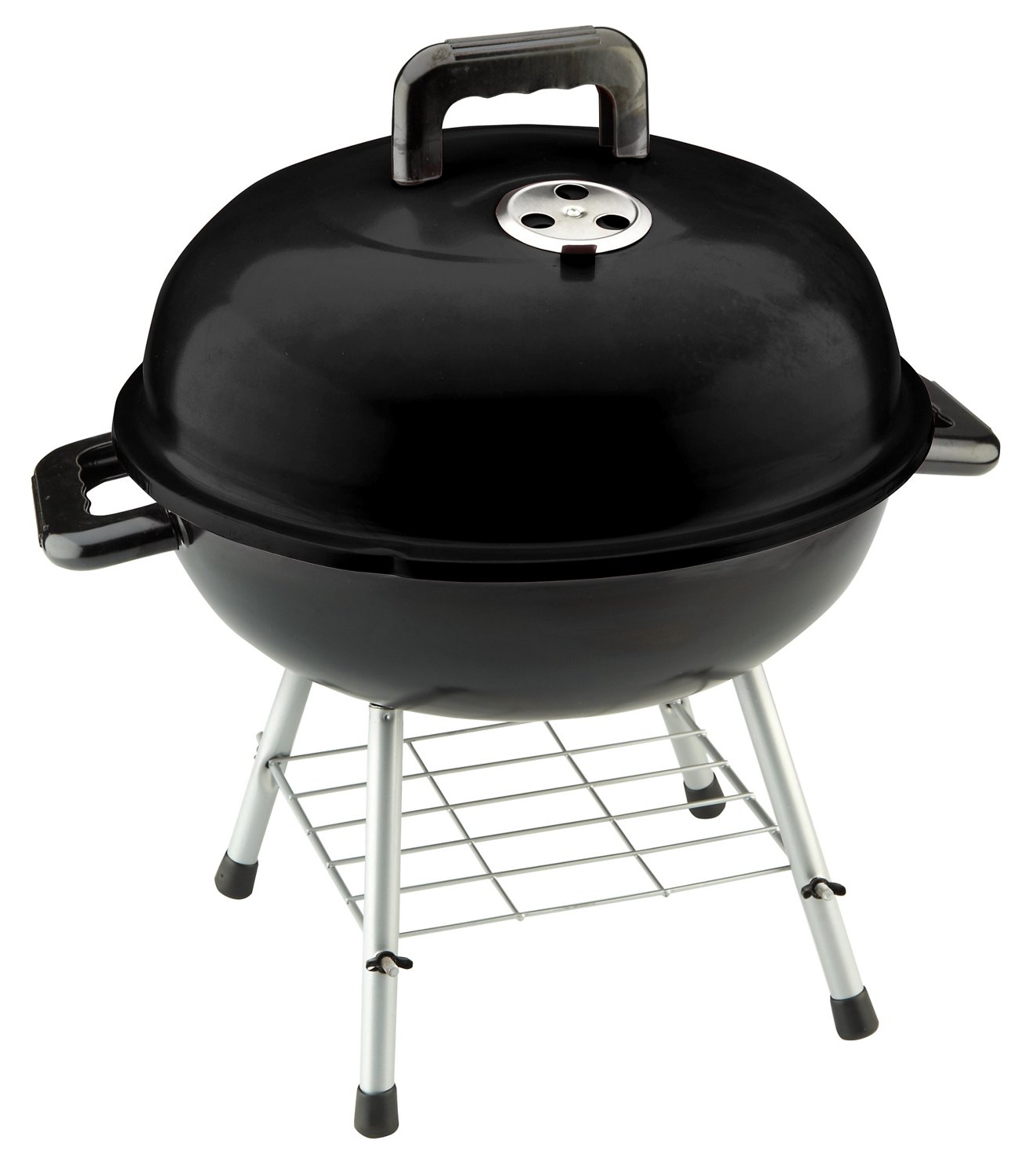 The Outdoor Gourmet 14" Charcoal Grill features a ...
Features and Benefits. 3-in-1 cleaning head. Made of ...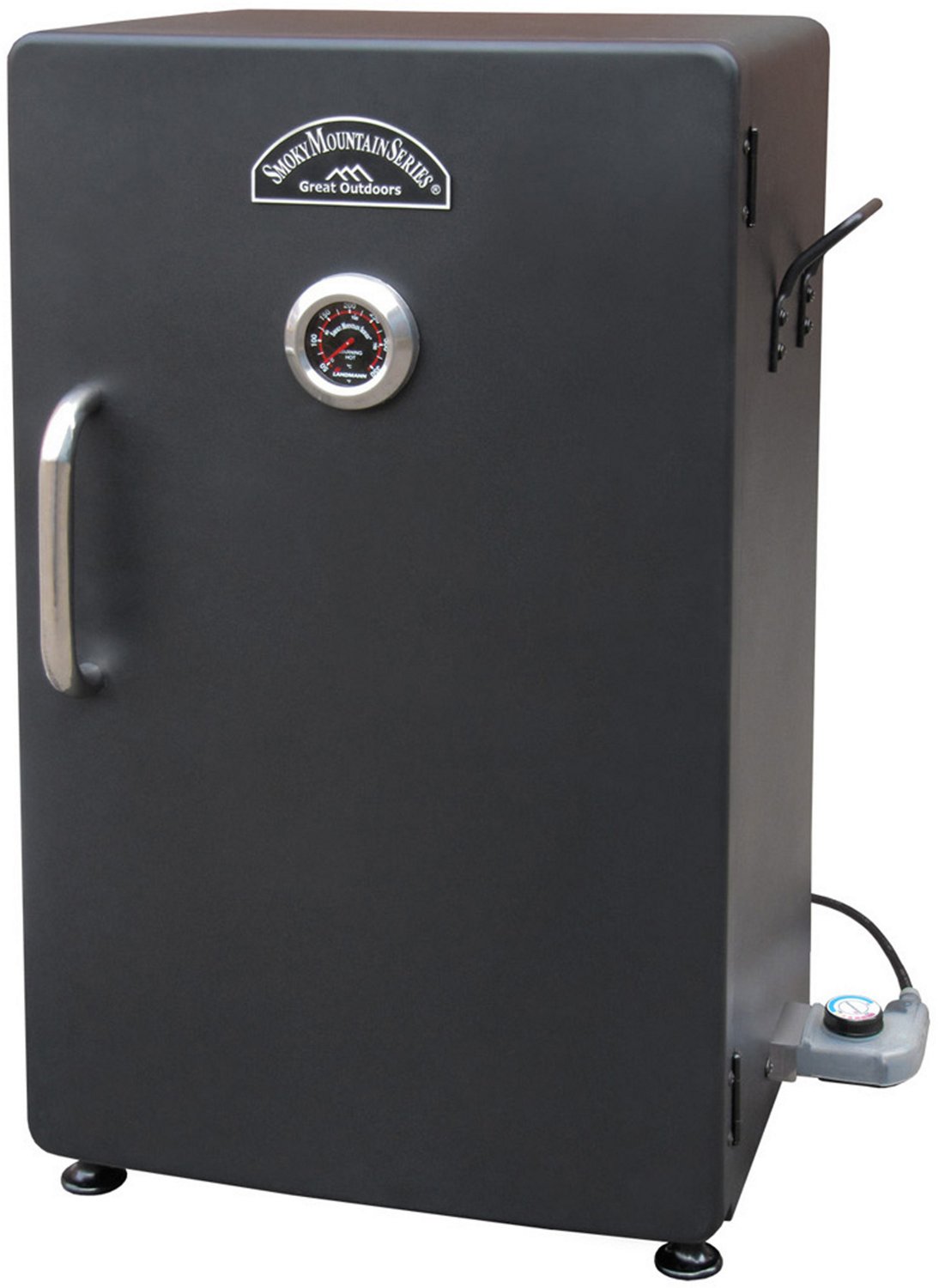 The Landmann USA Smoky Mountain 26" Electric Smoker ...
Good grill

I've had this grill for half a year now.  It's good.  I don't know about 16 burgers at once though LOL, maybe my burgers are just big.  Either way, I use it for meals and gets the job done.  I have a propane - huge- event grill that I was using, but this is better for just the family.  About lighting the coal, I have no idea what the person in the other review is doing wrong.  There is a trick to opening the bottom, you have to kind of lift, then pull to open it.  I though it was stuck the first

...

read more

time, then I figured it out.  I've cooked steaks, burgers, roasted chile, etc... The little temperature gauge helps out too.

best low cost pit I've owned

I bought this a couple about a week ago to take a break from my wood smoker, and I read a ton of reviews before deciding on this unit. It is great. It's small, definitely won't fit ten burgers or however many they claim, but that's nothing to complain about in my opinion. The picture shows it to be a smaller pit, and it also tells you the size of cooking space. I use about 1/5 of the amount of charcoal I'm used to, and the fire stays hot and burns longer than most pits. I used the smallest bag

...

read more

of charcoal I could find for the first light to burn off the factory smells and season it. It stayed about 450 for a few hours. Now as far as controlling temp.... that's going to be accomplished by the size of your fire. best $60 I've spent so far on cooking.
Exceeded expectations!

I bought this as a Christmas gift for my husband and he loves it. It is very large and the heating rack is very useful. We did not have any problem keeping it hot, and it never got too hot as some of the other reviewers have mentioned. We love this grill and reccomend it to anyone looking for a large grill at a good price. For the money you can't beat it.

Barrel BBQ Grill

Used the Grill 3 times, cooks Great only the black paint in the charcoal holder is already pealing off
A great gift

I gave this as a Christmas, gift. I really am impressed with this unit, and I will buy one for my home. The recipient was overwhelmed, with this gift, she is over 65 and just loves the ease of using, recommend for all seniors

What a find!

I purchased this portable gas grill to have impromptu gathering wherever we go and I could not be more PLEASED with my purchase, it folds up nicely and is easy to to set up and after each use take a couple wet soapy paper towels and clean out the dripping area and walla your ready for your next grilling...... we just love the ease and convenience, wish we had found this years ago.
Excellent grill!

My previous grill had seen it's better days and parts were no longer available, so it was time to get another grill. I had looked at many brands for a few months, and decided on this grill. Very glad I did and could not be happier. Heats up quickly and grills evenly. Large enough cooking space for our year round grilling. Love this grill.

Good grill all around

I forgot how easy a grill was to get started. I replaced my grill of 8 years that was falling apart with this one. Heats up quickly, evenly, and didnt break the pocket book.
Great Grill

Went in to buy burners for my old grill and they had a great price on this Tru grill it cooks great with no flare ups and was easy to clean. the store team was great at loading it for me.

very nice to cook on

I bought this grill because it looked very nice . when I got it , it was in so very many pieces that i spent several hours putting it together . I love it . I love to cook on it , but would NEVER buy another one that I had to work this hard to put together .
Seasoning...???

I have the large Blackstone and very well pleased but I seen this smaller one at Academy and was impressed so I purchased. I cooked on it several times and was NOT pleased with the coating on the griddle surface, being experienced in cooking on a different brand and a collector of antique cast iron I am very experienced in seasoning cast or steel. I took the griddle top and had it sand blasted, then seasoned it 3 times with Flax Oil and a final seasoning with Crisbee, now it is as non stick as

...

read more

Teflon. If you purchase one try to remove this non stick surface that they put on. You will be better satisfied after the fact.

AWESOME!!!!

I BOUGHT THIS PRODUCT APRIL THIS YEAR AND PRETTY MUCH COOK WHATEVER I WANT. GREAT ITEM TO COOK OUTSIDE BY THE SWIMMING POOL.
A lot of realestate

I bought a competitors griddle first however returned it because the legs where flimsy and the unit was unstable. Rather than trying another unit, I decided to buy the larger - much larger 50" griddle. I took it to the river to feed 18 people. It work great! if you do a lot of cooking; this is the best thing ever. It has become my new backyard favorite cooking tool. The only thing keeping it form a 5 star is the actual top itself. If you buy a unit, make sure the cook top does not "rock" back

...

read more

and forth. Its large, heavy and is difficult to keep level from the welding process during fabrication. With that said, my second cook top didn't "rock" but it sags slightly in the middle. fortunately it sags in the middle and to the front so oils and run off from cooking doesn't pool on the cooking surface. I went to a restaurant supply and bought some higher end griddle spatula and a high end cleaning/scraper tool. Clean the top with a squirt bottle of water and paper towels after each use. Finish up with a light coat of Pam or peanut oil after each use and it will season perfectly over time.
Great product

I am very pleased with my ole smokey bought a month ago
Easy to use

simple yet arrodable charcoal bbq....usually lasts about 3 years and cooks food perfectly...highly recommended!!

Very nice

I bought one last summer. It's very nice and sturdy. Mine was stolen so I will be getting a new one soon. I like the fact that you do not have to put it together just unfold and ready to go. I highly recommend this grill for those who like charcoal grills.