We don't currently carry this product, but here are some items we think you'll like
Related Products
Prepare delicious smoked foods with the Weber® Smokey ...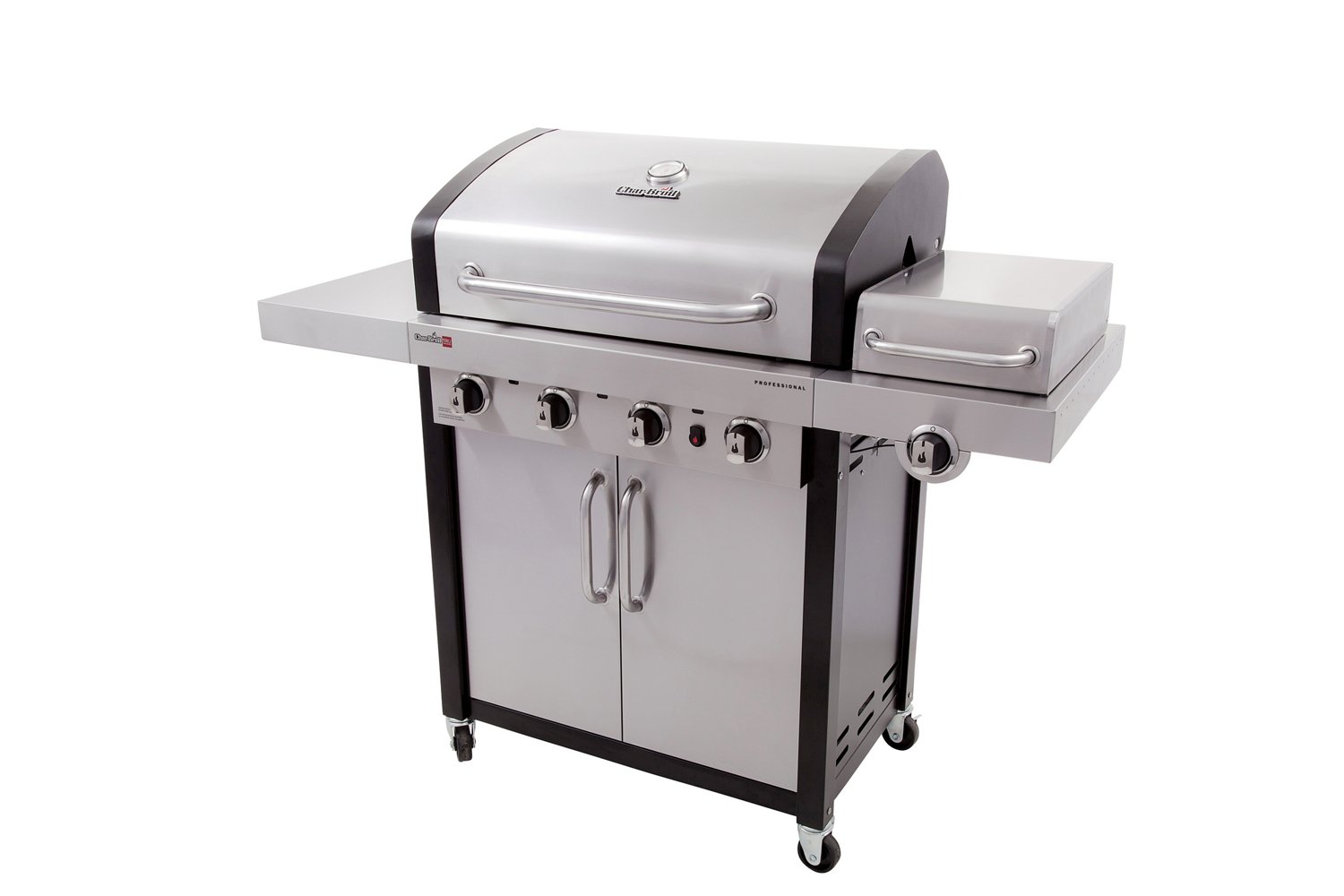 Grill up a great barbecue with the Char-Broil® ...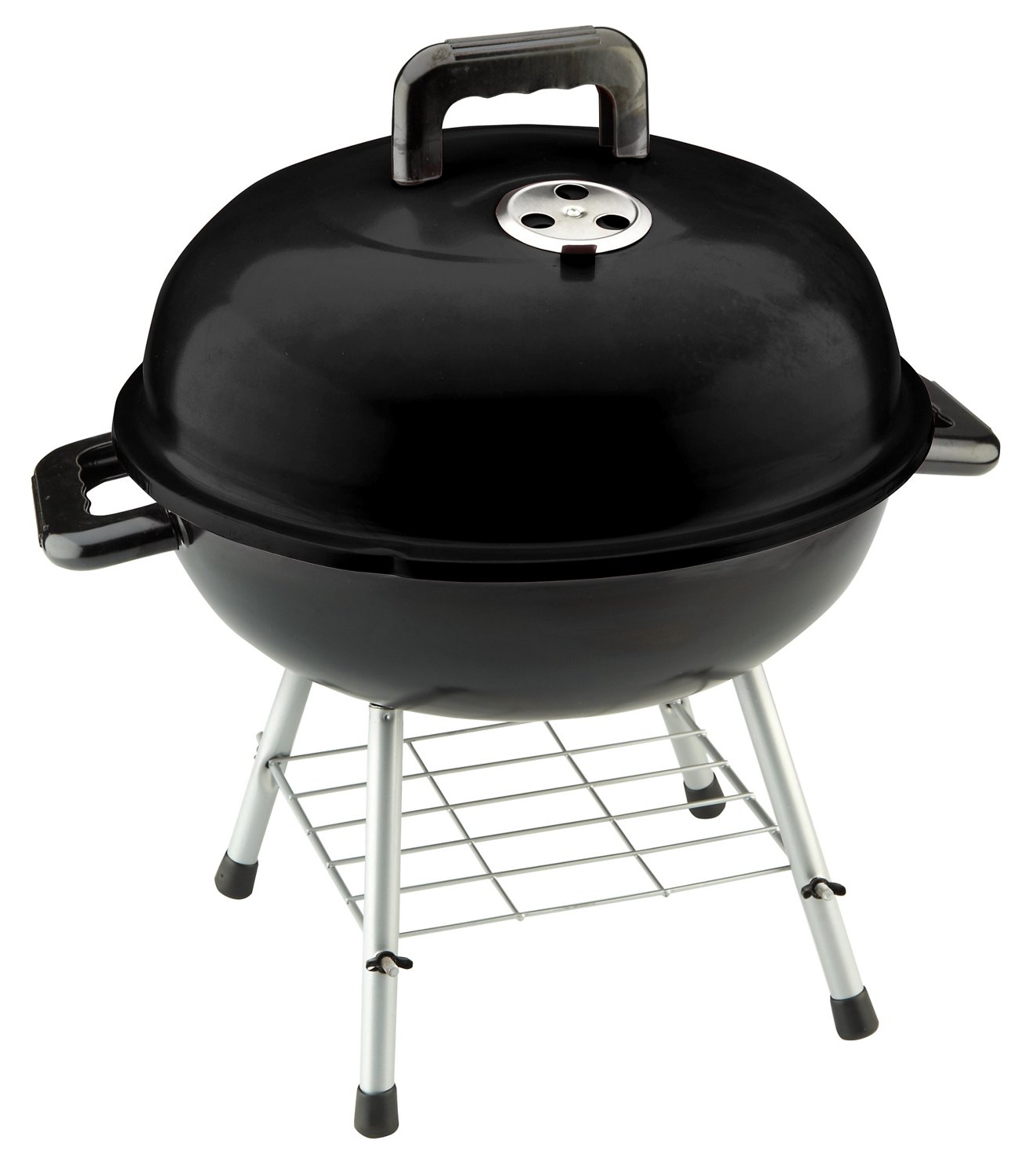 The Outdoor Gourmet 14" Charcoal Grill features a ...
Good grill

I've had this grill for half a year now.  It's good.  I don't know about 16 burgers at once though LOL, maybe my burgers are just big.  Either way, I use it for meals and gets the job done.  I have a propane - huge- event grill that I was using, but this is better for just the family.  About lighting the coal, I have no idea what the person in the other review is doing wrong.  There is a trick to opening the bottom, you have to kind of lift, then pull to open it.  I though it was stuck the first

...

read more

time, then I figured it out.  I've cooked steaks, burgers, roasted chile, etc... The little temperature gauge helps out too.

best low cost pit I've owned

I bought this a couple about a week ago to take a break from my wood smoker, and I read a ton of reviews before deciding on this unit. It is great. It's small, definitely won't fit ten burgers or however many they claim, but that's nothing to complain about in my opinion. The picture shows it to be a smaller pit, and it also tells you the size of cooking space. I use about 1/5 of the amount of charcoal I'm used to, and the fire stays hot and burns longer than most pits. I used the smallest bag

...

read more

of charcoal I could find for the first light to burn off the factory smells and season it. It stayed about 450 for a few hours. Now as far as controlling temp.... that's going to be accomplished by the size of your fire. best $60 I've spent so far on cooking.
Great first experience!

I just bought this last weekend, It was the last one they had and already put together which is awesome, got home and only had to screw in 4 screws and I was good to go. My wife and I cooked on it that night, thing is awesome! I love the way the food taste! So much better than a gas grill hands down! I also looked around everywhere to find one and this place had by far the best deal. The store is really cool for being in it for the first time. They also have good deals on fire pits and chairs.

...

read more

Store is great! They have everything you need there. Spent $400 there that day and got a ton of great stuff! We will go back for any other needs no doubt.

Sizzling Heat

I bought this grill for my father-in-law. He was excited to try it out as was I. The size is good, we fed 10 people off of 1 cooking. It even has the accessibility to add a fire box on the side, which will make for a great gift down the road. He has been using this grill since Christmas 2013 and it is holding out awesome. I like to rate my reviews later on so other customers understand the full story. Thanks Academy!!!
Great little grill!

We've had this grill for years now, and it still burns hot! Propane canisters are easy to find and buy, and the whole system is portable. Some parts are finally showing wear, and we're looking to replace it with the same model.

Coleman® Roadtrip® LXE 2-Burner Propane Grill

During several camping trips, I saw this grill being used by many campers. I wanted one so bad but the price was always around 200 dollars. I found it at Academy for only a 127 dollars. It has been used a lot on camping trips, and backyard use. It has been one of the best grills ive had.
My husband loves this pit!!!!

I purchased this pit for camping. He tried it out at our house and uses it all the time. He loves the features and how it cooks a variety of foods.

Great grill

I bought this a year ago and have put it through its paces. It rides in the bed of my truck down rough roads and fields. The legs are the weakest point on this grill. I need up buying locking washers and washers to help better stabilize is. And it has worked well.
Simple & User Friendly

I am looking for a Gas Grill and most other websites I have visited make it hard to view details of the product and have a very difficult payment structure. Academy Sports & Outdoors will have my future business!

Excelent grill

I bought this grill a month ago and was my best choose, it has an amazing cost benefit. High recommended.
Cooking breakfast, lunch, and dinner

So far so good. I received the grill about 1 month ago and we have seasoned the griddle very well. From burgers to linked sausage, from eggs to bacon... The only thing I have noticed is the grease trap could be a little bigger. Nothing a little self fabrication can't take care of. All in all... very good purchase so far.

All in one gtill

Sturdy built grill with the options do a various types of cooking. Will be great for cooking everything in one place while enjoying the outside
Actually a good grill for the price.

Bought this grill for my Aunt, and it's the perfect size and weight for her. It's a little cheaply degisn, but what do you expect for 99 bucks? As long as you keep it covered and clean, it will last a very long time. It on weighs about 40 lbs when put together, and can be used on trips. It only takes 15 minutes to put together. Very easy to take apart and put back together. My Aunt and I are very happy with it.

Good Bang for the Buck

Bought just over a month ago and am very pleased. I clean it after every use and have it covered not exposing it to the weather. A great product for the price if you give it TLC.
Best Charcoal Grill

This is a great grill! The charcoal lighting option is a great addition to the Weber Kettle family. No need to worry about nasty lighter fluid. Everyone that grills should own this grill! Go get it now!!!
Great Grill

Went in to buy burners for my old grill and they had a great price on this Tru grill it cooks great with no flare ups and was easy to clean. the store team was great at loading it for me.

Love this grill

I am about as far from an expert griller as you can get so its honestly amazing how simple this grill makes it to make an incredible steak. I purchased this Char-Broil Tru-Infrared grill to replace my old gas grill that was at the end of its life. I had never had much luck getting really good flavor out of old gas grill and so I was planning on getting a nice Weber charcoal grill when I ran across these infrared grills. If you are not familiar with infrared grilling yet then these types of

...

read more

grills are supposed to offer higher cooking temps, even heat across the grill, juicer food, simpler cleaning, and less flare-ups over conventional gas grills. And in my experience with this grill so far, all of those claims are true. When I first used this grill my wife was amazed at how much better the steaks were compared to the ones I used to make and asked me where I had learned to cook like this all of the sudden. This grill works great for hamburgers, chicken, and hotdogs as well, but I haven't had a chance to grill anything outside of those few things yet just because the steaks are so good that's all we ever want to make on it. This grill operates differentially than a typical gas grill so there is a little grilling book included to help get you started but you will need to figure some of it out on your own. The way to use this grill is to first preheat at least one of the burners to as high as it will go and then sear the meat for a few minutes on each side before moving it to a lower temperature area to finish cooking. This really locks in the juices and flavor, gives you great looking grill marks, and cooks whatever seasoning you put on your meat into a nice crust. In my opinion a typical gas grill just cannot compare to an infrared grill and how it cooks. You can get as good or better flavor out of a charcoal grill, but this grill is so much quicker and easier to use than a charcoal grill which, for me at least, means I can grill more often. Cleanup is extremely simple as well. Once done grilling I turn all the burners up as high as they will go, go inside and eat, and then come back when I'm done to run a grill brush over the grates. The high temps of the grates will burn all the excess food left behind to ash and it brushes right off, even messy stuff. I usually pull the grates out after a few grilling sessions and run some water over them just wash out in the between the ridges. As another reviewer mentioned the only downside of this grill is that assembly was quite a bite more difficult and time consuming that most other grills. Still, I wouldn't let that dissuade you since you only have to put it together once and beyond that it is an extremely easy grill to use and maintain.
Perfect gift!

Perfect anniversary gift!!! Could not Have picked a better product!!!!

Raised Height is Perfect for my Bad Back!

Oh WOW! Best grill we have ever owned! 3 burners with individual controls under the griddle! Keep some food on warm while preparing the veggies or whatever on higher heat. All the handles and control knobs for charcoal elevation and air damper on the front of the grill and easy to get to! We Love this grill!
pit boss smoker

new at wood pellet smoking wonder why i waited so long,first thing i cooked was hamburgers and hot dogs the best that i have ever had takes a little getting use to the getting the temperture but once you get it you will love i am doing a boston butt tuesday i know be awesome

Excellent pellet grill

We have used it a dozen times so far, from smoking pork butts to cooking steaks. It has worked perfectly. I would highly recommend this Grill
Very nice

I bought one last summer. It's very nice and sturdy. Mine was stolen so I will be getting a new one soon. I like the fact that you do not have to put it together just unfold and ready to go. I highly recommend this grill for those who like charcoal grills.

Easy to use

simple yet arrodable charcoal bbq....usually lasts about 3 years and cooks food perfectly...highly recommended!!
Small but Impressive

I bought this because of the colors and the price.I was tired of wasting money on grills.Only to have them be rusted on the inside the next spring.$15. This grill is pretty lightweight and has a small cooking space. I wouldn't recommend for a large gathering, unless you get two.But it's perfect for a small family or few guest.

Love the color.

This was purchased as a Christmas gift. He specifically asked for it.
A lot of realestate

I bought a competitors griddle first however returned it because the legs where flimsy and the unit was unstable. Rather than trying another unit, I decided to buy the larger - much larger 50" griddle. I took it to the river to feed 18 people. It work great! if you do a lot of cooking; this is the best thing ever. It has become my new backyard favorite cooking tool. The only thing keeping it form a 5 star is the actual top itself. If you buy a unit, make sure the cook top does not "rock" back

...

read more

and forth. Its large, heavy and is difficult to keep level from the welding process during fabrication. With that said, my second cook top didn't "rock" but it sags slightly in the middle. fortunately it sags in the middle and to the front so oils and run off from cooking doesn't pool on the cooking surface. I went to a restaurant supply and bought some higher end griddle spatula and a high end cleaning/scraper tool. Clean the top with a squirt bottle of water and paper towels after each use. Finish up with a light coat of Pam or peanut oil after each use and it will season perfectly over time.
Great product

I am very pleased with my ole smokey bought a month ago
Great design, perfect function and performance

This is the new style in Academy store, I have seen four burner grill before, but it's little bigger for my backyard, this is the griddle which I drame. I bring this back home and try breakfast at second day, it work very nice, I cook bacon, burgers, eggs, my wife and my kids very happy. The side shelf is very sturdy and it can be fold down, it's amazing for small apartments. If you want to try some difference breakfast and you didn't have the big backyard, I suggest you to try this one. Very good!!!!

AWESOME!!!!

I BOUGHT THIS PRODUCT APRIL THIS YEAR AND PRETTY MUCH COOK WHATEVER I WANT. GREAT ITEM TO COOK OUTSIDE BY THE SWIMMING POOL.
Great product!

A perfect choice for a Barbecue with my family and friends!

Weber small grill

excellent to go on my boat..stores easily..uses very little charcoal..weber quality...